Mad Men made 21st-century audiences keenly aware of the rampant sexism and alcoholism that were an ordinary part of office life. With notable exceptions, the viewpoint is primarily male. Seven years before Mad Men begins, The Best of Everything, now at the Here Theater in SoHo, profiles the world of women. And it ain't pretty.

What seems campy now -- the crazed obsession with marriage, the stereotypes of working women, epitomized by Miss Farrow (Amy Wilson) -- was serious then. But thanks to Julie Kramer's streamlined adaptation, the tight production zips through Rona Jaffee's book, giving audiences a peek at the mind-set of post-war American women.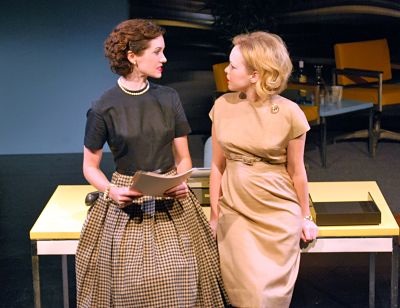 Plus, it adds a key ingredient: humor.
The Best of Everything is a fictionalized account of Jaffee's time as an associate editor at Fawcett in the early 1950s. The thinly veiled Fabian Publishing is the backdrop to the story of five secretaries. Most of the young women, like Mary Agnes (Molly Lloyd) and Brenda (Sas Goldberg), are marking time until their wedding day.
They cannot conceive of a life in which women long for careers. Conversely, Caroline (Sarah Wilson) a Radcliffe grad who dreams of becoming an editor, Gregg (Hayley Treider), an actress tormented by love gone wrong, and wide-eyed April (Alicia Sable) embrace a wider world. It may be heartbreaking at times, but also liberating as they search for meaning beyond stifling convention.
The Best of Everything is clearly an ironic title, but its pre-feminist world is eye-opening. This off-Broadway production is smart and entertaining. That's thanks to spot-on costumes and sets by Daniel Urlie and Lauren Helpern, respectively, aided by Kramer's economic and lively direction. Her strong cast mines both the pathos and embryonic possibilities of the era. Sable is a versatile performer, while Lloyd and Goldberg have fun with their roles. Treider is touching, and a poised Wilson does well as a woman embracing her own destiny.
Ute Lemper embraces all forms of creative expression. Her latest effort: Ute Lemper Sings Pablo Neruda -- Song Cycle of Love Poems at Joe's Pub, the swanky downtown nightclub attached to the Public Theater. The German chanteuse co-wrote the music with Marcelo Nisinman -- and it is as dreamy, hypnotic and woeful as the poetry.
Unlike her usual cabaret garb, a sexy black dress and boa, she favors casual simplicity. Lemper is always striking, but the understated look enhances the focus: the words. The music, unlike her famed Weimar renditions, is soulful rather than confrontational.
Neruda, a diplomat who won the Nobel Prize for Literature in 1971, wrote poetry throughout his life. Some of the most acclaimed works were written during his exile from Chile in 1949. The songs featured here are interpretations of poems he wrote for his wife Mathilda.

Lemper embraces the poetry, read and sung, as a dramatic performance. The show is alluring and emotional; she deftly captures his artistry, expressing the pain and passion of longing, and adds her own. The pacing and phrasing are perfect. Lemper, who sings in several languages, showcases mainly Spanish and a bit of French here. It's an evening of sensual poetry married to sublime interpretation.
Joining Lemper are Tito Castro and JP Jofre on bandoneon, John Benthal on guitar, Steve Millhouse on bass and Andy Ezrin on piano. At Joe's Pub, Oct. 5, 6, 30 and 31. The newly redesigned club would be wise to extend her run.
Photo by Leah Michalos