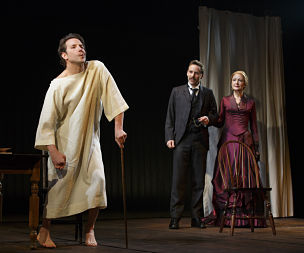 The Elephant Man is back on Broadway -- thanks to Bradley Cooper, the Hollywood hunk who demonstrates the theatrical chops to portray the deformed Englishman John Merrick. In Victorian times, Merrick, covered with tumors and billed as "half man, half elephant," was cruelly exhibited in sideshows until the kindly prominent Dr. Treves rescued him.
Treves (Alessandro Nivola), who initially wants to study Merrick, doubles as his protector. Thanks to the generosity of the London public, he secures him a permanent home in the hospital.
Now at the Booth Theater, The Elephant Man, which won the Tony for Best Play in 1979, is effective because it isn't literal. Cooper doesn't wear a prosthetic; instead, the audience imagines his disfigurement as he contorts his body. And people gasp in horror at the sight of him.
It's a successful conceit. Cooper holds himself in a punishing pose, his mouth terribly twisted, as he struggles to speak. Mrs. Kendal (Patricia Clarkson), a famed actress, discovers his romantic and sensitive nature. She introduces him to the upper crust, which also comes to gaze, albeit in a more civilized and friendly fashion. Indeed, be it lord or lady, all find the best elements of themselves in Merrick.
And that's playwright Bernard Pomerance's larger point. Merrick may be grotesque on the outside, but his affliction hides a caring, truthful soul. Victorian society, with its workhouses and freak shows, is ruled by rigid mores and social propriety. The Elephant Man carefully unmasks its prim hypocrisy, but stops short of digging too deeply, which would only enhance the text.
Still, it's a thoughtful work, brought to fruition by Cooper's riveting, heart-wrenching performance. He expresses a myriad of emotions, revealing the dignity and intellect of a man whose interior life is as rich as his exterior is hideous. Clarkson's performance is beautifully calibrated, whether she's discussing Romeo and Juliet or, in a crucial scene, offering Merrick his first look at a woman.
Nivola delivers a subtle and wonderful turn. His Dr. Treves has an initial arrogance, but as he realizes the enormity of Merrick's spirit, his own vulnerabilities are revealed. This is as much Treves' story as Merrick's, delivered by a top-notch cast and capable ensemble, led by Anthony Heald, Henry Stram and Scott Lowell.
Director Scott Ellis keeps the pace moving. He relies on a minimal set design to focus attention on the story. In our era, when wealth is grossly exploitative and political indifference trumps social compassion, The Elephant Man offers a mirror on our own humanity.
Lost Lake, now at City Center, is written by David Auburn, who won a Tony in 2001 for his masterwork Proof. The lofty themes of Proof mined the nature of reality, both mathematical and personal.
Conversely, Lost Lake is a quieter effort. Veronica (Tracie Thoms) travels from Manhattan to upstate New York to rent a shabby rustic house for a week. Hogan (John Hawkes), the down-on-his-luck owner, promises much, but rarely delivers. His good intentions are marred by his limitations.
Veronica is polite but distant; she just wants a pleasant vacation for her children. Yet during the week, the two swap tales of unhappiness. Succor, they find, can come from the most unlikely quarter. They aren't friends; care is mitigated by circumstance.

With his gangly air, Hawkes is spot-on in his ability to project a weird but well-meaning concern. Thoms nicely captures what happens to the responsible when life veers off-course. Lost Lake is a reminder of the quiet desperation that lurks above and below the surface. Neither its characters nor story is memorable, but its message, the possibility of the kindness of strangers, resonates.
Photo: Joan Marcus