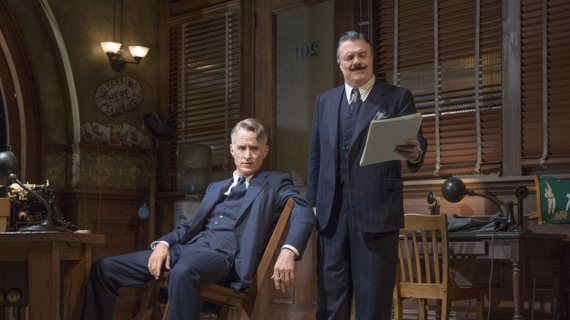 The play is sharp and well-constructed, though the first act (of three) is all exposition. And yes, for some it may be a bit cringe-worthy, with its casual racism and misogyny. But that's the deal. The playwrights were seasoned newsmen who knew the score. As one grizzled journo puts it, his breed is "a cross between a bootlegger and a whore."
The Front Page is considered the greatest play written about the newspaper business. Later, it was made into a 1931 film version starred Adolphe Menjou as Walter Burns and Pat O'Brien as Hildy Johnson. But it's cinematic apex is the brilliant 1940 screwball comedy His Girl Friday, with Cary Grant and Rosalind Russell, as Walter and Hildy.
This revival, with a spot-on set by Douglas W. Schmidt and lively direction by Jack O'Brien, hits the bull's-eye, aided by an excellent cast of stage vets, including John Goodman, Lewis J. Stadlen, Sherie Rene Scott, Dann Florek, Dylan Baker, Holland Taylor and Robert Morse.
Hearing the always-funny Nathan Lane scream invective is a lesson in comic timing. And he's got real chemistry with Slattery. Their crazy codependency is a romance all its own.
"Get me rewrite" and "stop the presses" may be a thing of the past in the digital age, but The Front Page is still big news.
Photo: Julieta Cervantes