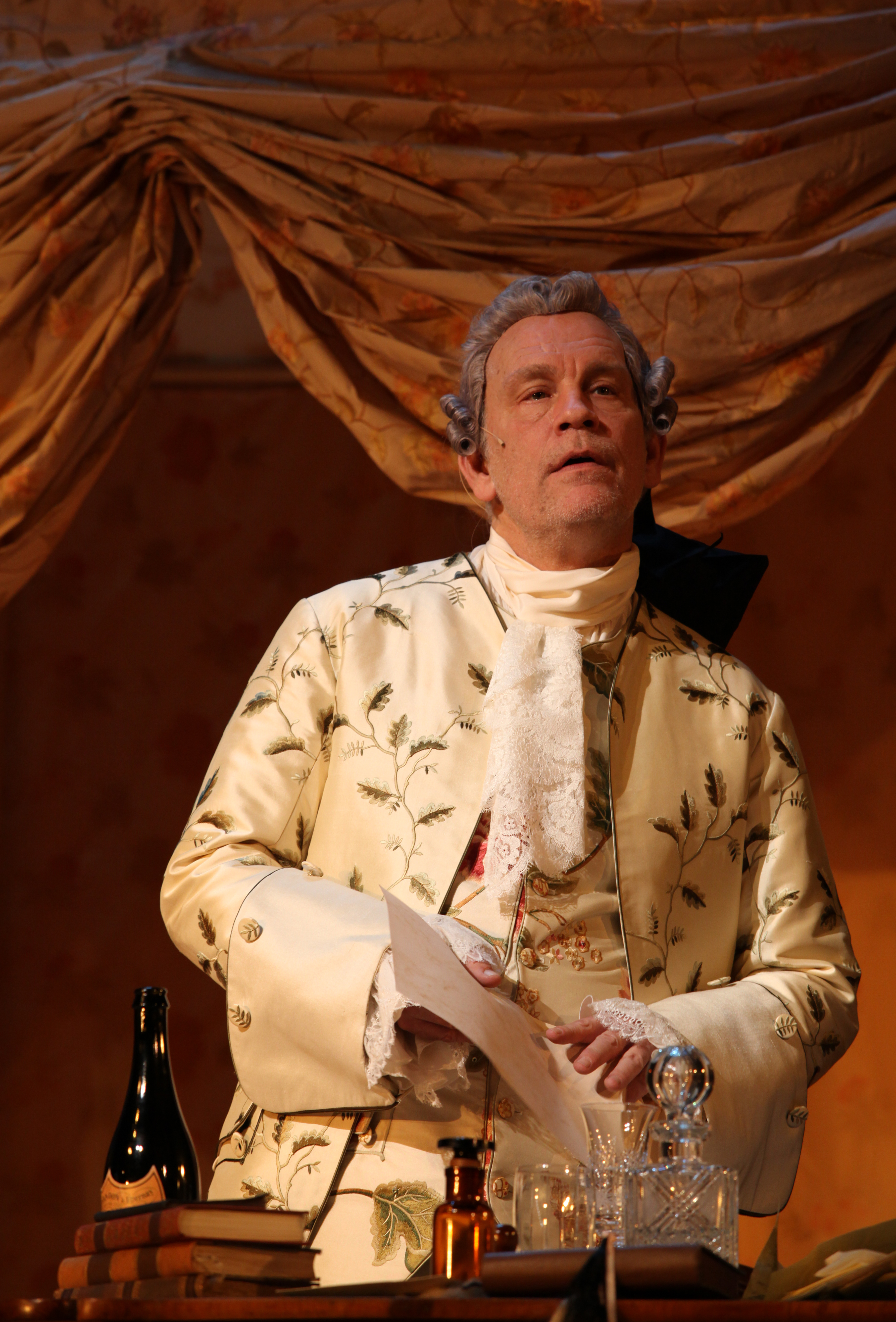 A chamber opera play, based on Casanova's life and Mozart's operas, is an ambitious undertaking. Playing through June 2 at New York's City Center, The Giacomo Variations is a case of art imitating life imitating art. It's an interesting choice to kick off the Cherry Orchard Festival.
Part sexual memoir, part musical shuffle -- scenes from Giacomo Casanova's extraordinary life are juxtaposed with scenes from Mozart's Cosi fan tutte, Don Giovanni and The Marriage of Figaro. Braided together, audiences are treated to enjoyable musical moments and equally strong dramatic ones.
The catch is that the production is a mosaic, rather than a piece.
It's a kaleidoscopic portrait of Giacomo Casanova, the 18th-century writer, poet, lover and associate of princes and popes. The Venetian adventurer (John Malkovich) is nothing if not bawdy, though we meet him as an old man, trying to impress Countess Isabella (Ingeborga Dapkunaite), sister of an Austrian count (Daniel Schmutzhard), and his various loves (Sophie Klubmann). In fact, all four singers expertly portray various roles as they present duets and arias.
As Casanova recreates scenes from his life, recalling his appetite for love and lust, he muses on sex, literature and legacy. Malkovich is an apt choice. He made his name as the cruel seducer Valmont in Dangerous Liaisons and has played Casanova in several European cities.
The hybrid production, written by Michael Sturminger, with musical direction/concept by Martin Haselbock, is a mesh of art forms. The Giacomo Variations is less coherent story than impressionistic take. Though the transitions are a tad awkward, too little opera for opera buffs, too little theater for theater mavens, it is a clever artistic experiment that boasts solid performances.
Photo: Nathalie Bauer