"Revenge is a dish best served cold." The sentiment comes courtesy of The Godfather, but it applies to the moving Broadway revival of The Heiress at the Walter Kerr.
Based on the Henry James novel Washington Square, and adapted for stage and film by Ruth and Augustus Goetz, The Heiress is a nuanced psychological portrait of a young woman (Jessica Chastain) desperate for love in 1850 New York.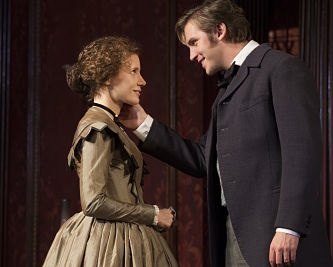 She lives with her father (David Strathairn), a well-to-do doctor still grieving for his long-dead wife. He may be able to heal others, but his disappointment in daughter Catherine is palpable, turning her into something he despises: an unlikely marital prospect.
Indeed, despite her fortune, meek Catherine has few suitors, so when Morris Townsend comes calling (Downton Abbey's Dan Stevens), he ardently woos her. He's poor; she's rich. There is nothing like a big bank account to kick-start romance. Catherine is hooked, but her father fears Townsend is a fortune hunter and threatens to disown her.
He's right, of course, but his love-starved daughter doesn't care. Neither does his tittering, but sweet sister, the widow Lavinia Penniman (a lively Judith Ivey), who defends her niece against her domineering brother. At the same time, she recognizes Morris for what he is: a charming cad. More telling, she isn't opposed to Catherine buying a husband.

But Morris, who craves beautiful things, overplays his hand -- and as Catherine realizes the depth of betrayal from the men in her life, a kind of protean feminism emerges. Chastain delivers a nicely calibrated and touching performance; her transformation from an awkward woman barely able to face company into a strong, steely-eyed adult is impressive.
So is Strathairn's layered performance as a wounded man who blames his daughter for depriving him of a wife, while jealously guarding his parental control. Stevens holds his own, allowing his true nature to emerge as he savors upper-crust surroundings, thanks to a gorgeous set and perfect lighting, by Derek McLane and David Lander, respectively.
Director Moises Kaufman draws us into the lush drawing room of 16 Washington Square, where the complex relationships -- father-daughter, daughter-suitor -- achingly illustrate how grief, desire and desperation distort our hearts. The story is rich in insights; when playing poker with love, it's best to bluff.

The complications of love forsaken, coupled with depression, are addressed in Chekhov's Ivanov, now at off-Broadway's CSC. Ivanov is a university-educated member of the nobility who burned with ambition in his 20s. A decade later, he is, in Chekhov's words: "a village Hamlet. ... hardly has he reached thirty-five years of age and he is worn-out and boredom sets in ... a very Russian feeling."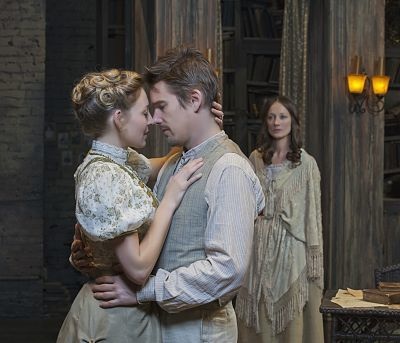 Such characterizations did not sit well with the play's first audience and the debut of Ivanov caused a near riot. Though not as well known or acclaimed as The Seagull, Three Sisters or The Cherry Orchard, there is great emotional ferocity in the play.
Ivanov (Ethan Hawke) is no longer in love with his wife Anna (Joely Richardson), a "Jewess" who sacrifices her family and religion for him. Surrounded by his uncle, a pontificating count (George Morfogen), and Borkin (Glen Fitzgerald), an estate manager obsessed with moneymaking schemes, Ivanov is lost.
His wife's doctor, a self-proclaimed honest man (Jonathan Marc Sherman), accuses Ivanov of marrying the ill Anna for her dowry, which was withheld. He makes a similar charge on learning Ivanov is seeing Sasha (Juliet Rylance). She is besotted with Ivanov, despite his being in debt to her mother and suffering periods of extreme agitation that would dissuade most women.
Ivanov is a portrait of a bored upper-class beset by either depression or greed. As a doctor, Chekhov records depression with a clinical eye, though in his day, it was also seen as a political statement -- class disenchantment with the status quo. (Serfs, however, were given no such option.) Today, we'd prescribe antidepressants for a ranting Ivanov, which, coupled with a distinct lack of moral bearings, sets the stage for a sobering look at a decaying gentry.
As Ivanov, Hawke takes time to find his center. Once he does, he's adept at expressing the shame and terror of a soul sickness. The two women in his life perfectly hit polar notes of mournful (Richardson) and resolute (Rylance), aided by a solid cast. Austin Pendleton deftly directs; Ivanov is early Chekhov, embracing interesting characters and revealing its author's uncanny ability to capture a uniquely Russian Hamlet.
Dino Buzzati, the acclaimed Italian novelist and playwright, known as the Italian Kafka, crafted No Escape, now at the Cherry Lane Theater Studio, in the 1950s. The four compelling monologues are performed first in English, then Italian; what Kairos Italy Theater (KIT) calls "the double theater experience." Striptease, The Switchboard Operator, Alone At Home and The Clock economically explore the lives of women trapped by fate beyond their control.
Each language performance showcases a different actress, director and set. And it's a hypnotic experience. Buzzati explores fear, solitude and death with a relentless eye. He captures its pathos with simplicity and poignancy. Alone at Home, starring Rosemary Fine and Lydia Biondi, respectively, is beautifully done. It's difficult to create the illusion of others on stage, both do so convincingly. Each director, Laura Caparroti and Biondi, takes a singular approach that heightens the theatricality. KIT is an Off-Broadway company that should be on everyone's radar.
Heiress photo: Joan Marcus
Ivanov photo: Josh Lehrer