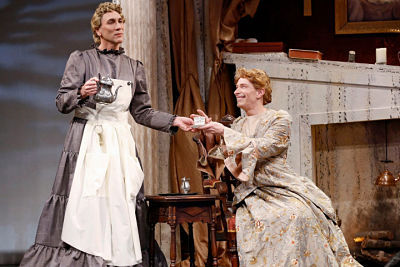 Charles Ludlam made camp respectable. His work at the Ridiculous Theatrical Company was clever, transgressive and always entertaining.
His most popular play, The Mystery of Irma Vep, is now enjoying an off-Broadway revival at the Lucille Lortel. In fact, it became one of the most produced plays worldwide.
The Red Bull Theater production has three pluses: Robert Sella and Arnie Burton neatly perform a series of quick-change roles in this send-up of Victorian melodramas, Wuthering Heights and Hitchcock. Irma Vep even throws in vampires and Shakespeare for good measure.
Finally, it has director Everett Quinton, Ludlam's partner, who starred in the original production. Quinton has captured all the zany elements of this Gothic-style theatrical mash-up and added some ingenuity of his own.
This 30-year-old penny dreadful opens at Mandacrest, an estate right out of Jane Eyre. Lady Enid (Burton) is adjusting to life with her new husband, Egyptologist Lord Edgar (Sella), still possessed by his first wife, the mysterious Irma. Jane, the over-the-top housekeeper, and Nicodemus, the bizarre servant, run the manor.
Lady Enid knows there is something afoot -- and discovering the secret of the haunted estate is half the fun. This being Ludlam, there is cross-dressing, double entendres and sight gags, as when Egyptian guide Alcazar pulls a lit cigarette from under his fez.
Everything depends on split-second timing, which Sella and Barton do perfectly. Who can resist terrific genre parodies, a lovestruck wolf and a Gaslight spoof? Ludlam's humor and humanity are on display, and audiences will howl with laughter.
Photo: Carol Rosegg