Literature and memory are essential to a culture's survival. For Jews, that literature is Yiddish -- 26 of its greatest writers and poets were murdered in a 1952 Stalinist purge. As Zunser (Ron Rifkin) explains to his four jailed comrades: "We are all here because of the fifth line on the form: Jewish."
Nathan Englander has fictionalized that terrible event in The Twenty-Seventh Man, a powerful, heartbreaking play about identity and art, now off-Broadway at The Public Theater. Running the gamut from party faithful to apolitical, the Yiddishists are gathered for one purpose: execution.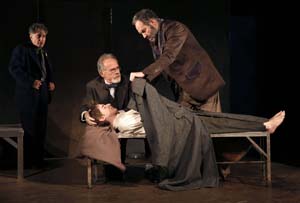 All are renowned; Zunser shares his cell with party stalwart Korinsky (Chip Zien) and coarse Bretzky (Daniel Oreskes). But what of Pinchas Pelovits (Noah Robbins) the semi-mystical figure who lives at an inn and writes incessantly. He has never published, but his encyclopedic knowledge of Yiddish writers, coupled with his literary insights, astound. Why have the Soviets arrested him among the celebrated?
"Hitler killed the Jewish body; Stalin is killing the Jewish soul." As the men confront the unimaginable, as well as a deep communal bond, we witness the horrors of totalitarianism and anti-Semitism. Yet amid the terror, Englander illustrates in Pelovits how mesmerizing good storytelling can be.
Why did Bretzky return to Russia after a visit to America? Because he cannot bear "the pain of never hearing your name pronounced correctly." A shared heritage, in all its permutations, Englander reminds us, is vital to creation. It feeds the soul. So does memory. Pelovitz cherishes the genre. He should carry Yiddish artistry to future generations. Kill him and the work may die, too.
The Twenty-Seventh Man is an extraordinary tribute to legendary artists and the power of the written word. These men deserved to be remembered. Rifkin, Oreskes and Zien give them their due, each delivering an excellent, singular performance. Robbins, seen in the short-run revival of Brighton Beach Memoirs, is perfect as Pelovits, embodying his literary passions and youthful vulnerability.
Barry Edelstein has directed his cast with sensitivity and precision. This shattering production should be required viewing.
Uptown, the latest Broadway revival is Annie at the Palace Theater, a bighearted show with a terrific cast and feel-good message.
Who can resist a tough-talking orphan (Lilla Crawford) who belts out her numbers like a seasoned pro? Set in December 1933 during the Depression, some of the political backdrop echoes our own: unemployment, political unrest, billionaires moaning about money while millions starve. Who will rescue America? FDR (Merwin Foard). Who will rescue the moppet? Daddy Warbucks (Anthony Warlow).
When it debuted in 1977, it entertained New Yorkers facing a bankrupt city. Annie may be ridiculously upbeat, but that doesn't negate its charm.
Here, the sentimentality, inspired by the comic strip "Little Orphan Annie," revolves around a spunky kid (Lilla Crawford), who has been at the orphanage, alongside her adorable friends, for 11 years. While Annie pines for her parents, her keeper, Miss Hannigan (a winning Katie Finneran), spends most of her time inebriated, when she isn't devising a plot with her sleazy brother (Clarke Thorell) to profit from her despised charge.
The idea that a peppy kid can melt the heart of the richest man in America is the stuff of fantasy. But it works here, thanks to the ragamuffin's New York attitude. And that clicks alongside the zippy choreography by Andy Blankenbuehler, lovely sets by David Korins and the tuneful Strouse/Charnin score.
Warlow is an able Warbucks; while we may not believe he falls for his assistant (Brynn O'Malley), it's clear he's won over by Annie. Crawford should have a strong future in musical theater. And families looking for escapist fun, can head to the Palace.