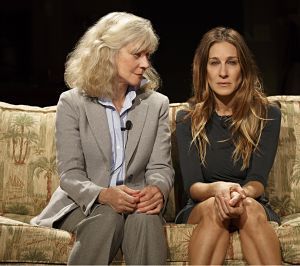 The travails of Bernie Madoff's family illicit little sympathy from angry, destroyed investors, but first-time playwright Amanda Peet has used it as the backdrop for The Commons of Pensacola.
Now at City Center, Blythe Danner stars as Judith, an ill, nearly broke Ruth Madoff stand-in, living a low-key Florida life on the Redneck Riviera. The one-bedroom condo is a far cry from her palatial New York penthouse and society life. And it's equally devastating for her daughters.
Becca (Sarah Jessica Parker) is 43, broke and unemployed. Like niece Lizzy (Zoe Levin), she is somewhat sympathetic to her mother's plight. Conversely, Becca's sister Ali (Ali Marsh) trumpets her ethical concerns, asking the overarching question: Did Judith know their father was a financial fraud, bilking billions from charities, relatives and clients?
Judith adamantly denies all charges, which an estranged Ali finds hard to fathom, while Becca is preoccupied with Gabe (Michael Stahl-David), a freelance writer. He's eager to make a documentary about Judith, urging her to come clean and do right by her husband's victims. But his motives are suspect; Gabe, like the rest of the family, has an agenda.
Peet raises some big themes -- guilt, innocence, accountability and betrayal -- but in an essentially small play. And she throws in some obvious symbolism, the ocean-view door that never opens, to underscore that the family is trapped. Imprisoned by the sins of the father, they discover each has kept secrets from the other. The trouble is, we may not care.
Still, there are some terrific acting chops on display. Blythe Danner elicits the occasional laugh and commands our attention; she is a nuanced performer who delivers real emotional punch. Parker, a capable actress, brings several of her Sex and the City mannerisms to her role, taking too long to find her character's voice. That may be, in part, because Peet hasn't delved deeper into the existential ironies of shame and responsibility.
Truth is the one virtue no one in the family shares -- and the play demands.
The illusive truth of JFK's assassination has unleashed a slew of books and documentaries on the 50th anniversary of his death. Historians suggest that if the Warren Commission had published a solid report -- and the CIA and FBI hadn't initiated cover-ups -- we would not be plagued by ongoing doubts.
The truth may never be known, but conspiracy theories about Lee Harvey Oswald and Jack Ruby abound. The latest to hit Off-Broadway is Witnessed By The World, which posits why Jack Ruby shot Oswald. Spoiler alert: It was a mob hit.
Now playing at 59E59 Theaters, WBTW, is dramatically inept and weirdly staged, marrying fact to fiction. Fact: Jack Ruby, born Jacob Rubenstein, had a tough Chicago childhood and seven siblings. Eventually, he opened a sleazy nightclub in Dallas, where he hobnobbed with criminals and strippers. He also spoke Spanish and once went to Havana.
Fiction: Charlotte Maier plays Joan Ross, a journalist who provides background research to Ira, a goofy screenwriter (Max Gordon Moore) writing a movie about Ruby, preassassination. Strangely, he won't touch the actual murder of Oswald, which put Ruby on the historical map. More unbelievable, Ira, prior to Joan, hadn't heard of either Ruby or the Warren Commission.
No matter. Joan is obsessed with Ruby, even tracking down his remaining sibling (Lois Markle). Through friend Aaron (Bob Ari), she finds a mobster who knew Ruby. Unfortunately, the production falters on plot weaknesses. Is it credible that a 7-year-old Joan would be moved by the Bay of Pigs? Joan believes the CIA hired the mob to take out Castro and JFK, but why use Oswald when they can hire professional killers? And why would Ruby risk his life in a no-win situation?
While some of WBTW hews to reality, it's hard to credit Ronnie Cohen and Jane Beale's play with credulity. Ruby refused to speak to anyone save Warren Commission reps, and died, claiming he was being poisoned in prison, before his appeal. There are many intriguing explorations of the JFK-Oswald-Ruby triangle; this odd production is not one of them.
Photo: Joan Marcus