Charles Dickens died in 1870, midway through his last novel, and its unfinished ending has been a creative lure to stage and screen ever since. The current Broadway revival of The Mystery of Edwin Drood at Studio 54 is a worthy addition to the canon. A fun, tongue-in-cheek musical comedy, the Roundabout Company's version combines an interactive theatrical experience with a top-notch production.
Set in a Victorian music hall, the show within a show is overseen by Mr. Cartwright (an excellent Jim Norton). The acting troupe, which specializes in broad innuendo and gleeful mugging for the audience, is performing The Mystery of Edwin Drood.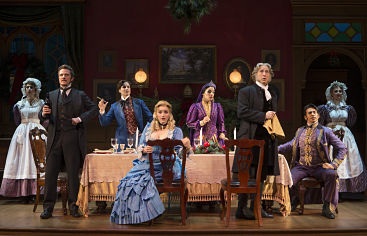 The plot focuses on choirmaster John Jasper (a super Will Chase) and his nephew Edwin Drood (Stephanie J. Block). Jasper lusts after Rosa Bud (Betsy Wolfe), Drood's fiancé. Jasper, no stranger to the opium den of Princess Puffer (Chita Rivera), isn't the only one smitten with Rosa. So is hot-tempered Neville Landless (Andy Karl) from Ceylon, who, with his twin sister Helena (a standout Jesse Mueller), is mentored by Rev. Crisparkle (Gregg Edelman). But Drood and Landless hate each other -- and when Drood disappears on a dark and stormy night, Landless is accused of his murder.
Of course, it's tough to prove murder without a body. So the role of murderer is left to the audience -- which happily picks a different one each night. Tony-winner Rupert Holmes, who wrote the book, music and lyrics for the 1985 show, has been well served by this crisply paced revival.
Both the set design by Anna Louizos and costumes by Wlliam Ivey Long are beautiful, complimented by perfect lighting and choreography. The sheer exuberance of the first-rate cast, led by Chase and Norton, is a plus; all are at the top of their game. Block is terrific in multiple roles; even smaller roles like the drunken Durdles (Robert Creighton) are a delight.
The show is "suggested by the unfinished novel," but all the Dickens' hallmarks -- dark secrets, dual identities, narrative twists -- are here. Its spot-on score is augmented by Holmes' cleverness: He's written a scenario, however unlikely, for every credible character. His inventiveness, coupled with Scott Ellis' smart, lively direction, makes Drood a winner.
So is Australia's answer to hipster circus. Trapeze artists, jugglers and musicians that double as acrobats keep the comedy and the excitement fast and furious. Circus Oz, From the Group Up, now at New York's New Victory Theater through December 30, is recommended for ages five and up, but it will make every member of the family stand up and cheer.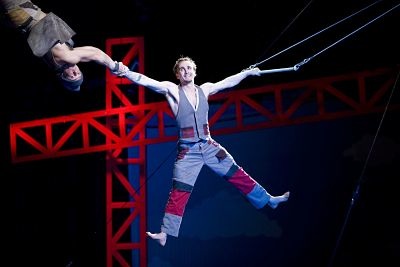 That's thanks to clever theatrics; the eclectic cast is skillful -- using ladders and rings, skateboards and instruments in novel and inventive ways. The high-energy Australian troupe defies logic -- with a skyscraper-style act loaded with irreverent in-your-face-fun.
It is all accompanied by music director Carl Polke's jazzy, techno score that rocks the house. Director Mike Finch has produced an eclectic marriage -- traditional circus meets rock 'n' roll -- aided by 14 multitalented circus performers that combine hilarity and irreverence with amazing feats.
Finch says Circus Oz likes "formality to be subverted, mocked and sent up" -- and he's gotten his wish. This artistic anarchy is carefully timed and beautifully orchestrated.
Edwin Drood photo: Joan Marcus
Circus Oz photo: Rob Blackburn