For children born in the iPhone age, a one-room school is inconceivable. For those who attended the Richmond Little Red School, it was a way of life in Brighton Township, a rural, small-town enclave, just an hour north of Pittsburgh, Pennsylvania.
But for history buffs, it is a rare opportunity to experience a bygone America.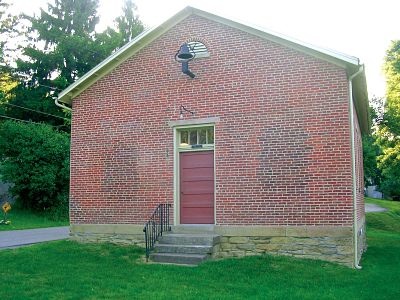 "A visit takes you back in time," says Jane Smyda, who attended fourth grade here and arranges tours. "People have no idea what the past was like. They come from all over the country and marvel at the restoration."
Dedicated as a free museum in 1970, the Richmond School, opened from 1844 to 1950, has a singular charm. It survived thanks to a concerned citizens group, who raised money and volunteered their services to restore it. Best of all, the furnishings are authentic to the period -- from the weathered globe to the desks to original black-and-white school shots.
The original school bell was re-hung a few years ago, and a sidewalk, buried for decades, recently uncovered. Shrubbery has been added to recreate the original landscaping.
Here, in a red brick building heated by a potbellied stove and lit by kerosene lamps, Grades 1 through 8 learned the three Rs, as well as geography and history. A bright red dunce cap sits in one corner, an ornately carved wood organ in another. The day began at 9 a.m. with a prayer and ended at 4. Classes were taught by a single schoolteacher -- who, in true rural fashion, often arrived on horseback.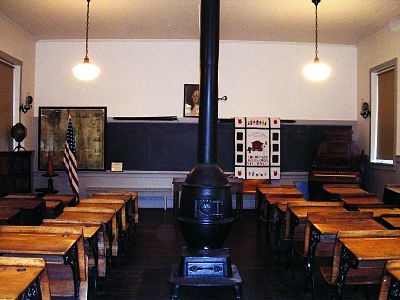 Students, numbering anywhere from 38 to 60, used slate pencils and ink bottles. Many routinely walked the two miles to school, since busses didn't arrive in Brighton Township until the 1940s. Water came from a pump and an outhouse answered nature's call. The setting was basic, but the takeaway profound.
"It sealed friendships that lasted forever," remembers Nancy Eakin, past president of the Richmond School. She attended the Armstrong School, another one-roomer in the area. "We didn't always get personalized attention, given the demands of the classroom, but the kiddos loved poetry. And you learned the value of community."
In fact, the Richmond School doubled as both educator and social organizer. Pie socials, spelling bees, holiday pageants and political meetings -- all were held here. "Everyone knew everybody else," Eakin says. "One-room schools were a big part of the township's life."
So were the teachers. Most were female, and they not only taught eight grades, but were responsible for janitorial duties. A teacher would sweep, dust, build the fire and remove the ashes in the early years. There were six such schools in Brighton Township: Armstrong, Richmond, Barclay, Six Mile, Eakin and Stokes. Today, only Richmond remains, an important link to our educational past.
"The Little Red is a piece of Pennsylvania history," says Richmond member Betty Mae Siegel. "Many people educated here remember it with great affection. In a high-tech world, it's a touching reminder of simpler times."
If You Go
Richmond Little Red School
Park Road, Brighton Township, Beaver, PA
Open June-August, Sundays 2-5, Free
Private tours year-round by appointment.
For info: Jane Smyda, jwsmyda@gmail.com; 724-774-2330
Photos by: Eli and Nathan Siegel