There is nothing quite like a heavyweight marital battle that careens between power punches and lusty grabs. When alcoholic Martha brays "Swampy!" to her gin-soaked husband George, it's just the mating call of two bloodthirsty lions circling their prey: themselves and the young couple that enter their lair.
The Steppenwolf Theatre Company's latest Broadway revival of Edward Albee's 50-year-old masterwork, Who's Afraid of Virginia Woolf, is less a volcanic eruption than a slow, simmering pot that periodically boils over. Most people reference the remarkable Taylor-Burton cinematic battle royal as the definitive Virginia Woolf; this incarnation stages a less flashy, yet equally brutal war.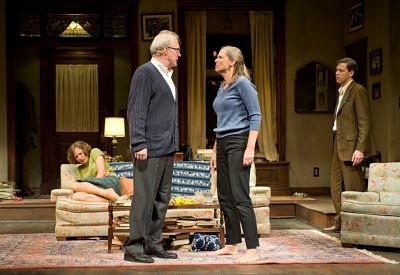 This round, at the Booth Theater, there are no divas; it's George's show, a directorial choice that shifts the ebb and flow of venom needed to hit that pitch perfect moment when truth shatters illusion. Here, George unleashes greater fury.
Yet the play remains a powerhouse of martial destruction. George (Tracy Letts), a history professor at a New England college, is married to the college president's daughter, Martha (Amy Morton). He is a disappointment to all, including himself, buried in books and lost hopes. Martha, who yearned to please her father, is left, in her 40s, with a double-edged sword: Is she the "monster" that George assails, or are their merciless assaults on each other the lethal endgame of despair?
Into this cauldron of verbal blitzkrieg walks Honey (Carrie Coon) and Nick (Madison Dirks), a 20something couple with their own unhappiness. Dysfunctional marriages, the play intimates, are best left childless. Couples don't need children to be happy, but children should not endure unions of anger, bitterness and betrayal.

Virginia Woolf demands that four excellent actors rise to the occasion. As Broadway newcomers, Coon and Dirks take on tough secondary roles. Coon's Honey doesn't have many lines; she skillfully expresses her personality through physicality. Dirks' Nick has to veer between ambition and confusion -- "Are you a houseboy or a stud?" -- and he tackles it well.

By the play's end, as George recites the rite of exorcism, he's at a pitched, sadistic stage. And while Letts is an excellent George, the deflation of Martha in the play's final movement feels less like an exorcism than payback. This is a symphony of savagery; to banish demons, it depends on parity throughout.
And that makes Morton's role harder. She holds her own, giving a strong, calibrated performance as a domestic shrew hungering to hurt her mate, yet secretly pining for him. While she loses a bit of steam in the second act, that may be director Pam MacKinnon's twist. Given her extraordinary performance in August Osage County, Morton is clearly adept at familial anguish.

Still, the production pays tribute to Albee's vision -- from Todd Rosenthal's perfect sets to Morton and Letts' ease at shooting poisonous arrows. Most remarkable is the sense, in those final moments, that change is possible. This is a shattering theatrical experience that deserves regular revivals.
While the adults bicker, the kids can head round the corner to The New Victory Theater for the magical Mojo. British company Theatre-Rites, in coproduction with the Barbican and the Salzburg Festival, offers a lively show with puppeteers, dancers and musicians, jazz percussionist Adriano Adewale and blues/jazz singer, trumpeter and guitarist Leo Altarelli.
Cones and squares magically join together to create an animated creature fussed over by the cast. Puppets and people interact; it's all about the journey of growing up. The colorful trip of self-discovery has a whimsical air. Music and movement accompany the child's view of the world; even neon and bubbles get into the act. The energy is infectious. Recommended for children 5 and older, there is plenty of mojo in Mojo.
Photo: Michael Brosilow