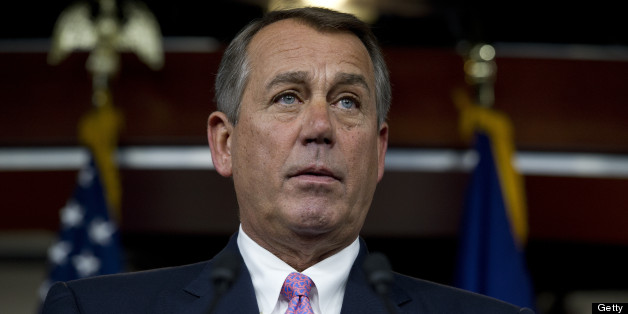 Let's face it, the cracking-up of American society along ethnic and racial fault lines is among the most distressing -- and dangerous -- threats to our country.
We have, however, in Speaker John Boehner a leader who can put the pieces back together through his awesome power to decide upon what the U.S. House of Representatives votes.
Much of our collective attention lately has been focused on the death of Trayvon Martin and the trial of George Zimmerman. Recently focus has been riveted to what is now being described as either President Obama's greatest speech on race relations -- or his cynical attempt to further divide the country by daring to point out that we are not yet a "post-racial" nation. The periodic currents of racism that hit our nation are now swelling into flood tides that threaten the unity of our society.
The real tragedy of the Martin-Zimmerman case stands next to the merely pathetic recent loco-reaction to American Latino pop superstar Marc Anthony's singing of "God Bless America" at the MLB All-Star Game. By all accounts, Anthony's rendition was quite good -- not a broken note from his best-selling pipes. And the fact that a Latino would sing at a baseball game -- a sport where some of the biggest stars are Hispanic -- should not be of any special remark.
Yet his performance was followed by an explosion of hate speech on social media about a "spic" and "foreigner" singing "God Bless America."
Not that one should try to debate with racists, but as a matter of objective reality: Marc Anthony is an American, born in New York City.
We're now almost a decade into the immigration "debate" and the rising antagonism toward non-white Americans is hitting a fever pitch. As an immigrant to the U.S., I was a kid growing up in Connecticut where I was the target of years of "spic" slurs and ugly moments -- both my mother and I were humiliated in public more than once.
Until I read the hate tweets directed at Anthony, I thought that those days were long gone. The memories of prejudice don't govern my day-to-day existence, and like many people who have shared my experiences with prejudice across this country, I have archived those unpleasant moments of my life into the deep recess of my memories. But reading the slurs directed at Anthony, those memories were called up in an instant, the nausea I felt then as bitter tasting as it was in the 1970s, when in one of many such incidents someone aggressively told me to "shut-up spic" as my mother and I spoke in front of the Woolworth's on our town's main street.
Now this is one of the most interesting phenomena of racism: It is not about your skin color. Sure, the observable difference in skin tone sparks reactions in the racist mind, but racism is much more complex than that. I am whiter-looking than 99 percent of most "white" people. As I child, I had light blond hair, olive-green eyes and was always the tallest boy in my class. Yet, "spic" followed me from elementary school to college. It was not about my skin -- it was much deeper, more mysterious and insidious than that.
Racism is complicated. And making believe it does not exist -- or that it is some sort of left-wing plot to give out "free-stuff' to disadvantaged folks - blinds us to its corrosive reality. Calling President Obama the "racist in chief" as some conservative commentators have done since his remarks last week, when he asked Americans to consider the lingering damage of racism, is deeply wrong. It is a pernicious denial of reality that prevents us from solving this national nightmare once and for all.
In the immigration debate, we're also seeing horrible racist attacks mount. Perhaps emboldened by the acrid assertions of certain Tea Party members of Congress who revel in fostering racial divisions as a way to cement their shrinking power base, the temperature is rising and the rhetoric is crude. One has to wonder whether Marc Anthony would have been so savagely attacked if feelings about immigration were not so raw.
Dr. Martin Luther King Jr. said, "Darkness cannot drive out darkness; only light can do that. Hate cannot drive out hate; only love can do that." So what can John Boehner do about this festering wound? Simple: Allow an open vote of the House to pass immigration reform.
The reasons to implement immigration reform are many, and are primarily driven by a national security need, an economic-efficiency imperative and the political urgency of moving our national focus to other, equally pressing issues such as middle-class economic growth, world-class education and the future of the American empire.
Beyond the parochial considerations of saving the GOP from an electoral implosion in 2014 and beyond, Boehner can make history by moving forward reform legislation that solves this issue once and for all. He can be the institutional solution that transcends the microscopically important needs of any one party in favor of the macro needs of the whole nation.
And in the process, Boehner can help heal these deepening divisions that are wrecking our society. An American of Latino descent singing "God Bless America" should not make headlines -- nor should knuckle-draggers hijack a strategic national issue such as immigration reform.
It's time for John Boehner to decide if he is a national leader or merely a party hack raised by fate to the level beyond his true capacity, thereby staying in "power" by appealing to the lowest-common denominator and ignoring an urgent need for America.
Time to decide, Mr. Speaker, if you're up to the task of leading this country. America waits for your answer. And we hope you're the leader we've been waiting for.