With Meta-Monumental Garage Sale, Martha Rosler's first solo exhibition at the Modern, the Museum of Modern Art has reached a new low: effectively one step away from a Martha Stewart bake sale exhibit. Rosler's offering is nothing more and nothing less than what it promises: a big suburban-style garage sale.
According to the in-house "newspaper" published for the occasion, called The GAR(b)AGE SALE STANDARD, the exhibit "transforms the Marron Atrium into an informal cash economy -- a space for the exchange of goods, accompanied by narratives and ideas, as it implicates visitors in face-to-face transactions." In short, a low-budget, low-concept flea market -- only that there won't be any fleas, since all cloth items among the estimated 14,000 objects on sale have been studiously fumigated to prevent bugs from invading the museum. As The Standard reassures its readers, "Everything's clean."
Rosler is personally overseeing the sales and haggling with museum visitors over the goods -- stuff donated by the artist, the museum staff and, mostly, the public which had been invited to drop off "castoffs, no-longer-wanted-objects, bric-a-brac, and odd items" as early as this past May. Items for sale include secondhand clothes, shoes, books, records, toys, decorative items, household appliances, even furniture and a Mercedes cabriolet. Once an item is sold, lucky buyers are encouraged to have their picture taken with their purchased item, furnishing a "slide show of purchasers and their purchases" posted on MoMA's website under the header, martharoslermademebuy. Rosler shrewdly set prices at a rather steep level to prevent a premature sellout, thus guaranteeing a garage sale "worth stopping for."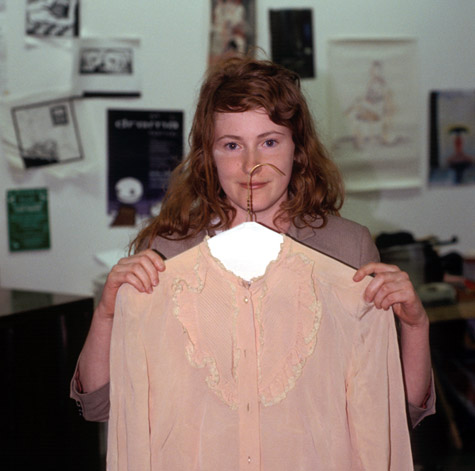 Garage Sale. Project Arts Centre, Dublin, Ireland, 2004
Garage Sale originated in California in 1973. Since then, it has known many permutations in its many exhibitions across Europe, where its function as a demonstration of a particularly American phenomenon may have lent it an exotic cachet. While garage sales may be a field worth investigating by sociologists and economists and indeed a "natural gathering place for building communities," as Rosler described in her lengthy interview with The Standard, this latest use of MoMA's prestigious Marron Atrium dramatically lowers the bar for performance art in a way that is nothing short of insulting to the field. MoMA's outgoing chief curator of media and performance art, Sabine Breitwieser, went so far as to promote Rosler's salesmanship as "the epitome of a performance."
Americans live in a culture that created eBay, and garage sales nationwide reportedly gross more than eight billion dollars, but Rosler and Breitwieser seem to assume that the public is unable to process market economy patterns on its own. Breitwieser may argue that "art is a kind of pinnacle of the idea of the value of objects," but this latest, blunt commodification of performance art degrades museumgoers into bargain hunters.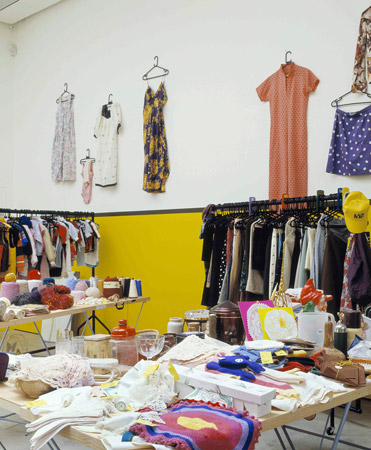 Garage Sale. Institute of Contemporary Arts, London, Great Britain, 2005
Rosler, who grew up in Brooklyn, may lament MoMA's long-time "distance from the streets," but she is clearly out of touch with the competitive, status-anxiety acquisition patterns that govern this city and its art industry. It is ludicrous to equate the working class re-sale and re-use of commercial goods (something that has always been dictated by consumerism on one hand and economical needs on the other) with a mega sale of pedigreed junk within the museum. But Rosler evidently revels in her elevated role as tough saleswoman, gleefully giving people "a lot of grief" when their coveted items are those she has deliberately displayed out of reach.
Proceeds are said to go to charity.
Martha Rosler, Meta-Monumental Garage Sale
The Museum of Modern Art
The Donald B. and Catherine C. Marron Atrium, second floor
November 17-30, 2012
PHOTO GALLERY
Martha Rosler's "Meta-Monumental Garage Sale"