Making the most of New York City in just a few short days can be a daunting task. How do you fit in culture, nature, great food, and sightseeing on limited time?
One way is to explore this great city in parts and allow yourself to experience some of the best the city has to offer without rushing through it.
Though you never know what you might find along the way to distract you from your original plans (street festivals, free concerts, or farmers markets tend to pop up everywhere, especially during the warmer months), having a good guide at least helps you get started.
Here are some ideas for two fun days in New York City. Because this is a pedestrian-friendly city with a wonderful public transportation system, a lot of these places are perfect for walking (wear comfortable shoes) as well as train or bus-riding (make sure to purchase a multi-day metrocard). And by all means, bring your sense of adventure and camera along!
Day One
Want to start your exploration of NYC in a way few often do? Start your day in Harlem. Because most visitors tend to stay in the lower parts of the city, few get to experience what uptown has to offer.
Start in what is now called Morningside Heights, but what we New Yorkers still know to be Harlem. Tour Columbia University on 116th and Broadway. There are no shortages of coffee shops in the area for a morning pick-me-up before walking through campus and towards your next stop, Cathedral St. John The Divine.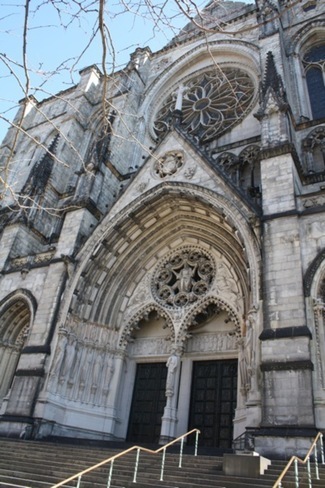 Image by Girl Gone Travel
Though the cathedral's construction began in 1892 and the work was interrupted several times, including during two world wars, its completion is yet to be announced. It functions as a place of worship today and often hosts activities for the community, but it's also an architecturally beautiful space to tour and explore either with a guide or on your own.
If it's a weekend, work up a brunch-worthy appetite with a 21-minute (or 1-mile) walk East to 118th Street and Lenox Ave (or Malcolm X Blvd) in the heart of Harlem. This is where you will find La Bodega 47 Social Club, a fun eatery that specializes in Latin and Caribbean cuisine.
There aren't a lot of places left in that represent the authenticity of the neighborhood you are in, and what Bodega does is a great job at celebrating the community of Harlem with the food and sounds that highlight it all so well. Dishes like their shrimp and cheddar grits or their French BLT are to die for. Pair that with any one of their amazing drinks and you are set for an afternoon of adventure.
A straight 20-minute walk down Malcolm X Blvd and into Central Park will lead you into the beautiful Conservatory Gardens, on 5th Avenue and 105th street.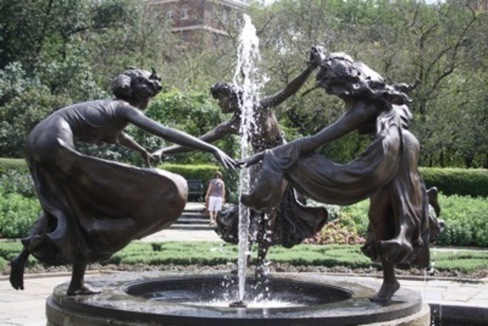 Image by Girl Gone Travel
This 6-acre garden is the only one in Central Park and is a designated quiet zone where visitors often come for walks, book reading, or peaceful rest. The sculpture of the Three Dancing Maidens serves as its centerpiece and the Vanderbilt Gates, which once led to Cornelius Vanderbilt II's chateau, now serve as the main entrance off of 5th Avenue.
During the spring, when all the tulips are in bloom, and in the fall, when the colorful mums take over, this garden is a sight not to be missed.
Across 5th avenue is El Museo del Barrio, where you will find a collection of Latino art and photography, specifically though not exclusively, that of Puerto Rican artists representing the community of Spanish Harlem, or El Barrio, where the museum is located.

Image by Girl Gone Travel
Exploring the museum as well as attending any one of their weekend events is a wonderful way to learn about the area, the people, and the cultures that have influenced this part of New York City over the years.
This museum is the first of many to be found on this section of 5th Avenue called Museum Row. Everything from The Museum of New York City to the Guggenheim to The Metropolitan Museum can be found. You can walk down the avenue, in through Central Park, or take the M1 or M2 buses further downtown.
The best way to end your day however, would be on the Roof Garden Cafe and Martini Bar of The Met. Though touring the museum itself could take a day or more, there is no question that heading straight to the rooftop to watch the sunset over the skyscrapers makes for a wonderful ending to a very enriching first day.
Day Two
At this point, you might find yourself a bit exhausted from the day before. No better excuse for a free ferry ride and a picnic on Governors Island off the coast of Manhattan.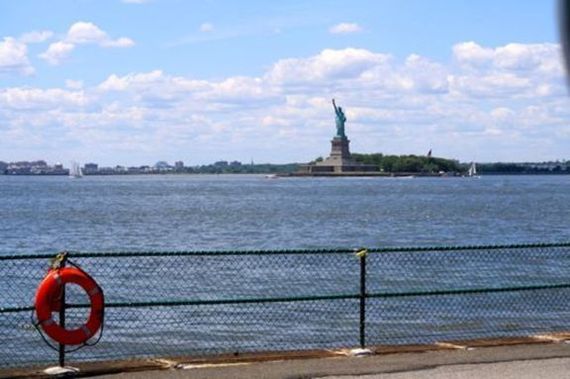 Image by Girl Gone Travel
This island is accessible only by ferry and does not allow cars, though visitors are welcomed to bring their bikes or rent them on site.
Of the 172 acres, 30 are currently open to the public with 14 acres available as green area for rest, picnic, and play, with two fields for softball and little league games. There are food vendors on site (cash only) as well. The ferries run on a schedule leaving from the Battery Park area of Manhattan. The ferry and island are less crowded during the morning hours, and leaving earlier in the afternoon helps to avoid long lines.
The Governors Beach Club is a great place to dip your feet in the sand, grab a beer or a snack, and admire the Manhattan skyline from a distance.
Plan your visit, and you might even catch a free concert or two. Best ways to get to the Battery Maritime Building on 10 South Street, and where the ferry departs from, is by train or bus as parking in the area is very difficult.
If you didn't get enough while on the island, then touring Battery Park City and its many monuments and museums will surely do you in. The 9/11 Memorial and Wall Street is nearby, but that might require a whole other day of exploring, best done through a guided tour for a full history lesson on that historic New York City area.
To end the day in a fabulous way, Pier A Harbor House has recently reopened as a fine-dining and drinking spot after being in shambles for 40 years.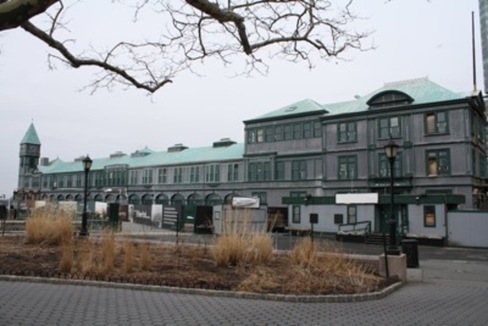 Image by Girl Gone Travel
This historic pier which opened in 1886, once served as the offices for the New York Harbor Police and Department of Docks. Later it was the point of entry for the European elite coming through Ellis Island, and most recently the offices of the NYC Fire Department's Marine Division.
Today it is two-stories of spacious luxury for an evening of relaxation, enjoyment, and sunsets.
There are countless other ways to spend two glorious days in the Big Apple, but these two options provide unique views of the city, a fun perspective that not too many people get to enjoy, and a more enriching experience that will make you love the city even more.
Discover more great travel destinations. Follow Girl Gone Travel on Findery.