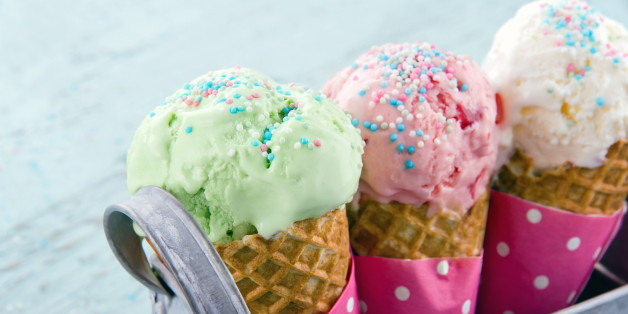 President Ronald Reagan was really on to something. I'm not talking about his "Reaganomics" or "War on Drugs." He designated July as National Ice Cream Month and the third Sunday (or shall I say Sundae?) as National Ice Cream Day. Recognizing ice cream as "fun and nutritious", I fulfilled my civic duty by trying nine ice cream shops across SF. I wanted to see how these shops and their ice cream, gelato and sorbet scoops stacked up. Literally. With so many "fresh", "artisanal", and "organic" options out there, it can be difficult to decide what cone is right for you. Do you value humor, sophistication, or something a little exotic? Use this as your guide to find your match in ice cream heaven. (Warning: This "research" was not condoned by my doctor, but was fully endorsed by my sweet tooth.)
The Clever Cone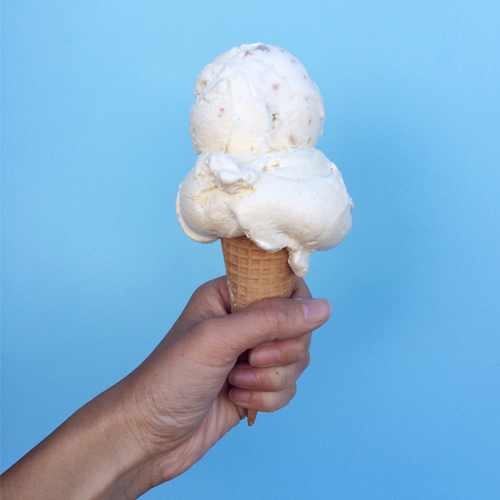 Pictured: Breakfast of Champions and Brown Sugar Fennel. Photo by Erin Fong.
Humphry Slocomb is a scoop with a sense of humor from the two headed calf bust hanging in the shop to their clever website. (Be sure to browse their "ingredients" section. With flavors like Breakfast of Champions (bourbon and corn flakes), Harvey Milk, and Pepper & Mint Chip, you can have a belly full of laughs with a belly full of ice cream.
The Rite Cone
Pictured: Brown Sugar with Ginger Caramel Swirl and Honey Lavender topped with rainbow sprinkles! (Duh!) Photo by Erin Fong.
Bi-Rite is my long go-to ice cream parlor, even before a shop opened up a block from my house. I used to balk at the line twisting around the corner on 18th Street as eager sugar fiends melted for the salted caramel ice cream, and then of course, I promptly lined up before more people got in front of me.
Bi-Rite may be the pioneers of artisanal ice cream as they were the first SF shop to use Straus Creamery in 2006 (which was the first certified organic dairy west of the Mississippi!). Their rich ice cream is simple and balanced utilizing only 5 fresh ingredients to create flavors like Ricanelas (cinnamon with snickerdoodle cookie pieces), (vegan) Chocolate Coconut, and Basil (sourced from Full Belly Farms).
The Exotic Cone
Pictured: Dragon Fruit Sorbet and Yogurt Gelato. Photo by Erin Fong.
Literally translating to The Crazy Cup, La Copa Loca has some of the craziest flavors around. Owner Mauro grew up in a northern Italian kitchen and went back to master the art of gelato making in 2001. With a traditional gelato background that focuses on fresh ingredients and seasonal fruits, Copa Loca offers a wide selection of gelatos and sorbets in colors and flavors that I didn't even know could exist...dragon fruit, soursop, camu camu. You see what I mean?
The Unsung Cone
Pictured: Scotch & Cigar and Thai Iced Tea. Photo by Erin Fong.
DeLise is in uncharted territory for me hiding in plain sight in North Beach. The ice cream aspect can easily be overlooked as they are also a cafe, bakery, and a great lunch spot. Using Straus Creamery and Clover Dairy products, husband and wife team Dennis and Eloise Leung (whose names combined create DeLise) are on top of their flavor combo game without getting too obscure. Offering new and inventive tastes by blending western and asian elements, the duo have developed some unexpected and seasonal flavors. Mooncake ice cream is in honor of the Moon Festival mixing lotus root paste with crumbles of pastry crust and salted egg yolk. Lucky for me their Father's Day special, Scotch & Cigar, was still around, made from scotch and chopped up cigars (don't worry, they are filtered out of the liquid) which leaves a lingering burnt flavor that's so unique one lick just isn't enough. I was incredibly impressed by DeLise and couldn't believe I had never even heard of it before!
The Anywhere, USA Cone
Pictured: Their new flavor Chai Tea and the flavor of the month Bubble Gum (because that's what I ordered as a child - exclusively). Photo by Erin Fong.
It seems like not much has changed at Joe's Ice Cream, which has been serving the heart of the Richmond District since 1959 with its diner style service and parlor. It's the type of ice cream parlor that you and I went to as a kid (if you lived anywhere other than San Francisco) and long before "artisanal" and "ice cream" were married. I was surprised to find flavors like Caferio (coffee and oreo) and Salted Caramel, and if you ever need a Chocolate Covered Banana this is the spot!
The Dainty Cone
Pictured: Summer Strawberry and Goat Cheese in a dainty little cone. Photo by Erin Fong.
Yo! There's a new fro-yo in town. Eatwell Farm's Icebox (in the Second Act Marketplace on Haight Street) swirls 4 artisanal frozen yogurt flavors using Straus Creamery alongside their organic and hyper-local ingredients from their very own Eatwell Farm just outside of Dixon, CA. Swirl the tried-and-true combo of Classic Vanilla and Stoneground Chocolate or get a little adventurous with Summer Strawberry and Goat Cheese. The handmade butter waffle cone is a no brainer and is the perfect size for a little summer pick-me up.
The Nostalgic Cone
Pictured: Blueberry and Caramelized Honey. Photo by Erin Fong.
Ice Cream Bar tugs on my Art Deco heartstrings. The place is adorable with black and white tiled floor (the cute hexagonal style tiles-not the squares), curved counter seating at the ice cream counter, AND a boozy soda fountain to boot. Its old-timey feel is authentic from the soda jerks (I'm not being a jerk, that's what they were called) dressed in white aprons, hats and bow ties to the actual interior that was an original 1930s soda fountain driven out from its original location in Mackinaw City, Michigan. The nostalgic feel is countered with modern in-house flavors created daily with local and organic ingredients from Petaluma. It was a toss up between the Speakeasy Payback Porter, Snickerdoodle Cookie in Cream Cheese Ice Cream, and Creme Fraiche.
The Sophisticated Cone
Pictured: Olive Oil and French Lavender. Photo by Erin Fong.
Mr. and Mrs. Miscellaneous are mysterious types. Their website is non-existent and a Google search only pulls up rave reviews. I made my way down to their cute brick building in Dogpatch and sampled from their limited selection of homemade ice creams. (Word on the street is that you can only sample 3 flavors, so I dared not ask for a 4th.) With flavors like Olive Oil, White Sesame, All American Bitter IPA, and Young Coconut, they really put the cream in ice cream with rich and sophisticated flavors, just like the shop itself.
Your Father's Cone
Pictured: Turkish Coffee and Thin Mint. Photo by Erin Fong.
Swensen's is in fact your Father's ice cream cone, but that's not a bad thing. In 1948 Earle Swensen opened up shop on Union and Hyde Street focusing on using the finest ingredients available in a perfect blend that was as "Good as Father Used to Make." Swensen's became widely popular and was the first national Ice Cream Parlor to serve a natural premium ice cream. The landmark parlor still stands in Russian Hill scooping up a handful of the 150 flavors that Swensen developed (Swiss Orange Chip, Sticky Peanut Butter, Caramel Turtle Fudge). Despite all the flavors, Mr. Swensen still said classic vanilla was his favorite, and classic is exactly what Swensen's is!

Like any relationship, sometimes the first one's not right for you, and that's ok. Get back out there and try again. There are plenty of scoops in the ice cream sea. And trust me, two scoops are better than one.
For more ice cream around the world, go here!