This amazing country has so much to offer travelers, and promises to steal your heart. If you blink, you might miss out!
Of all the things I imagined Thailand to be, I never expected it to make me feel so beautifully overwhelmed.
Even the weather has this way of taking over your senses, its impact is immediate. From the moment I arrived in Bangkok I was consumed by the heat and humidity in the air. It was midnight. At first you struggle to sleep due to jet lag, but then you realize sleep is the last thing you want to do anyway because you realize the vibe of the city changes with every passing hour. I couldn't speak the language, and I tried my best to not butcher the few words I knew, but even when I failed, no matter where I went, people smiled at me, were gracious when I asked to take their picture, and made every effort to make me feel welcomed.
This is probably one of the toughest decisions you will make upon arrival. Whatever wonderful things one can experience during a day tour doesn't come close to comparing to the night scene, and you'll want to be awake for both. The sounds, the colors, the smells - some more interesting than others, help you through the process.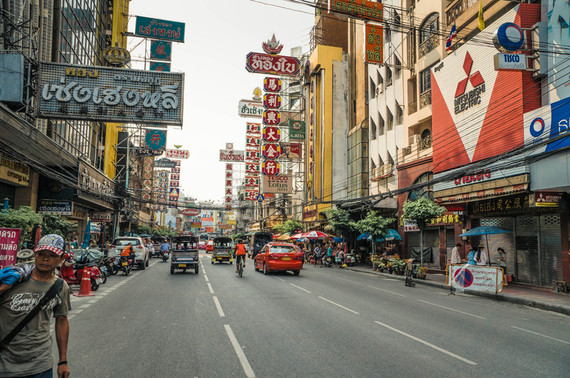 Bangkok during the day by Girl Gone Travel
One of the first things that visitors do when they arrive is eat. But figuring out where to start can be an adventure in and of itself. I quickly learned that "medium heat" in spices for the Thai is closer to "high intensity" for those of us with a less trained palate. I spent several days in search of the perfect pad Thai, which I discovered was a lot easier to find at evening food markets (many generally open at 4 in the afternoon) or in mall food courts. If you venture out of the city, as I did, it can become a bit more challenging.
More unique delicacies than pad Thai are easier to find, especially while walking through the open markets. The market and street food stands have this ability to inspire a spirit of adventure in almost everyone who passes by, so much so that suddenly snacking on grilled silk worms on a stick might seem like a pretty good idea. Personally, I preferred the grilled rice on a stick, just one of the many times I would have the opportunity to eat rice - which was pretty much always!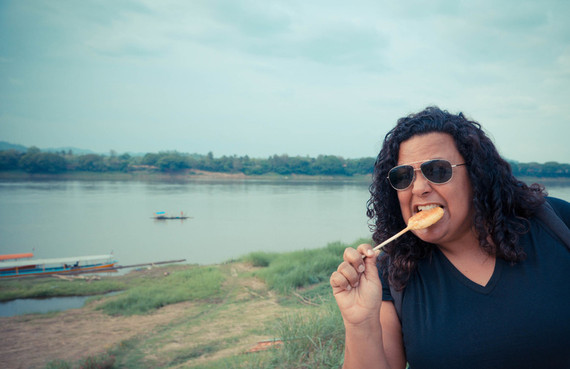 A rice snack by Girl Gone Travel
A fun way to get around is by riding a tuk-tuk, named so for the sound the motor makes as it zips through the busy streets and traffic. Sure, it's more a touristy thing these days (cabs leave you less disheveled), but it's a must-do and an inexpensive way to take in the city or village you may be visiting. Some people feel it necessary to haggle on the price for these rides. I thought the fun of it outweighed the two dollars it cost per person. (Travel tip: Just because you can get it cheaper, doesn't mean you always have to.)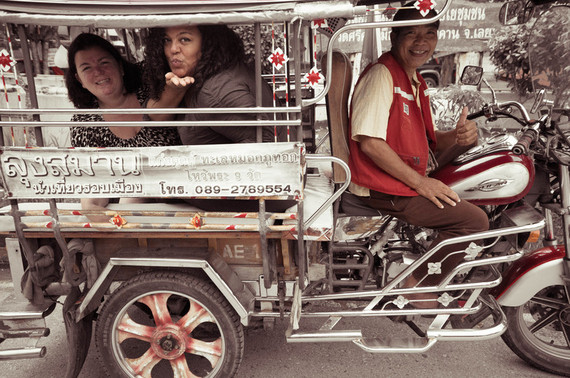 Riding a tuk-tuk by Girl Gone Travel
Visitors are sure to get their fill of temple tours, each one with its own characteristics and history. Some temples are small and intimate, while others are grand and awe-inspiring. It's important to be aware of dress codes when visiting the temples. For example, wear shoes that can easily slip on and off, as you must remove your shoes before entering. Women should also carry a light shawl with them to cover themselves if wearing a dress or top that exposes their shoulders. Some temples even have rules for colors that one shouldn't wear when entering.
It's also important to be mindful of those at prayer. Though few limitations are placed on visitors taking photographs in the temples, it's polite to remain aware of the fact that these are places of worship, and that the clicks of cameras and positioning oneself for shots might be intrusive to others. One thing I really loved about the culture is its devotion to its spiritual practices and norms. It compelled me to not only be more zen, but also respect the zen of others.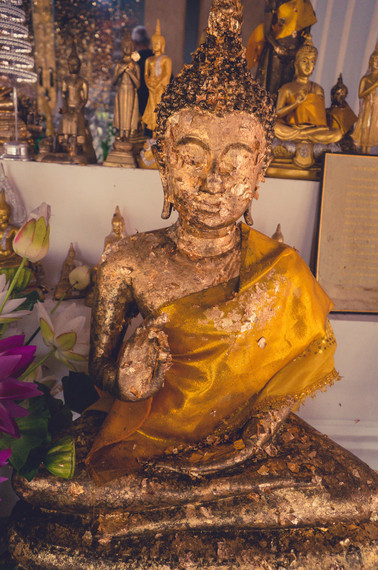 Donations for blessings by Girl Gone Travel
Every region, every village, every city has its own vibe, traditions, and even dialect. Areas like Chiang Mai have become an expat and travel writer favorite, as have the beaches of Phuket. But there are cities in the North, such as Loei, that also have a lot to offer, including cooler weather. Of course, all of this requires a lot more time or even several visits to explore fully.
I would say, on a quick trip, things not to miss include participating in an early morning donation ritual to the monks and a cruise along the Mekong River.
Discover more of Girl Gone Travel's Thailand findery on Findery.
And no matter where you are, whether on a rooftop restaurant in Bangkok or on the trails of Phu Tok Mountain, make sure to take the time to stop and take in a sunrise, sunset, or both. Because when it comes to Thailand, exploring is best done with a slow pace, a hungry stomach, a friendly smile - to complement that of its lovely people, and eyes wide open so that you don't miss a thing. You can always catch up on sleep on your flight home.