The 30th season of Survivor, premieres on February 25th. For 15 years, I have indulged in my guilty pleasure of watching castaways try to outwit, outlast and outplay each other for a million dollars. I am comforted by the ratings: I am not the only sane educated woman who can't get enough of this ridiculous show. What fascinates me so much? The "confined environment psychology."
Watching a diverse group of people thrive or crack under the merciless conditions brings me back to Psych 101 class. How would I behave after sleeping in the rain? Who would I find comforting while living on rice and doing impossible physical challenges? Would I lose my mind if sent to Survivor's famed exile island? I recently discovered a real human isolation experiment at Biosphere 2.
Biosphere 2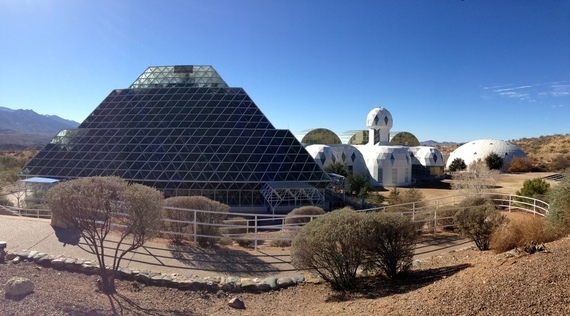 Image courtesy of Jessica Reid
Thirty minutes outside of Tucson, Arizona lies Biosphere 2, the Earth's largest closed system science research facility ever created. The Earth, of course, is Biosphere 1. Biosphere 2 is on a 40 acre plot of land surrounded by mountains and desert landscape- the ultimate survivalist environment. In the 1980's a group of scientists and investors came together built a structure of biomes filled with greenhouses, a living sea, desert and rainforest, savannah and living quarters for people. Two controversial missions tested survivability by sealing people (known as Biospherians), birds, goats and insects into this incredible glass structure. This project had noble goals of environmental research, but the larger aim was space colonization. They hoped to patent a system that could be set up on other planets. No doubt, the Biospherians inspired Mars One, the upcoming human settlement on Mars.
Living in Biosphere 2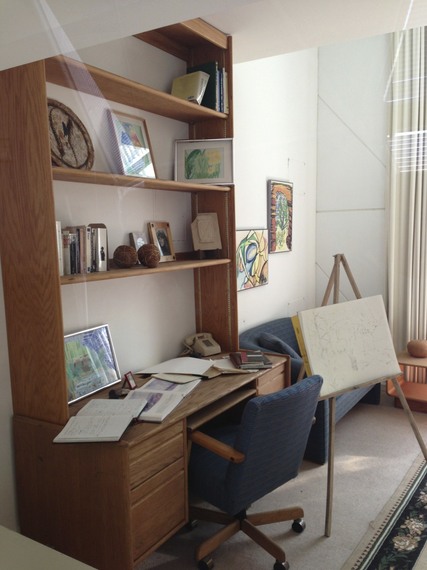 Image courtesy of Jessica Reid
I have visited Biosphere 2 a few times. The most fascinating person involved in this experiment is Jayne Poynter. She was in charge of food production on Biosphere 2. She makes the science come alive in quotes and videos throughout the tour. Plus, she is funny and has a cool British accent. A couple of the living areas, including Jayne's bedroom and the kitchen, are preserved as a museum that you can visit. Her book, The Human Experiment: Two Years and Twenty Minutes Inside Biosphere 2, chronicles the problems of hunger, low oxygen and conflict. (Spoiler alert: she married one of her fellow Biospherians.) The Biosphere 2 tour shares her story along with everyday dramas including a severed finger, an ant invasion and a raid on of the emergency food supplies!
The Living Sea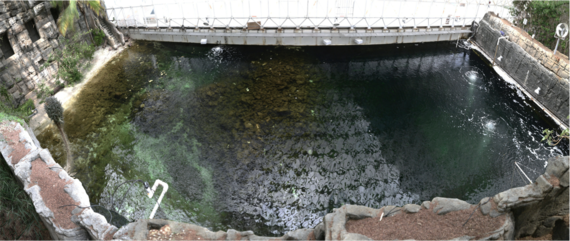 Image courtesy of Rafe Sagrin
I wonder if the Biospherians ever skinny-dipped in their own private ocean? I hope so! The living sea, complete with coral reef, was created for Biospherians to manage waste and provide food for the people and fertilizer for their crops. Weird and awesome, right? The 700,000 gallon saltwater tank is the largest contained ocean in the world. The University of Arizona, along with a crowd funded research project led by Rafe Sagrin, is currently transforming the ocean into a "Desert Sea" that will highlight the ecology of the Sea of Cortez. It's pretty incredible to think that no matter how hard we try, we can't compete with the real thing- our Earth, Biosphere 1.

The Tour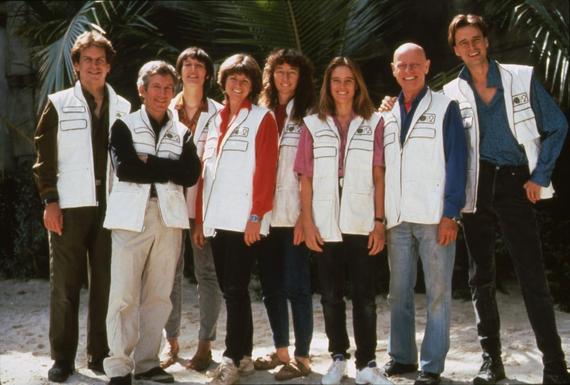 Image courtesy of Biosphere 2
Biosphere 2 has tours daily from 9-4. Tickets are steep at around $40, but the tour is unforgettable. I recommend taking the weekend tour if you want more history on the early closed-mission years. You might even meet a former Biospherian! The tour route is about a mile long and includes over 150 stairs, so accessibility is an issue for the full experience. Bring a large water bottle, comfortable shoes and sunscreen. The desert is unforgiving. Photos are encouraged and the docents love to answer questions. When you take the tour you will pass the trees with coffee beans that were harvested for the Biospherians coffee. It's these little details that really connect you to the real Biospherians. There are also art installations and solar energy experiments throughout the grounds. The gift shop has a great selection of unique gifts for science lovers, including many local products made from rocks and plants in the desert. The mementos are an excellent reminder that you have one of the best happy hour stories to tell.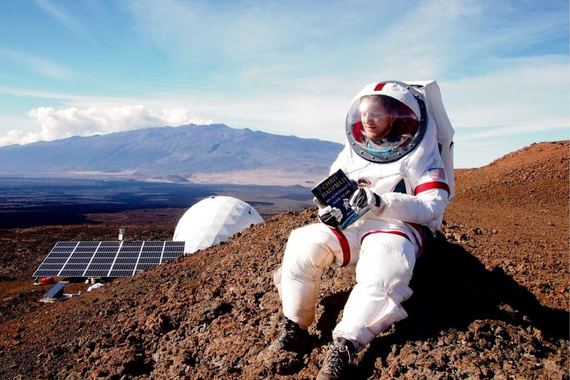 Image courtesy of Hi-SEAS/Ross Lockwood
I have found that people young and old are intrigued by the story of my Biosphere 2 visit. Like Survivor, it brings out the curious in all of us. Could you survive a year in Biosphere 2, on a Hawaiian volcano at Mauna Loa or in a research center on Antarctica? Personally, I think the producers should consider Biosphere 2 for the 31st season of Survivor. I am working on my audition tape...just in case they decide to go for it.
Discover more awesome destinations like this one on Findery.com.