The desert is an unforgiving place. It has attracted the daring, the outcasts, and the visionaries for centuries. Certain souls have flocked to the desert whether called by God, aliens, the earth, or the lawless lifestyle and have miraculously adapted and flourished here. Perhaps it's heat stroke or maybe it's the drugs, but true geniuses thrive in the desert. The things I saw in the Southern California desert were so unexpected and alien that they seemed like a mirage.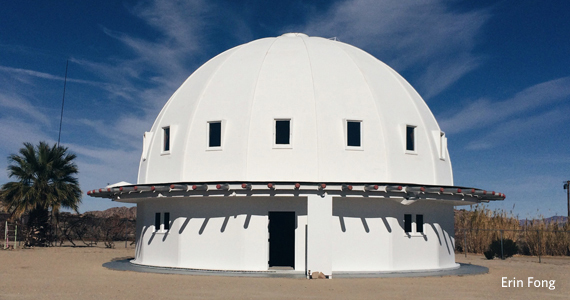 Integratron
The stark white geodesic dome, dubbed The Integratron, is easy to spot in the dusty desert landscape of Landers, California. It was constructed in 1954 by George Van Tassel (a student of Nikola Tesla) based on the directives given to him by aliens from Venus. Yes, aliens. The purpose: to rejuvenate living cell tissues. Perhaps because of this, it is the only one of its kind standing 38 feet high with a 55 foot diameter built entirely of wood on a powerful geomagnetic vortex. However, it's not the architecture that is so intriguing, it's how it sounds. This is a building with perfect acoustics. It brings visitors to the desolate desert town 40 miles north of Palm Springs, by offering "sound baths", a 20+ minute session of swirling crystal bowls that create sounds that dance around the dome and reverberate in your chest, all the while suspending and cleansing your cells. Hence, the cell rejuvenation and the "bath". Though some claim to see magnificent colors as they are lying in the chambers or feel the touch of loved ones long gone, others just take the time to relax and reflect. It's a glorified adult nap time and quite literally the epitome of good vibes.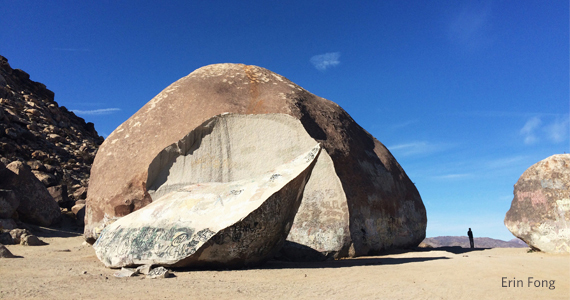 Giant Rock
Giant Rock, as it is so aptly named, is a 7 foot tall, 5800 square foot rock that is located down a dirt road in Landers, California. In the 1930s, a gentleman by the name of Frank Critzer excavated under what was considered the world's largest single boulder to create a dwelling. Critzer was a resourceful and shrewd man and reckoned since he didn't have the resources to build a home, digging out a dwelling under the boulder was his best bet. This proved to be a perfect desert abode as the rooms would remain cooler in the summer, and warmer in the winter. It was through Frank Critzer, that George Van Tassel learned of Giant Rock, which was the key factor in his contact with aliens and thus, the building of The Integratron. In the 1950s Van Tassel acquired the rock and the land it was on and began holding meditation meetings to contact aliens in the room beneath the rock. In August of 1953, a saucer landed from Venus (as the area next to the rock was conveniently ran as an airport landing strip) and Van Tassel was invited on the ship where he learned of cell rejuvenation and time travel. Forget the UFOs - can you imagine living under a giant boulder? Those guys were crazy!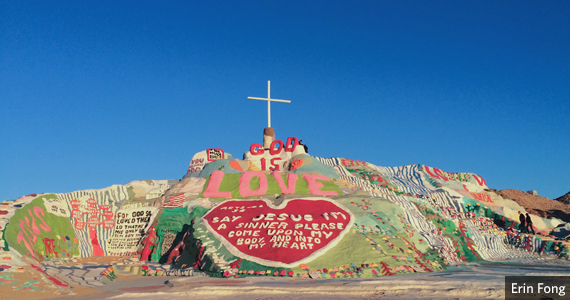 Salvation Mountain
"God is Love" is the main message at Salvation Mountain, an incredible folk art installation in Niland, CA. Leonard Knight originally set out to spread his love for God via a hot air balloon. After many failed launch attempts from the tattered hand-sewn balloon, Knight was determined to make at least one small gesture. He took a bag of cement and covered mounds of sand in the desert, topping it all with paint. This addictive small gesture progressively grew larger and larger, resulting in what stands today, a 50 foot high and 150 foot wide mountain made of adobe clay and thousands of gallons of donated paint. The way the colors pour down the mountainside is mesmerizing. You are invited to "follow the yellow brick road" to the top. It is a real-life Dr. Seuss scene. People flock to this desolate area because where else can you see a mountain covered in paint and love? It is a lifetime of work from one visionary man. Knight recently passed away in 2014, but the site is declared as a national folk art site worthy of preservation and is maintained as a 501c3 nonprofit. (You can make a donation to help preserve this landmark!)
International Banana Museum
The International Banana Museum is literally the most apeeling spot around. Located on Hwy 111 in Mecca, California, there are over 20,000 banana related items. When you walk into the small space it is more than a banana split, it's a banana explosion! Every inch of the place is covered in banana trinkets from the standard toys, pins, and keychains to the obscure like hangers, pipes, a record player, and even a petrified banana. Chill out with a banana-chocolate shake or a chocolate dipped banana on those hot summer days. The desert sure is bananas.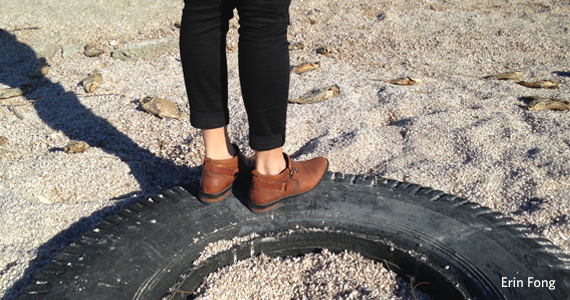 Bombay Beach
The Salton Sea is the largest manmade lake in California. It was accidentally created in 1905 when the Colorado River was being diverted for farming purposes. This newly formed lake was seens as an "oasis in the desert" and soon homes started popping up in the area. Bombay Beach was built as an affordable vacation home community for families in LA; however, the unnatural lake has some unnatural side effects. With ever-increasing salinity levels, the shore recedes, and fertilizers that run into the lake create large algae blooms. A major (and majorly spooky) side effect is a beach full of dead and decaying fish that can no longer stand the saline content levels and each crunchy step is a reminder that the "sand" is actually decimated fish bones. It's hard to tell the abandoned vs. lived-in homes when driving through the 10 block town of Bombay Beach. The lake level has changed so much over the last couple decades that many of the houses have been swallowed up by the sea and then left to sink and rot in salty mud. It is a living breathing post-apocalyptic town that is so unbelievable it feels like a movie set.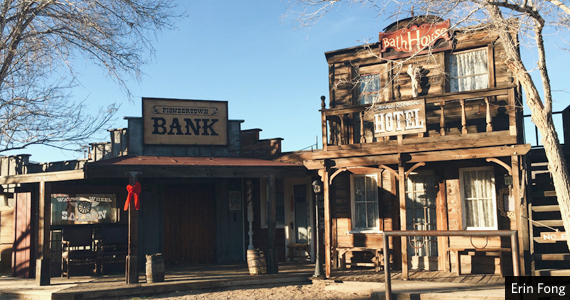 Pioneertown
If Bombay Beach feels like a movie set, Pioneertown actually is a movie set. Built in the 1940s as a motion picture set for old westerns like The Cisco Kid, Pioneertown has since been transformed into a real town. However, it's hard to differentiate between the old and the new (if there is any), between what's real and what's fake. Mane Street (get it?) is lined with buildings like The Bathhouse and The Livery that are set up with old-timey props from long ago and some actual souvenir shops for tourists. Intermingled with these buildings are residential homes with signs stating "private property", as clearly there is a lot of confusion here. However, the real heart of the town is Pappy and Harriet's Pioneer Palace, opened in 1982 by husband and wife team. It has since gained notoriety as a finger lickin' mesquite BBQ joint and named a Top Ten Hidden Gems Of the Country for a music venue by Billboard Magazine.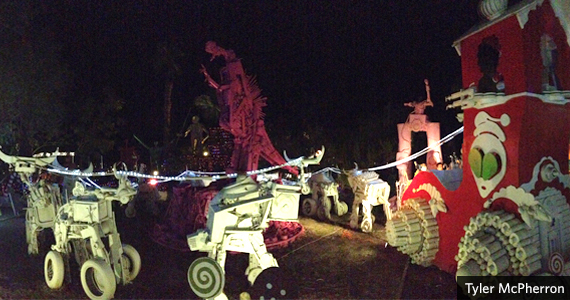 Robolights
Robolights is what happens when you mix 8.5 million lights and a 12 year old's vision that has developed over 20 years resulting in an explosion of lights and a sci-fi, post-apocalyptic Christmas scene. For decades now Kenny Irwin Jr. has salvaged, repurposed, and recycled what others may consider junk: fax machines, microwaves, remote controls, tools, cans of Touch 'n Foam sealant, and lots and lots of paint cans since everything here is covered in it. Pay a $5 suggested donation to enter this Christmas wonderland. It spans a 2 acre yard in the Movie Colony East neighborhood of Palm Springs. Upon entering you are greeted by an alien Santa's battle wagon led by 12 robot reindeers. It's slightly overwhelming, but mostly just impressive as the robots get bigger and the scenes get more elaborate the further you wander down the path. You can hear whispers of "creepy," "crazy," and "genius" as everyone is walking around wide-eyed and smiling big. One thing for sure is that it is guaranteed to light up your night.
I'd like to think that it's something in the water that leads to all of these unique desert manifestations. Then again, maybe it has to do with the lack thereof. Next time you're looking for some inspiration, hit the dusty road and see what oasis awaits you.
Discover more treasures in the desert on Findery.com.