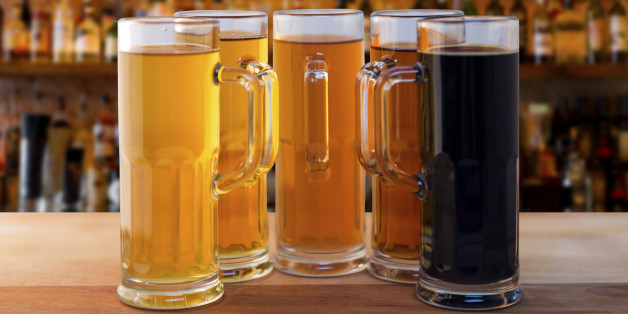 To say Santiago de Compostela is popular with walkers is a bit of an understatement. According to official tallies, almost 18,000 people walked to Santiago in April of 2015. Not walked in Santiago, but walked to Santiago. Most from hundreds of kilometers away. Many from thousands. And if you know anything about this city in northwestern Spain -- Galicia, to be more specific -- you know that's what it's all about: The Camino. A religious pilgrimage that calls people far and wide to walk here.
But I'm not religious. And I'm not keen on walking cross-country when perfectly good airplanes arrive in Santiago de Compostela every day. That said, I am a fan of walking from bar to bar, sampling the local craft beer scene.
I know what you're thinking. "Craft beer doesn't exist in Spain, Evo!" Yeah, that's exactly what I thought, too. The craft beer nerds I'd left in The States some months before were of no help, and the handful of bars I visited the first few days I was in town weren't looking promising. Estrella Galicia for only one Euro was a great deal, but my taste buds weren't exactly singing. The free tapas helped, but I'd already written the whole trip off as a craft beer loss, assuming I'd have to suffer several weeks of flavorless fizzy, yellow beer.
Saved by a red beer beard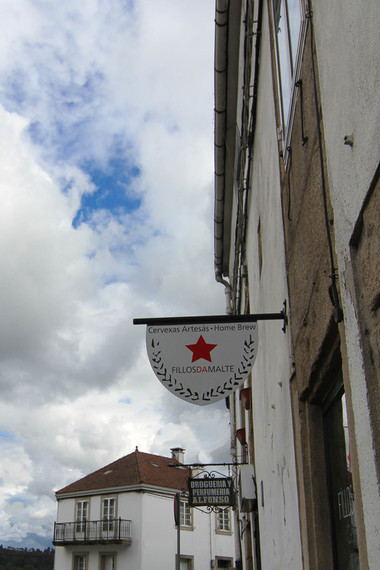 Photo by Sheila Dee
My limited online research turned up one possibility; a craft beer shop called Fillos da Malte. The information on the pages I saw was old, and my online map wasn't happy with the address I put in. But after cross referencing a few more posts and discovering the difference of spelling in Spanish versus spelling in Galician, we walked up to the front door... only to find it closed. Lights off. Peering inside was no help. [sigh]
As we were about to leave, a guy in a hoodie sporting a bright red beard that brewers back in The States would be proud of walked up and opened the door. That was Jesús, opening his shop just after the siesta had ended. (Attempting to do anything between 2 and 5 in the afternoon in this town is a fool's errand.) And yes, he had loads of craft beer on the shelves!
Over an Arredemo Double IPA from Galponbier Brewing and a Demo Neghro Imperial Oatmeal Stout from Menduiña, Jesús filled us in on the budding craft beer scene in Galicia. It was only about five years old, but already there were some 20 craft breweries cranking out small batch after small batch. All were home brewers who over time simply scaled up their operations, moving from kitchens to garages to commercial space, dealing with all the challenges that comes with such moves. Where outputs of American craft breweries are measured in the tens of thousands of barrels annually, in Galicia they're counted in dozens. Distribution is severely limited to a handful of establishments, all found in this article. Consumption is growing, but at a snail's pace. Luckily, craft beer is blossoming all over Spain, and the rising tide lifts all boats.
But you won't need a boat to take in this craft pub crawl -- a craft camino, if you will -- of Santiago de Compostela. Let's get started!
First stop: Fillos da Malte
Rúa da Cruz de San Pedro, 14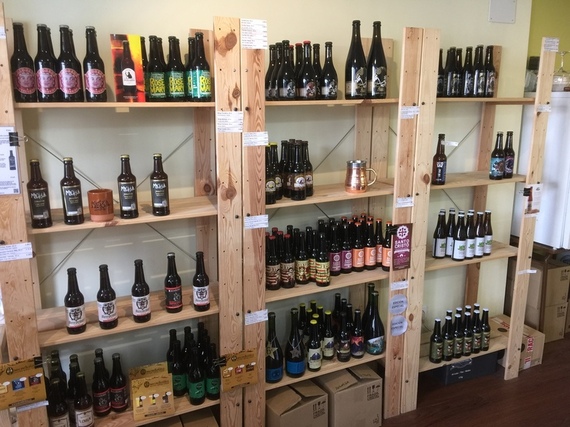 Photo by Evo Terra
Plan on your craft camino to start around 5:00pm, and start off at Fillos da Malte. It's about a 10 minute walk from the bus station, or a 30 minute hike from the train station. Remember, this is Galicia, and things move a little slow sometimes. Don't freak out if they don't open right at 5:00. Relax. Good beer awaits inside.
Fillos da Malte itself is a tiny shop, with a small dorm-sized refrigerator to keep a handful of bottles chilled. But don't worry: this is northern Spain, so the room temp of the store is actually close to cellar temp. As long as you stick with a solid double IPA or imperial stout, you want to drink beer at about this temperature anyhow. It's a cozy place to enjoy a beer. And by "cozy", I mean there are five chairs. Literally. But it makes up for its small size with a huge personality. And it holds a special place in my heart, as it kicked off our entire craft beer experience in Santiago.
Don't be surprised if you're the only ones drinking inside. But you probably will see a moderate amount of foot traffic. Fillos da Malte also sells home brewing equipment, and the shop acts as the store-room for a local craft beer exchange club. You can easily enjoy a few beers in here, chatting up the people you encounter. And since you're walking...why not enjoy?
Second stop: La Atlántica
Rúa da Algalia de Arriba, 43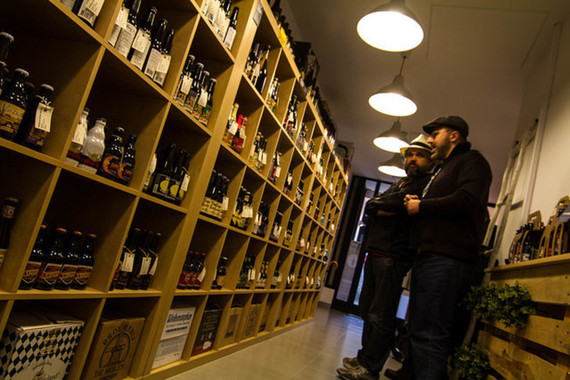 Photo by Sheila Dee
La Atlántica is the Santiago equivalent of Bevmo or Total Wine, just on a Santiago- sized scale. Carlos has the widest selection in town, but consider what town you're in. Still, you won't be disappointed. If there's a Galician craft beer currently in production, chances are Carlos has it in stock. He prides himself on carrying a large stock craft beers from other autonomous regions of Spain, with a healthy amount coming from Catalunya (that's where Barcelona is).
But La Atlántica wants to support the entire craft beer scene in Galicia, and that means catering to his customers who often want something more than what the local 20 breweries can provide. To that end, he has an extensive selection of both European and US-based craft beers, with plenty of familiar faces -- and quite a few new ones. He's also cognizant of travel-times, so don't ask if has any Pliney the Elder or the short-life "Enjoy by" series.
If you're smart, you've timed your trip to coincide with one of Carlos' beer tasting events. He has them pretty frequently, so be sure to check the shop's Facebook page for events. If not, just be sure get here before he closes up at 8:00. Oh, and if you brought a backpack, take a few bottles to go. Because there's more here than you can drink tonight!
Stop Three: O Bandullo do Lambón
Rua da Raina, 9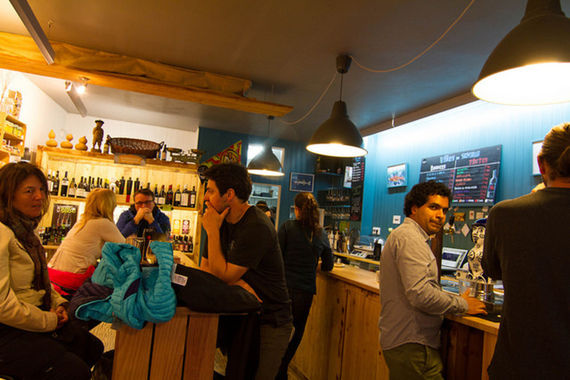 Photo by Sheila Dee
Just a few hundred meters to the south and east, you'll find yourself within viewing distance of the Cathedral, at lively little bar and deli called O Bandullo do Lambón. No, we can't pronounce it either, preferring to simply call it "OB" for short. OB is the first place you'll stop that has beer on tap, usually with two local craft beers available and the ever-present Estrella Galicia. It's the fancier tap handle, but certainly not the best beer available.
They maintain an impressive bottle selection, with many in the cooler ready for on-premise consumption. Others are available for a carryout at a slight reduction in price. You might think 3€ is a little much to pay for a 12 oz bottle of beer, but when you consider it's only about 3.50€ to drink the same beer on premise, you'll relax a little.
And when you order a beer; get ready, because within minutes, food -- free food -- will start showing up. Chorizo, olives... maybe some little sandwiches or sardines. It's up to them, and they'll keep it coming if you keep ordering beer. They pull from their large selection of speciality food, all of which is available for purchase. Lots of local foodstuffs are available in pre-packaged form or, in the case of some meats and cheeses, ready to go from their chilled deli case. Just don't eat too much, as dinner awaits!
Oh, and don't be surprised if Carlos from La Atlántica shows up just after 8:00. Yes, he's been selling -- and probably drinking -- craft beer all day long. This is the place he winds down, so you know it's great!
Stop Four: BeerLab Cerveceria
15706, Rúa de García Prieto, 51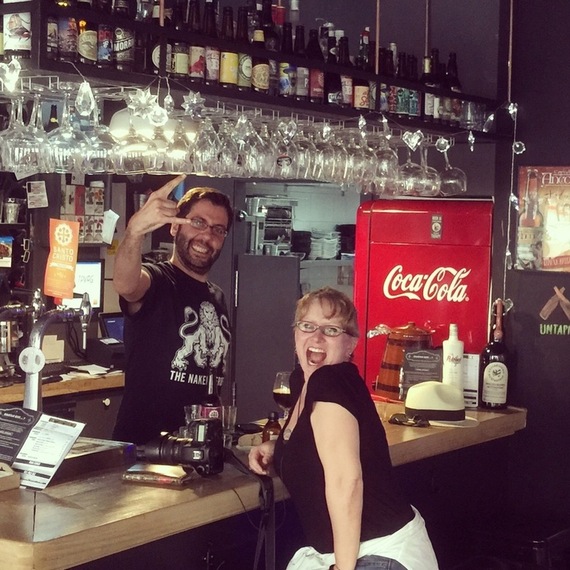 Photo by Evo Terra, of Sheila Dee!
By my count, you're at least six beers into the evening, probably carrying a half dozen bottles more in your backpack, with some tasty tapas to tide you over. Well, you're going to walk some of that off on the way to BeerLab Cerveceria, your next and final stop. It's a little under 2 km away, but don't worry. Santiago was made for walking, just like these boots. You can do it! (And if you can't, walk out to the main street and hail a cab.)
While all of your previous stops have had their own unique charm, BeerLab is going for something that should be quite familiar to you: the prototypical craft beer bar that looks -- and sounds -- like it was plucked right out of Portland, Oregon. Lots of '90s grunge piped in, with TVs on the walls playing soundless clips from beer documentaries. And maybe a football game. The soccer kind, not the first-and-ten kind. Four different taps -- a huge number for Santiago -- rotate through craft beers. And not just Galician craft beers. When we visited, two of them were taken over by Magic Rock from the UK. They rotate aggressively, so you're never sure what will be on.
They've a huge selection of bottles from all over the world. Not quite as many as La Atlántica, but enough that you won't have to worry about repeating yourself. If you get stuck, ask Manu (pictured above) for a suggestion. He's pretty spot on with his recommendations, and can also help pair with the food. Speaking of that...
The kitchen at BeerLab opens at 8:00. Arrive before that, and you'll get tapas served. But try not to eat to much. They are fantastic (try the beer chili nachos!), but the true delight comes from experiencing the food Chef Santi (his name is Santiago, but you don't want to confuse him with the city, now do you?) prepares fresh. He puts a twist on pub food I've not seen before, experimenting with tastes and flavors to make some truly wonderful dishes. Galicia is known for fresh seafood, but not fish and chips. Once you've had Santi's, you'll wonder why that staple dish of England ever appealed to you. It's that good.
BeerLab is open late, and by 10:00 at night it starts to get pretty crowded with the university crowd and other craft beer fans. Don't worry, you'll fit right in. Especially if you're now at least eight craft beers into the evening. Why yes, a cab probably is in order. If not, it's less than 1 km to the train station, or just a few blocks to the bus station near the university. Good luck catching the right bus!
Visiting again
We did the above mentioned tour in April of 2015, and things are going to change for the better in the very near future. Rumors abound of several new craft brew bars opening up across the city, taking their cue from the big cities like Madrid and Barcelona. So when you go, be sure to ask the locals at these four stops what's new. There's a great feeling of comradery among the craft beer scene in Santiago, and everyone genuinely seems to like each other. That was a pretty welcome change from the petty infighting that's starting to plague the American craft beer scene. Perhaps those daily siestas will let the party in Spain last a longer.
Cheers from Santiago!
Evo Terra is one half of The Opportunistic Travelers. Read more of their stories and adveture at Findery.com.