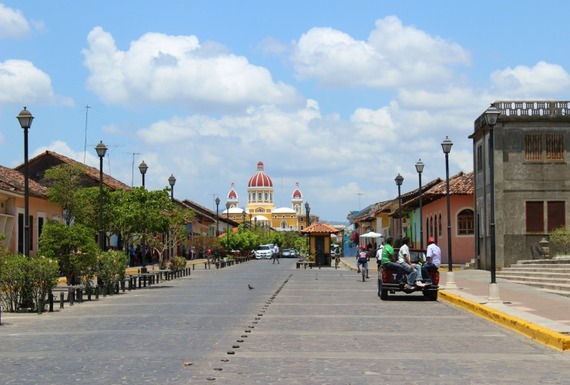 Image by Andrea Fellman
Nicaragua might not be as popular as Costa Rica, but it's just a hop over the border and definitely worth the short drive, especially since your dollars will stretch further there. Most people head to the Nicaraguan town of San Juan del Sur for the beaches, but if you've had your fill of sand and surf, you can head to the colonial town of Granada. Granada is an eclectic town filled with historic buildings, beautiful churches, interesting art galleries, and unique and delicious food.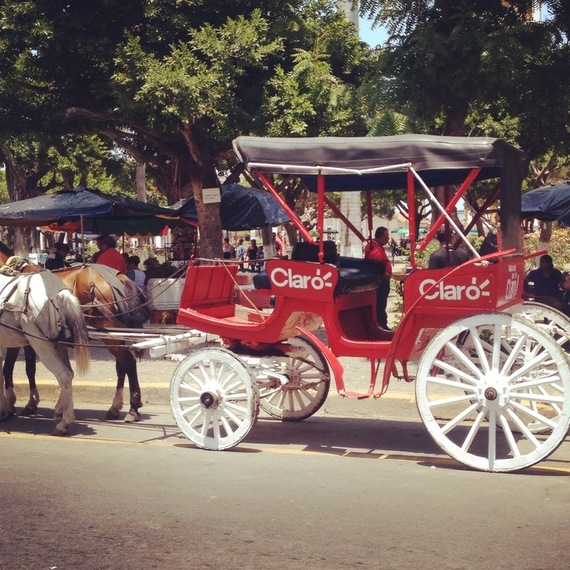 Image by Andrea Fellman
Central Park is Granada's city center and where the horse and carriages line up to take you for a tour around the city. I highly recommend doing this, the kids loved it and it gave us a nice overview of the city and the places of interest. The Cathedral of Granada is probably the most iconic building and sits right next to Central Park and the main street Calle La Calzada. Calle La Calzada is very popular for tourists and lined with hotels, restaurants, and retail shops.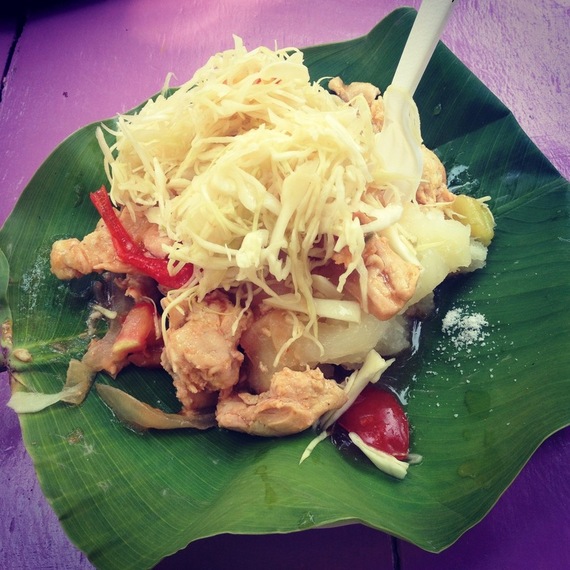 Image by Andrea Fellman
Central Park is where I tried the traditional dish of Nicaragua, Vigoron. Vigoron is made up of pork, cabbage, tomatoes, mimbro (an acidic fruit), chili, and vinegar. It can also be prepared with chicken. Mine was served on a leaf, as it traditionally is! It would be a shame to visit Nicaragua and miss out on this culinary experience.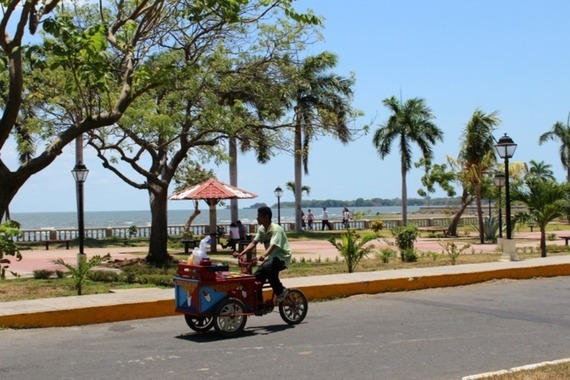 Image by Andrea Fellman
From Central Park, Calle La Calzada leads you down to Lake Nicaragua and on your walk to the lake, you will pass the popular Hotel Granada and Guadalupe Church. Lake Nicaragua is one of the main attractions in Granada and you should spend a day strolling the waterfront and stopping to eat at some of the traditional Nicaraguan restaurants lined up along the street. They're not fancy, but that's where you can find authentic Nicaraguan cooking and eat where the locals eat.
Since Lake Nicaragua sits on a volcanic chain, it's home to to over 300 islands and islets. The most famous island is Ometepe. With two volcanos, a variety of activities, and lodging, it is a popular place for adventure seeking travelers. Many of the islands and islets near Granada are very small in size but several of them have hotels and private homes built on them.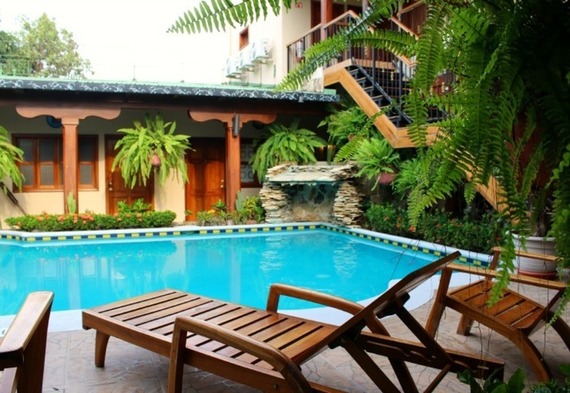 Image by Andrea Fellman
Hotels in Granada have a European flair and style, which also means that they are small. But what they lack in size, they make up for in charm. You will see many hotels with grand doorways that allow you to peek inside the lobby and see straight through to a beautiful courtyard or the hotel bar. We stayed at Hotel La Mar Dulce away from the noise and bustle, but just a few blocks from the Central Park. Our hotel had a great pool in the center and all the rooms surrounded the pool. Breakfast was served poolside instead of in a formal dining room.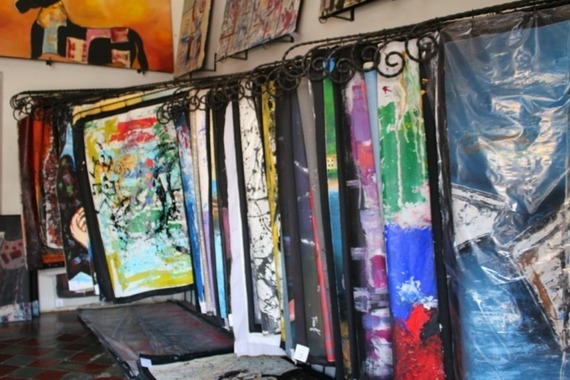 Image by Andrea Fellman
Our horse and carriage ride around Granada brought us to an art gallery filled with paintings, gorgeous wooden furniture, and Nicaraguan pottery. These are referred to as Nica Art, and are made by Nicaraguan artists and craftsmen. These hanging canvases are for sale in a variety of sizes. They can be rolled up so you can easily take them with you.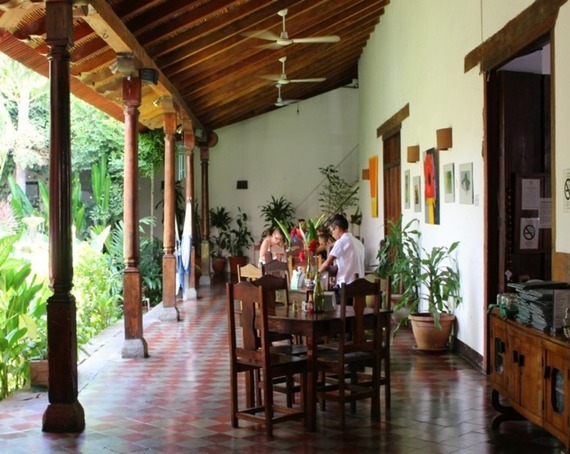 Image by Andrea Fellman
A wonderful place for breakfast and coffee is The Garden Cafe. Not only is it a café, but it also has a large reading room with wall to wall books, a kids' corner with toys and a chalkboard, a gift shop with local handmade items, and a gorgeous patio facing the garden. Another great place to grab breakfast is Kathy's Waffle House, a popular place with the locals.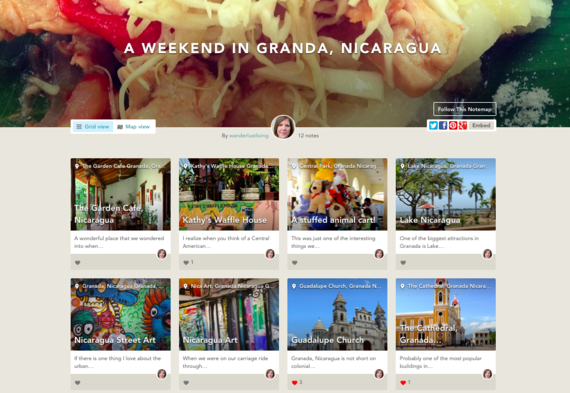 Image by Andrea Fellman
For dinner there are plenty of places to choose from, but the La Ciudad Lounge is my top pick! You will not find it along the popular Calle La Calzada. Instead, it's a little off the beaten path, but well worth the short walk or cab ride away from the crowds. The Ciudad Lounge is an eclectic mix of local artisan store, restaurant, wine bar, and cigar lounge. It's a definite must when visiting Granada!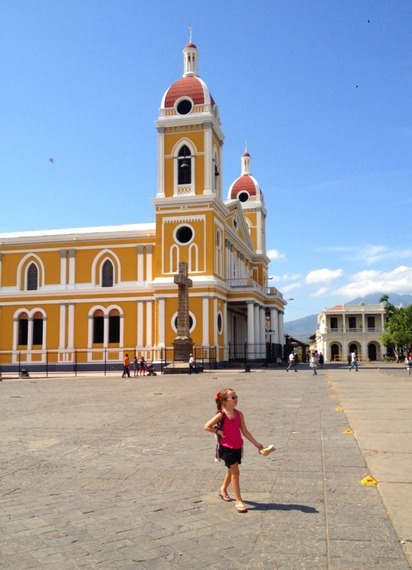 Image by Andrea Fellman
Spending three days in Granada offers plenty of time to explore this hidden gem of Central America. Although we kept to the city center, there are even more activities and things to do around this city and on Lake Nicaragua. This was a perfectly sized walking city that offered enough to keep the kids exploring and happy. With the carriage rides, street vendors, street art, boat rides, and unique markets, they were well entertained. Granada is a unique little city with lots of flair!
Discover more great travel destinations. Follow Andrea Fellman of Wanderlustliving on Findery.