Sacramento is not known as a destination city. I get it. It's small, quiet, and mostly suburban. But I am here to tell you that there's plenty to do and see. Albeit most activities may be those belonging to a Capital City - the Capitol Building, Governor's Mansion, and Old Town - there are a few surprises. Stick with Downtown and Midtown. The restaurants are hip and lovers of "farm-to-table," the coffee shops and bars are plenty, and most sights are walkable. Here's what I did in Sacramento - a.k.a. The City of Trees - on a sunny Saturday afternoon.
The best way to start the weekend is with a leisurely brunch. My favorite spot is located in midtown: Magpie. The menu is influenced by seasonal ingredients produced in the region. My Eggs Benedict came with grilled fall veggies, making me feel a little less guilty about my choice. Sit on the patio, should the weather be nice. And the mimosa? Oh yeah.
From Magpie, I walked to the Capitol Building. This area of town is lovely, with its tree-lined streets and old architecture. And the Capitol grounds are even lovelier. There are many species of trees (including a Redwood that went to the Moon), a trout pond, and sculpture galore. The Capitol Building is open to visitors 7 days a week (free admission). Be sure to check out all levels, including the 3rd, where visitors can pop into the California State Senate and Assembly Chambers, even when they are in session.
I could visit The California State Railroad Museum over and over again. There are 21 gorgeous, restored steam locomotives, which further reveal the utter banality of Amtrak. It's no coincidence that the museum is in Sacramento. Three of the major railroad giants, Mark Hopkins, Leland Stanford and Charles Crocker came to Sacramento to make their fortunes. A personal favorite: the simulator train. If train excursions are your thing, they have those too. Including the Polar Express, come wintertime.
By now I'm a little sleepy. Coffee time. Sacramento has a number of alleyways that have received special treatment in recent years. One of them is the L Street alley, where Old Soul Co. does its coffee roasting. It's also a cafe, and their iced coffee is my jam. Next door is Edible Pedal, a bicycle shop and delivery service. They deliver food from a number of midtown restaurants, including Magpie. How do you like them apples?
While there aren't many clothing boutiques to be had in Sacramento, this area of town has several. Heart offers the latest trends at an affordable price. Sugar Shack, sister to Krazy Mary's, is another local favorite. The staff at both are very friendly and helpful, which is something you don't always find at department stores. Long live the boutique!
What makes City Cemetery worth the trip is the beautiful grounds and the history it holds. Opening in 1849, a number of politicians and well-known businessmen are buried here - Sacramento founder and city planner John Sutter Jr., the entire Crocker family (of railroad and art-collecting fame), and Mark Hopkins (another of the Big Four railroad pioneers). The cemetery is more lovely than I remembered, due to the number of volunteers who garden the grouds. Sounds macabre, but the Adopt-a-Plot program is paying off. And thanks to Findery, I discovered a grave with an interesting story.
Just up the street is Tower Theatre and Tower Cafe. This is the spot to do dinner and a movie. Of course, the movie is going to be of an independent persuasion, and the food is international fusion (whatever that is). It's required (at least once) of all natives and visitors.
Been there, done that? Try Hot Italian. The minimalist, black and white interior and simple menu embodies the fresh and cutting edge. Owned by an Italian ex-pat, you'll see well-dressed Italians here often, giving the place even more cred. Order: the ligabue - a thin-crust, pesto pizza. And save room for dessert! Gelato is at hand.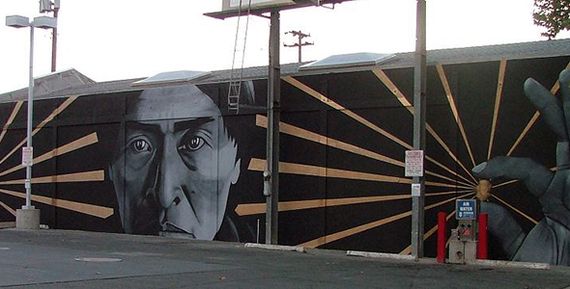 Image via Mural Locator
Also: there is some great public art in Sactown. I love this mural of Ishi, the last known Yahi Indian, who lived most of his life hiding from European-American civilization. Also, make sure to stop and walk around the colorful Fuller Poles, located just across the street from Hot Italian. The poles were a standing advertisement for the now defunct Fuller Paint Store. There is more to the history, which you can read about here.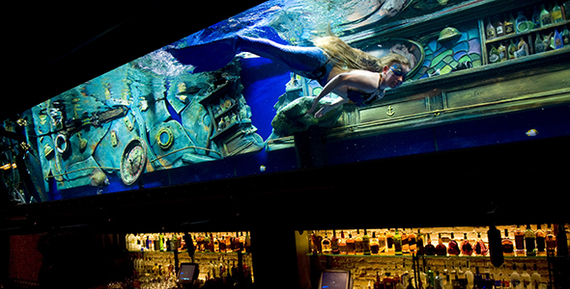 Image via Sac Bee Blog
The best way to end this day is with a libation. For an old, timey saloon with a young, hip crowd there is The Shady Lady, complete with live music. Pour House is another local favorite, featuring 50 beers and whiskeys, live events, and as it is situated next to the train tracks - $2 shots when the train goes by! If you're the pub-loving sort, try De Vere's. But for something unexpected, there's Dive Bar. A mermaid swims in a giant aquarium above the bar after 9pm. I was both entranced and repelled, but I'm glad I went. Hello?! A live mermaid!