Guatemala is one of the largest countries in Central America, and definitely the most populated. It is often referred to as the Land of Eternal Spring because of its temperate weather conditions, though this is mostly felt in the mountain areas of the country. Guatemala experiences two seasons: rainy and dry, but I have found that even during the rainy seasons, it continues to be one of the most beautiful countries to visit.
Guatemala is a place of sceneries and colors, both found in the landscape and on the clothes of the Mayan. Over 2 million visitors travel to this country every year to experience for themselves all that it has to offer.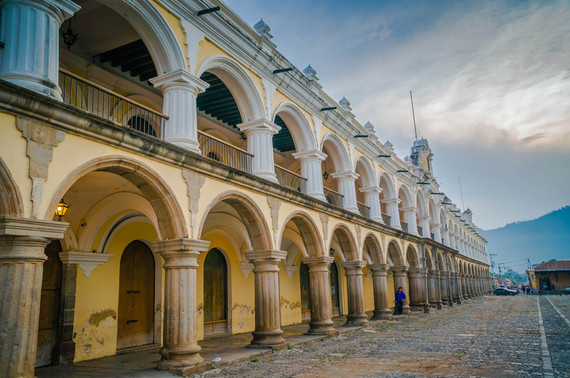 The raw beauty of this country is everywhere. You never want to fall asleep and miss it! (Image by Girl Gone Travel).
There are 26 languages spoken in Guatemala. These include 22 Mayan languages, as well as Spanish, English, and Cakchiquel. It's helpful to hire a local tour guide to help you navigate through the country as well as serve as an interpreter and ensure that you understand the many cultural and traditional norms. The department of Guatemalan Tourism is a great resource for finding the right guide for you.
Once you have a guide, be ready to open yourself up to the many sounds, flavors, and views of Guatemala.
Here are some of the best ways to take it all in:
Sightsee in Guatemala City - This city is everything you would expect a city to be. It's big and noisy, congested and busy. But it also offers a vibrant nightlife, galleries, museums, shopping, and fabulous restaurants. My hotel of choice is the Vista Real. It is a beautiful hotel that offers all the amenities such as fitness center, spa, and pool, as well as an in-house restaurant with great dinner options and a wonderful breakfast buffet.
You'll get a feel for this cosmopolitan city with a night out at Flor de Lis where Chef Diego and his team puts a contemporary twist on Guatemalan dishes that even his very traditional father fell in love with. It's an adventure of the senses and a great intro to the many culinary treats you can indulge in while traveling through the country.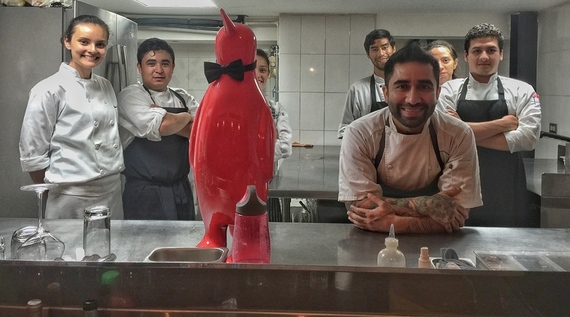 Order from the Chef's Menu for a full experience at Flor de Lis (Image by Girl Gone Travel).
Shop the market at Chichicastenango - The market, which is open on Thursdays and Sundays is one of the most enriching cultural experiences you can immerse yourself in. Many visitors like to go shop the endless array of artisan treasures that can be found there for a very good price, especially for those great at negotiating. This indigenous town is also where the sacred, 400-year old St. Thomas Church is located. On market days it's easy to find Mayan priests performing rituals, lighting incense, and praying near the flower vendors spread out over the stairs of the church.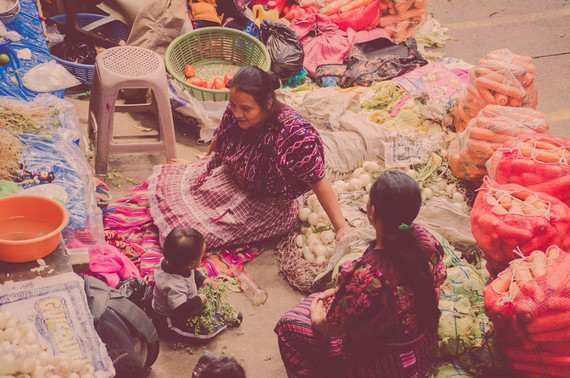 The largest marketplace in Guatemala is also a traditional indigenous land (Image by Girl Gone Travel).
There are two very important things to note when visiting Chichicastenango. When priests are in prayer or in ritual it is considered sacrilegious to walk (or pose for photos, or sit, etc.) on the steps leading to the church. Instead, there is a side entrance from which visitors can enter. It's also important to note that it is not OK to take photographs of the priests or any Mayan sitting in prayer or ceremony. Overall, the general rule for photography is to ask for permission first, even with simple hand gestures, and be willing to make a small offering of a quetzal in exchange.
Ride a boat over Lake Atitlán - Head to the town of Panajachel, which borders the lake and a beautiful place to visit. My favorite hotel there is the beautiful and eco-friendly Porta del Lago.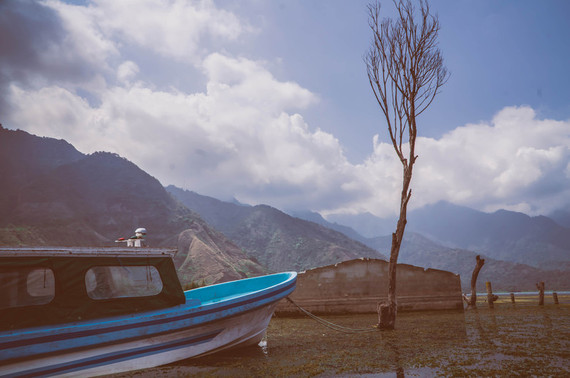 The views while crossing Lake Atitlán is like a painting (Image by Girl Gone Travel).
Lake Atitlán is the deepest in Central America and offers views of three volcanoes; Atitlán, Toliman, and San Pedro. It is definitely worth waking up super early to catch the sunrise over the volcanoes and lake and enjoy the sounds of nature before the busyness of the area takes over.
Support local artisans - Take a boat ride over Lake Atitlán to San Pedro La Laguna, where you will find an indigenous town packed with cooperatives that work to help support the local artisans. It's a great excuse to see a different view of the lake, but also gives you a chance to give a little back to the community of artists and their families through your purchases.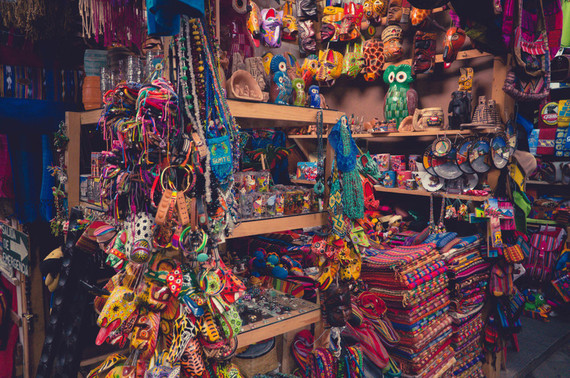 Know where to shop from local artisans to help benefit them (Image by Girl Gone Travel).
Cook and dine with a Mayan family - Nothing will immerse you into the culture faster than the experience of cooking and dining with a Mayan family. This can be coordinated through many of the recommended guides you can find on the tourism department website.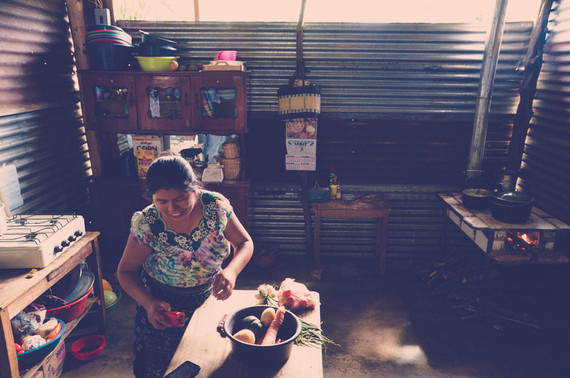 No English is spoken in this kitchen, but it is the most authentic of Guatemalan experiences. (Image by Girl Gone Travel).
Be ready to sweat as you learn to make mole using a traditional grinding stone, test your skills and speed while making corn tortillas, or help make pepian, a dish only prepared on very special occasions. Mayan families are often very reserved, but through cooking and meal sharing, they warm up to guests quickly, which makes for a fun time.
Ride a chicken bus - It's hard to miss the very colorful buses in Guatemala. They are called chicken buses because it used to be that when people from rural towns moved, they would transport everything with them on the bus, including their chickens.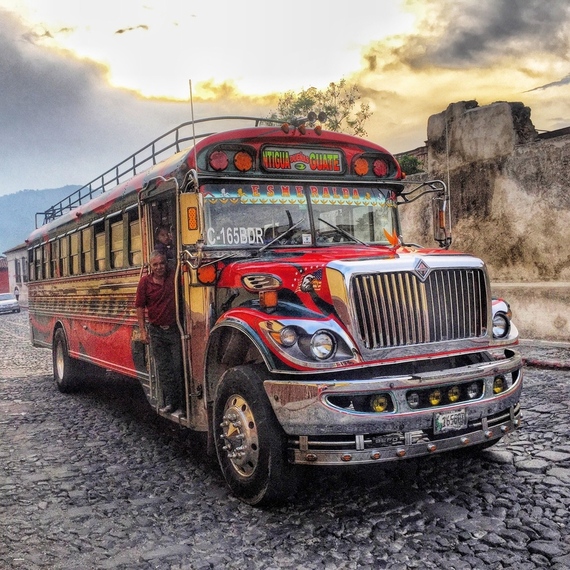 One of the most colorful sights of Guatemala. (Image by Girl Gone Travel).
The colors represent the route, which is especially helpful for those who can't read. The colors indicate which bus is heading where they want to go. These busses continue to serve as one of the major forms of public transportation in the country.
Travel back in time to Antigua - Visiting this colonial city and UNESCO World Heritage site, with its active volcano and occasional tremor is like walking back in time. Its colorful houses and ancient architecture are in surprising harmony with the trendy bars and eateries found all over town. It's a favorite destination for expats and those studying Spanish because it's easy to find English speakers and get around without trouble, probably why so many Americans love it.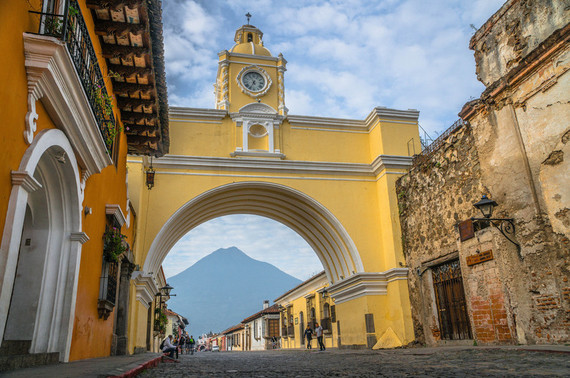 This beautiful colonial city is a favorite of English-speaking tourists and expats. (Image by Girl Gone Travel).
Antigua offers many beautiful places to stay in, from the luxurious Hotel Casa Santo Domingo in the center of town to the picturesque Villa Colonial about a 15 minute walk from the main square. There are several artisans markets, as well as museums to explore. Be sure to ask your tour guide about nearby cocoa and coffee farms. Pack an extra bag for all the goodies you'll want to bring home!
Learn a better way to give - There is no doubt in my mind that, once you tour through Guatemala and interact with the people there, you will fall in love. But you will also witness the poverty of many who live there. It's easy to imagine that giving a beggar a bit of cash or a child a small trinket will, in a small way, help them. Resist the urge. There is a better way. If you want to give back or learn about ways in which you can help, check out the non-profit organization Cooperative for Education (CoEd) which offers tours around Guatemala and through the different schools where their literacy and educational programs are helping thousands of Guatemalan children stay in school longer.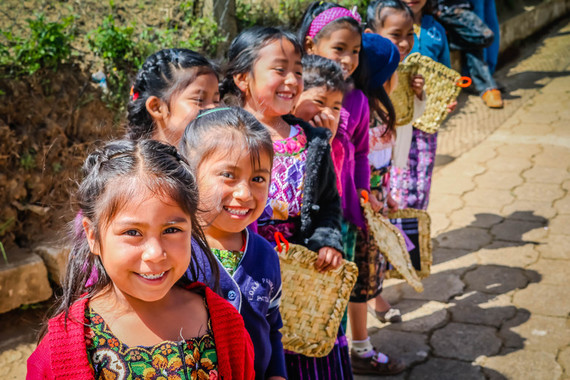 A Snapshot Tour with CoEd teaches how to best help the communities of Guatemala (Image by Girl Gone Travel).
This experience allows for a more intimate familiarization with the Guatemalan people and is an inspiring way to learn about the country. This isn't a volunteer program in the traditional sense of the word. Guests stay in beautiful hotels, have wonderful meals together, and even get to enjoy a shopping excursion or two. But the most impactful moments are the ones where you get to visit the schools, meet the children, teachers, and principals, as well as the local CoEd staff who have been empowered by this organization to lead the way for the program and its success. It will leave you changed and reshape how you view the power of giving.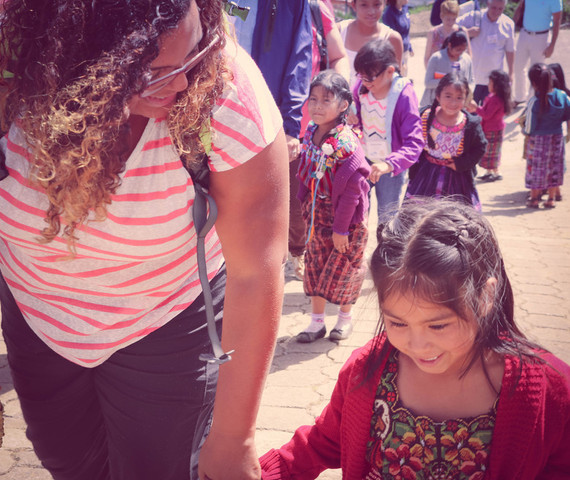 Girl Gone Travel with one of the children at a CoEd school in Guatemala.
Many travelers who have taken the tour in the past have come back to work with CoEd. Others have committed to long term sponsorships to help fund the programs. However it moves you, there is no doubt that you will learn a new way to give that is better for your soul and others, as well as find a love for Guatemala and its people that will stay with you forever.
This post was written by Carol Cain of Girl Gone Travel on behalf of Findery. Follow more of her travel adventures on Findery.