Sometimes you have endless time to plan a trip down to the last detail. Other times, you decide on Monday that you're leaving Wednesday and you barely have enough time to do the laundry let alone decide what to do, where to stay, and how you'll keep everyone entertained. The result may be more chaotic, but can often be-surprise!-more relaxing.
My family took a trip down to Los Angeles that was almost completely unplanned. In the middle of the busy work days leading up to our departure, I barely managed to book a hotel and had to leave everything else up to chance. Turns out, it was the best vacation we've ever taken. Why, you ask? Simple.
1) You can score last minute hotel deals

When you book something last minute, you don't have the luxury of choice that you'd have if you'd planned months in advance. Or rather, you're not overwhelmed with options. You decide where you want to stay and see what's still available. Even better, call the hotel of your choice and see if they have some last minute reservation deals.

I found a hotel with a pool close to where we wanted to stay, searched around for a deal on hotel sites, and ended up finding an even better deal on the hotel's own website. It wasn't fancy. It wasn't much to write home about. But it was clean, had a perfect pool (in the eyes of my children), a free breakfast buffet, and a bottle opener in the bathroom. For an incredible price. Who could ask for more?

2) You're open to everything
Where to eat? Ask the front desk staff (Turns out, hotels with bottle openers in the bathroom don't have a concierge service, who knew?), ask the person riding the elevator with you, ask the guy walking by the hotel when you exit the parking lot. When you have no plans, you have no expectations, which means that you won't be disappointed. Still leery? With Findery at your fingertips, there's always a recommendation to be found!

One night we ended up at an incredible pizza joint where the girls got to assemble their own pizzas and I tried something I'd never had before. Another night, we went to the best BBQ joint ever. Tasty and fun! A win for the whole family.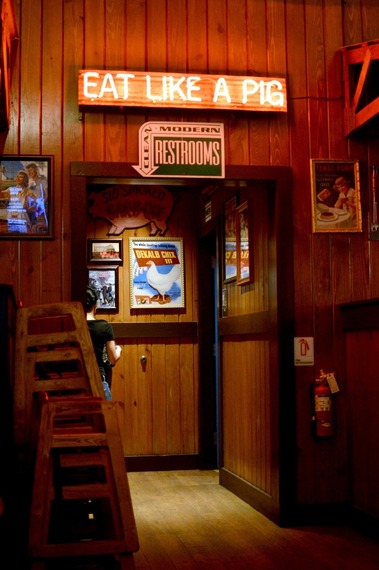 What to do? Take a look online. What do people suggest you do in the town you're in? Keep an open mind. You never, ever know what you're going to stumble into.

On our last day in LA we ended up at the Museum of Jurassic Technology. We knew exactly nothing about this place other than the fact that it was recommended online. From the outside it seemed less than exciting. Once inside it was completely disorienting and confusing. And yet, if you ask my husband about our trip, this is the thing he'll rave about for hours.
3) Everyone can take turns calling the shots

With no plans to meet and follow, the days stretch open, begging to be filled with whatever floats your family's boat right then and there. So if the kids spot a cool outing on the hotel's brochure rack, nothing's keeping you from going for it. And if you have a friend who mentions that you should check something out, you have nothing to lose by taking a quick side trip!

The first day we were in LA we indulged in my husband's desire to visit Venice Beach and its famous skate park. The next day we told the kids the day was 100% theirs, which is how we ended up at the Aquarium of the Pacific. And the next day? We decided to embrace a little more fun and went to the Santa Monica Pier. Because why not?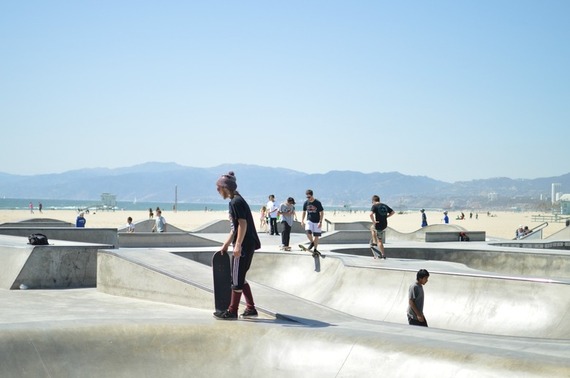 4) You're never a slave to time

Everyone wants to hang out at the beach another hour? Do it! That store looks like it has some cute things? Stop by and check it out. The kids want to stay in the hotel pool? Fantastic. When you make last minute decisions about what to do every day you can change those plans really easily. It's an amazing way to embrace what vacations should really be like - chill, relaxed, and not stressful for anyone.

On our way home we saw a highway sign that snagged our attention. We pulled off and discovered the best roadside stop we have ever seen. There was truly something for everyone from candy to cheese, from toys to random slightly fake antiques. We spent over an hour wandering around exploring the endless offerings and then we all got back into the car marveling at the discovery. Maybe we'll stop there next time we travel to LA. Or maybe we won't. We'll decide when the time comes.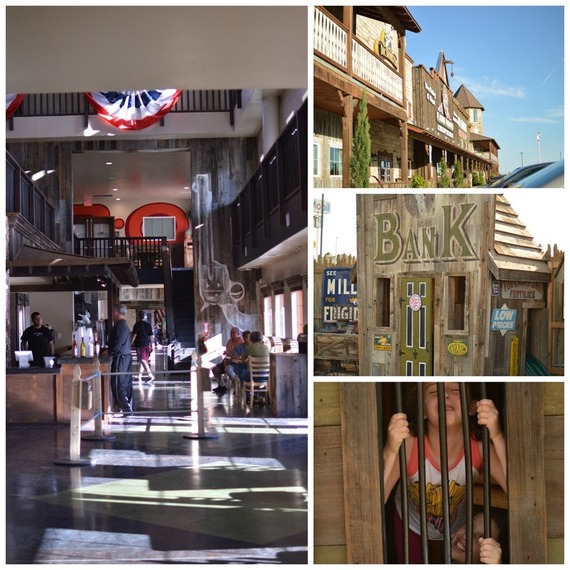 In a life all too often bogged down by too many calendars and obligations, there's a certain magic to taking a trip on a whim and seeing where the journey takes you. Give it a shot this summer and see what you discover along the way. Whether the trip is a success or not, at the very least it'll make for a great story.

Post written by Jessica Rosenberg of It's my life... on behalf of Findery. Discover more of her travel stories on Findery.