When I gave birth to my kids, I wondered if life as I knew it had come to an end. In my first eight years living in NYC before having children, I took advantage of every waking moment and explored every nook and cranny of the city. It was truly my drug, offering me extreme doses of culture, nightlife, flea markets, and international cuisine. If the Museum of Moving Image was having a Yiddish film festival, I was there. I took pottery lessons in Chelsea. I went to the opera at the Met. I devoured Chinese food in Chinatown. I knew where to get the best bagels. When I was offered jobs outside of the city, I turned them down. I wasn't a native but I was more of a New Yorker than many.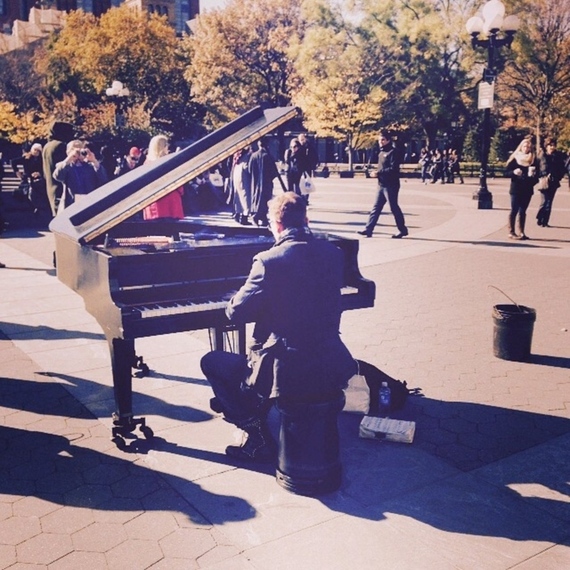 Photo by Holly Rosen Fink
Little did my kids know that they would be born into a family with such immense passion for NYC. So often have I had those "only in New York" moments that only happen here. It may be a small island, but much greatness occurs on the streets of NYC. It's the ideal destination for everyone from culture vultures to adventure seekers to foodies to nature lovers.
Take a look at these 15 activities, ideal for every type of child in NYC -- even the discerning, pickiest ones -- that will keep NYC loving parents like me happy:
1) See Hamilton on Broadway
If you're looking to see a hot Broadway show, grab a ticket to Hamilton. It's a dose of innovative, edgy history about Alexander Hamilton, the first Secretary of State and founding father, with hip-hop, rapping and exquisite dialogue and music. Tickets may be hard to come by, so do your homework. There's a daily lottery for $10 tickets front-row seats where the cast comes out and sings from the show to the hopefuls.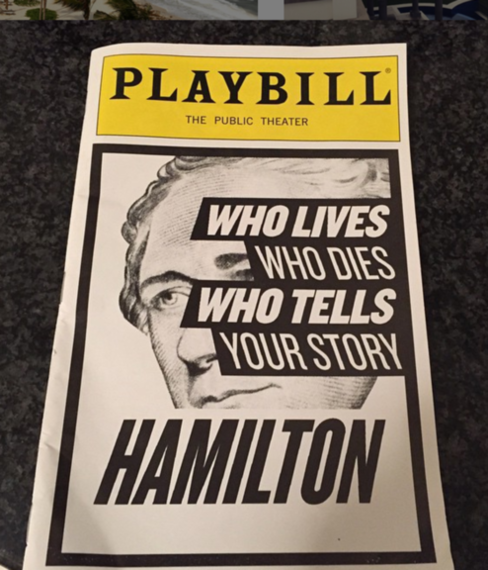 Photo by Holly Rosen Fink
2) Take a tour with Disney
The Disney obsessed should definitely try Disney on Broadway: Behind the Walking Tour, a Walks of New York partnership with Disney Theatrical Group. It's a two-hour tour that takes visitors through the history of Broadway, direct from a Broadway insider, and culminates at the New Amsterdam Theatre, currently home to Aladdin, where kids can get up close and personal with props and costumes featured in several Broadway musicals -- from Mary Poppins to Newsies to The Little Mermaid to Lion King.
3) Go for a ride on Coney Island
On a nice day, head to Luna Park in Coney Island for a throwback to a time long past. It's a 3.1-acre amusement park on the site of the old Astroland, featuring 19 child-friendly rides in addition to extreme thrills like the famous Cyclone. The park is also right near the legendary Nathan's Famous, where you can grab a cheap lunch. Families can also spend time at the nearby New York Aquarium, Coney Island Circus Sideshow, and end up at Brighton Beach for traditional Russian fare.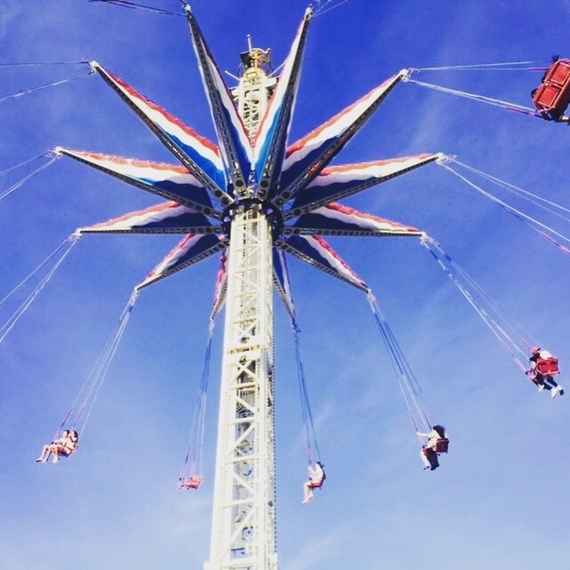 Photo by Holly Rosen Fink
4) Grab a bite in Korean Town
Have lunch in Korean Town at Mandoo Bar. They make dumplings in the window and then serve them sizzling hot. Munch on Korean salad, pickles, spicy ramen soup with tofu, bibimbap, steamy delicious meat and veggies served in a hot stone bowl. End up at a local bakery on the strip, like Tous Les Jours, for a bubble tea or traditional pastry.
5) Treat yourself to a CityPASS and great savings!
If you're looking to experience the city's most popular sights, pick up a CityPASS for reduced admission to some of the city's best attractions including the Empire State Building, the Statue of Liberty, American Museum of Natural History, Intrepid Sea, Air & Space Museum, Ellis Island, Guggenheim, and the 9/11 Memorial Museum. You'll save 41 percent compared to combined regular box office prices. Give yourself time to see everything -- passes are valid for nine consecutive days.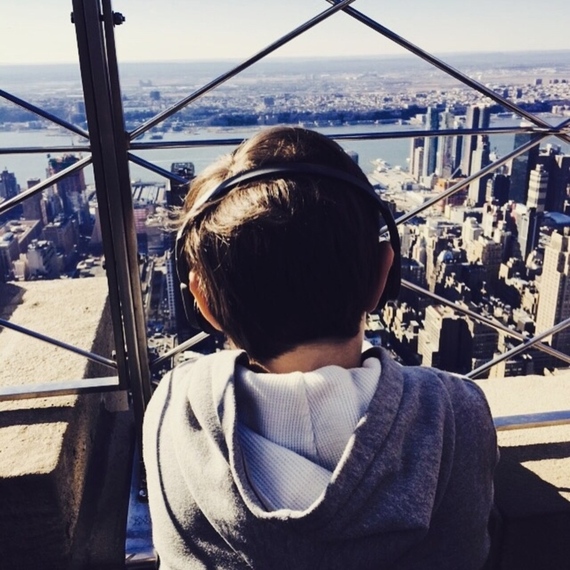 Photo by Holly Rosen Fink
6) Immerse yourself in art
The Museum of Modern Art, located at 11 West 53rd Street, is the perfect destination for a morning of art and culture. Get there just before they open at 10:30 and plan to spend several hours walking through each exhibit slowly, with time to read the descriptions and teach your kids about the most famous artists including Picasso, Warhol, and Van Gogh. Stay for workshops, art labs, films, gallery talks, or lunch in either Cafe 2 or Terrace 5.
7) Make some time for a little history
Head to the Lower East Side starting at the Museum on Eldridge Street, the first house of worship built by East European immigrants in America. Then head to the Tenement Museum to further your children's education about the new immigrant's experience. Nearby you can get pickles direct from barrels at The Pickle Guys on Essex Street and homemade bialys and bagels at Kossars Bialys on Grand Street.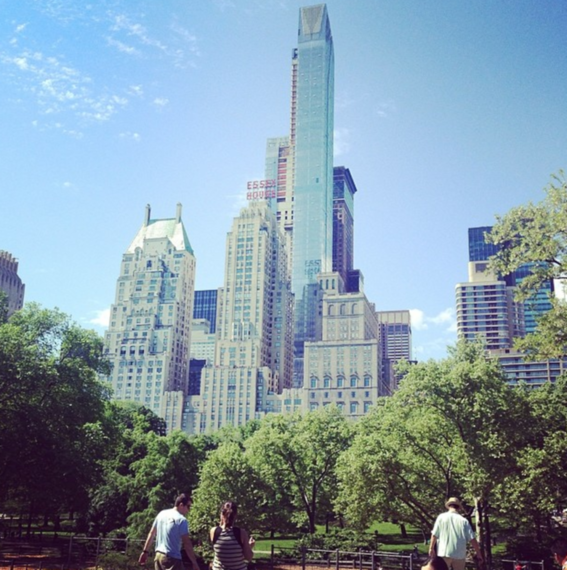 Photo by Holly Rosen Fink
8) Go back in time
Hop on the L train and ride over to Williamsburg where you can spend the afternoon moseying from store to store. You'll find vintage clothing, record stores, funky accessories, housewares, and furniture as well as other shops run by creative locals. When shopping fatigue strikes, head to a local coffee shop with a book and relax. Older kids might find a Hasidic Walking Tour interesting. Be sure to stay to watch the sun go down.
9) Take a tour of some famous scenes
Take a 3-1/2 hour bus tour of famous locations used on screen via On Location Tours. You'll go in a coach bus along with an animated tour guide and a bus full of tourists, but this trip is fun for natives, too. The guide will take you to places where scenes from Sex and the City, Gossip Girl, Ghostbusters, Serendipity were filmed, as well as to explore Manhattan neighborhoods like SoHo, the Meatpacking District, Greenwich Village, Tribeca, and the Upper East Side. You may even see where Taylor Swift lives and drive by film and TV shoots.
10) See some waxy celebrities
Spend an hour at Madame Tussaud's in Times Square. There are six themed, interactive environments showcasing nearly 200 masterfully crafted, lifelike wax figure. You'll see, among others, Woody Allen, Bette Midler, Nicolas Cage, Hugh Grant, Oprah Winfrey, Mayor Rudolph Giuliani, Donald Trump, Marie Antoinette, The Dalai Lama, and Maya Angelou. Kids will particularly enjoy seeing Justin Beiber, Taylor Swift, and other big pop artists.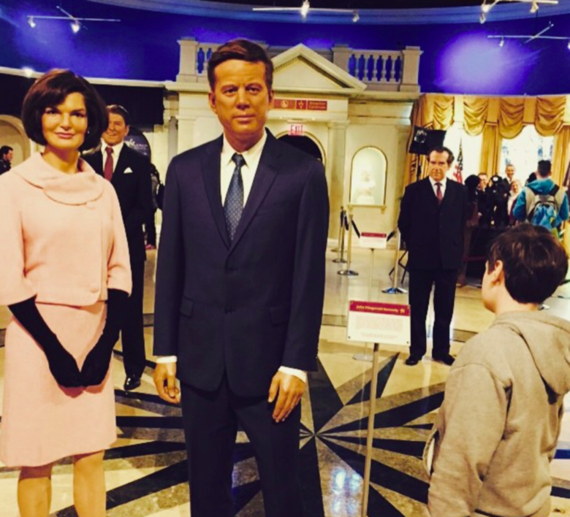 Photo by Holly Rosen Fink
11) Art with a view
The Cloisters is like a piece of art with its views of the river and its medieval museum. Perched high above its northern grounds on the Hudson River is this branch of the Metropolitan Museum that house nearly 5000 medieval works in a reconstructed medieval monastery. The surrounding grounds offer stunning views, tall trees to sit under and windy paths to walk or ride your bike on, as well as perfect spots to picnic.
12) Go to the park in the sky
Head to the The High Line, a 1.45-mile New York City park built on an old train track above the streets of Manhattan, with gardens, lounge chairs, hosts nature walks, dance performances, art installations and more for kids to explore. Local vendors sell delicious summer drinks and treats while musicians perform throughout the summer. Other seasonal activities include art classes, lawn parties with storytelling and musicians, nature lessons and construction classes. There are picture-taking opportunities galore along the way.
13) Or the park along the river
Grab helmets and head toward Riverside Park. The path meanders along the Hudson River and offers dazzling views. From family playdates to picnics to kayaking to free dance lessons, there is always something for everyone, including multiple playgrounds for kids. The very adventurous can ride all the way to Battery Park and jump on the Staten Island Ferry, a very bike-friendly experience.
14) Take a stroll on the Promenade
Hop in a cab and head to Brooklyn Heights for a stroll on the Promenade. Made famous by cameo appearances in movies like Annie Hall and Moonstruck, it offers a view of the Statue of Liberty, the Manhattan skyline, and the Brooklyn Bridge.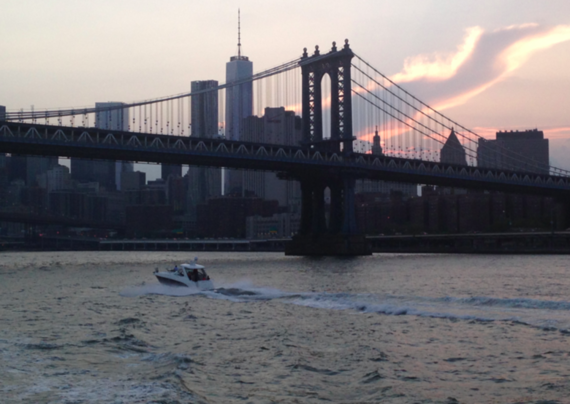 Photo by Holly Rosen Fink
15) Enjoy the cheapest thrill around
Take the Roosevelt Island Tram. Kids might remember the famous scene in Spiderman when he saved its passengers. The tram departs every 15 minutes from Second Avenue and 59th Street, and rides high above the East River, for the price of a subway ride. It's the cheapest thrill around. The views are incredible, but the ride is short. Once across, take an afternoon stroll or jump on the local red bus and ride around the island for free.
These suggestions are just the tip of the iceberg of what you and your family can enjoy in NYC. I'll keep posting more on my Findery NYC With Kids Notemap, so be sure to follow along!
Post written by Holly Rosen Fink of theculturemom.com on behalf of Findery. Follow her on more travel adventures on Findery!