Quiche Lorraine has occupied such a prominent place in France's culinary contribution to modern American cuisine that we sometimes forget where it comes from. This brunch staple does not originate in any of France's more touristed regions -- the crisp-aired Alps or the sun-soaked south -- but in the drab industrial region of east. Fought over by the French and Germans for centuries and now abandoned by the once-coveted mining industry, Lorraine has lacked the charming painted chalets and window boxes -- and the vineyards -- that lure tourists to neighboring Alsace.
But this stands to change in the coming years thanks in part to the French government, which chose Lorraine's administrative capital, Metz, as the first regional outpost of Paris's famed Pompidou Center, the country's shrine to modern and contemporary art. And if that's not good enough, it also made the strategic decision to run the TGV fast train straight from Paris' Gare de L'Est almost directly to the museum's back yard in a trip of less than an hour and a half.
Opened to great fanfare in May 2010, it has quickly made the city a destination for art lovers.
But for lovers of French cuisine, the museum provides a cultural rationale for a trip that would be justified on its own by the prospect of tasting the refined chocolates and pastries of Metz's premier pastry chef, Franck Fresson. The mets or delicacies of Metz are not to be missed. And Fresson is the prime reason why. His boutique sits right in the heart of the old city, steps from the historic cathedral where some tourists will no doubt feel compelled to go in penitence for time spent with Fresson's sinful sweets.
Once you arrive at Patisserie Fresson, you will understand why just about any French pastry chef in the higher reaches of the profession will say that Fresson's shop is one of the handful they would consistently put on the list of "worth a detour." In a recent French documentary about France's most esteemed contemporary pastry chefs, Fresson was one of only two of the elite chefs featured from outside Paris.
Awarded the coveted lifetime title Meilleur Ouvrier de France (Best Artisans in France) in 2004, the 43-year-old Fresson is every bit the artist as those whose works hang under the Pompidou Center's undulating white roof. It could not have been much of a surprise that he walked off with top honors when the city of Metz challenged local chefs to create a special pastry to celebrating the opening of the fast train from Paris in 2007. His so-called Paris-Metz is a riff on the classic Paris-Brest, created in the late 19th century to celebrate the grueling 750-mile bike race from the country's capital to the western edge of Brittany. Fresson's Paris-Metz is as delicious as it is visually arresting with its eye-catching pink, orange, and yellow macaron shell and banana-flavored cream.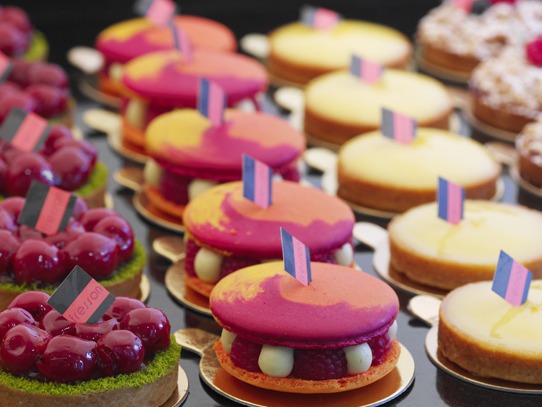 Photo: Studio des Fleurs
Each of Fresson's pastries has the same simple visual and gustatory elegance. His display cases look more like those in an elegant boutique along Paris' fashion boulevard, Avenue Montaigne, than a provincial patisserie. Every decorative raspberry and candied citrus peel is aligned perfectly to showcase the artistic and culinary discipline that goes into their creation. A trip to the tearoom located just upstairs from the shop is obligatoire especially if you're in transit and concerned about destroying these pastries before you arrive home.
It would be a mistake to leave empty-handed, though, even after a little dégustation of the more fragile items. Fresson's gâteaux de voyage or tea cakes, especially the maple syrup cake, travel well. I tasted one he hand-carried to New York and it was no worse for the wear.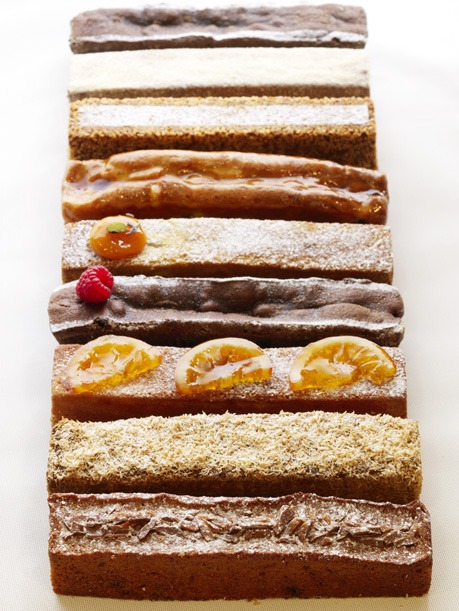 Photo: Studio des Fleurs
Under no circumstances, however, should you leave without some chocolate. So much passes for good that is really not passable at all - air bubbles in the molded bonbons, bottoms with dipping fork marks or filling peeking out, thick layers of "enrobed" chocolate overwhelming the delicate ganache inside. A top flight chocolatier knows how to prevent all of these problems. In fact, when I first met Fresson, he proudly proclaimed that he was the only one in his shop that controlled the 40+ settings on the complex device used to surround his ganache fillings with chocolate. One setting awry, and the device surrounds the fillings with a layer of chocolate that virtually obliterates the delicate flavors inside.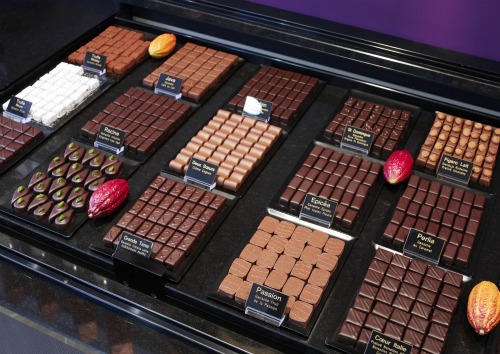 Photo: Studio des Fleurs
That would be a shame since Fresson's attention to detail and his exquisite palate have combined to produce chocolates with a finesse rarely found outside the shops of the master chocolatiers like Jean-Paul Hévin in Paris. If you have to pick one, go for the homage to the region's industrial past, the minerai Lorrain, hazelnut praline dusted with dark cocoa. It was created by Fresson's grandfather.
Fresson's elegant wife Chrystèle, who presides over the Metz boutique, will dutifully warn you not to refrigerate them, knowing Americans' penchant for tossing things indiscriminately in the fridge. Don't worry. It won't be necessary. You'll have to buy several boxes because the first will never make it back to the Gare de L'Est in Paris.
Fresson Chocolaterie et Pâtisserie
17, rue du Grand Cerf
METZ
03 87 36 28 17
Centre Pompidou de Metz
1, parvis des Drois de l'Homme
METZ
03 87 15 39 39