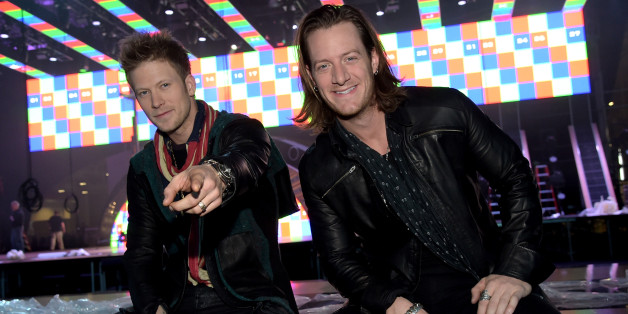 Listen up, America, on Monday night, we -- Brian Kelley and Tyler Hubbard -- are hosting the first-ever American Country Countdown Awards. It's going to be a badass two-hour musical party, and we wanted to cordially invite you all to attend as our guests by watching free of charge on FOX. So here are our top ten reasons to watch the show:
10. We've got our very own bar on the set, and it's open all night long.
9. Watching two hours of country music is a fun and easy way for Huffington-Post-types to learn a little more about America, especially all those flyover states that you have to see and hear for yourselves.
8. Our show-opening superstar Carrie Underwood is going to break hearts and records by performing the most back-to-back Greatest Hits ever by a woman approaching her third Trimester.
7. Vince Vaughn is presenting a big special award to Kenny Chesney. Those two bros are so money -- and they don't even know it. We'll also find out everything about next season of True Detective.
6. Our show is highly interactive. So every time we say "Bro," take a drink. Got it, bro?
5. We promise this will be the best job we've ever done hosting. Of course, it's also our first time hosting.
4. Yes, we'll have costume changes, but don't worry, they're mostly off-camera.
3. The one and only Reba will be honored as a Nash Icon and will be performing with Miranda Lambert and her daughter-in-law Kelly Clarkson, and you know how important family is this time of year.
2. NASCAR great Jimmie Johnson and MLB MVP and Cy Young Award-winning pitcher Clayton Kershaw are going to be on our show, so you know our show will move fast.
1. American Country Countdown is the longest running radio countdown show of all -- hosted by our pal Kix Brooks -- and now it comes to TV as a kickass award show. And if you put up with us, you get to see and hear Jason Aldean, Luke Bryan, Eric Church, Lady Antebellum, Brett Eldredge and many more. Here's to the good times, America -- don't miss 'em!
Florida Georgia Line is continuing the record-breaking momentum with the release of their GOLD-certified sophomore album ANYTHING GOES (Republic Nashville) soaring to a #1 debut on the all-genre Billboard 200 and Billboard Top Country Albums charts. Fueled by their hot new single "Sun Daze" and PLATINUM, #1 smash "Dirt," music critics and fans alike have embraced the superstar duo's fresh sound. FGL has skyrocketed to stardom becoming the only artist in history to join Brooks & Dunn in achieving four back-to-back, multi-week #1 singles; breaking the record for longest #1 on Billboard's Hot Country Songs chart and selling over 21 million tracks worldwide of their 2X PLATINUM debut HERE'S TO THE GOOD TIMES. In addition to collaborating across genres with sensations like Nelly and Jason Derulo, FGL has won numerous industry awards and for a second consecutive year were named one of CMT's Artists of the Year. Recently earning the 2014 Billboard Touring Award for Breakthrough Artist and the American Music Award for Favorite Band Duo or Group, Country, FGL scored their first nomination for the 2015 People's Choice Awards for Favorite Country Group. The talented pair has also been tapped to perform on WWE's "Tribute To The Troops" later this month and to host the first-ever American Country Countdown Awards on December 15. Airing live on FOX, FGL notched six nominations for the new awards show, including the top nod for Artist of the Year. For tour dates and more, visit FloridaGeorgiaLine.com.