Many Americans treat Labor Day, which falls on Sept. 1 this year, as one last hurrah to get away and seek out the sun before the fall. However, new research from Fly.com™ has found that a failure to book Labor Day flights before Aug. 9 could cost travelers a pretty penny - as much as $170 or more.
Fly.com looked at data from more than one million Labor Day user searches conducted between July 15 and Aug. 22, 2013, and discovered that fares to popular Labor Day destinations experienced a dramatic price increase three weeks before the Labor Day weekend (Aug. 9-16).
If history repeats itself, this means that those travelers still looking to purchase flights to destinations like Fort Lauderdale, Honolulu, Las Vegas and San Juan (Puerto Rico) could be running out of time to score lower fares.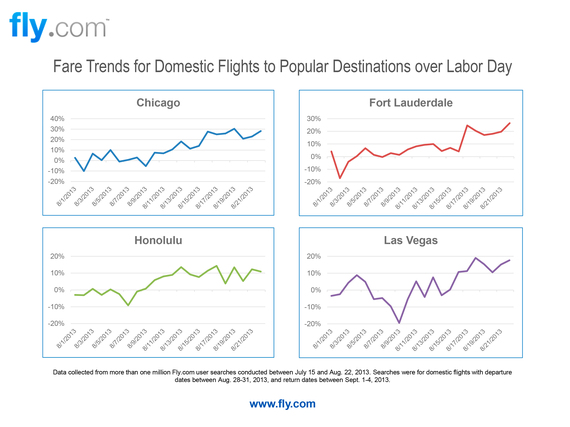 But what if you are not sure about where to travel to this Labor Day?
Don't worry; Fly.com has your back. Here is a rundown of some of the best airfares that we have found in recent days. All fares are roundtrip, including taxes.
Dallas-New Orleans ... $87
Denver-Las Vegas ... $131
Baltimore-Myrtle Beach ... $135
San Francisco-Palm Springs ... $163
Atlanta-Denver ... $197
Boston-Chicago ... $199
Chicago-Orlando ... $205
Minneapolis-Los Angeles ... $215
New York City-New Orleans ... $238
Fares valid as of Aug. 3, 2014 and are subject to change.