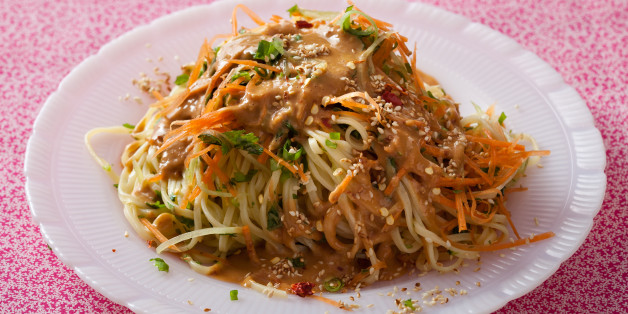 Now's the time of year when your friends are looking for any excuse to be outside and enjoy good food, cold beer, and a warm breeze. People are inventing reasons to get together -- one friend is hosting the "One Year Anniversary of My Housewarming Party" party -- and you're always expected to bring a dish.
But when you're busy working all day, you need food you can make the night before and grab from the fridge as soon as you get home from work. It has to be sturdy enough to withstand refrigerator time, and stable enough to survive your drive, taxi ride, subway, walk, or skateboard journey to the venue.
More: Need an airtight container to safetly transport your dish in? Look no further.
In these situations, we turn to vegetarian dishes. They'll stay good at room temperature, they can be eaten by the majority of party-goers, and, if the other guests fawn over fried chicken and barbecue ribs instead, they'll be leftovers for you all week.
Patricia Yeo's Sesame Noodles by Genius Recipes
Almost Spiceless Eggplant Bharta by Panfusine
Scallion Ginger Noodles by Alexandra V. Jones
Miso Quinoa Pilaf with Grilled Cucumber, Eggplant, and Soy Dressing by gingerroot
Pasta with Tomatoes, Corn, Squash, and Ricotta by Merrill Stubbs
Tarragon Lemon Summer Squash Soup by anotherfoodieblogger
Roasted Potato Salad with Mustard-Walnut Vinaigrette by Shannon
Lemon-Dill Orzo Pasta Salad with Cucumbers, Olives, and Feta by Sarah | strawberryplum
Tofu Spring Rolls by Lindsay-Jean Hard
Mujaddara with Spiced Yogurt by Rivka
Savory 'Venn Pongal' (South Indian Style Rice and Mung Bean Risotto) by Panfusine
This article originally appeared on Food52.com: 11 Make Ahead Vegetarian Meals
Food52 is a community for people who love food and cooking. Follow them at Food52.com -- and check out their kitchen and home shop, Provisions.