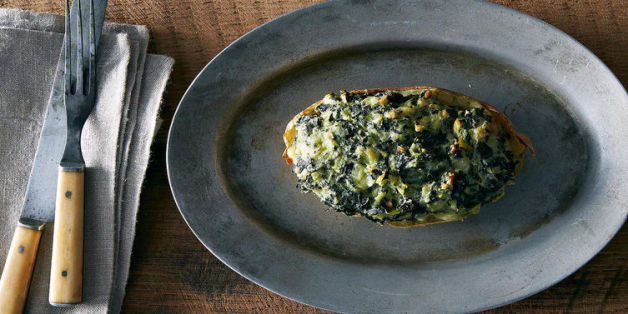 As a defiant response to Sad Desk Lunches, the Food52 team works to keep our midday meals both interesting and pretty. Each week, we'll be sharing our happiest desk lunches -- and we want to see yours, too.
Today: A warm, hearty lunch that's all about the toppings.
Consider the potato. It may not be the most elegant -- it surely won't win a beauty contest -- but put it up against any other vegetable in a popularity contest, and it will win by a landslide. Infinitely adaptable, it's a crowd favorite, especially when baked. A baked potato -- even a baked sweet potato! -- is a simple (and cheap) pleasure that makes a great lunch.
But the real fun comes in the form of toppings. Pack up the little bits and pieces you have lying around your kitchen from meals past to create your own DIY baked potato bar at your desk. Go ahead, express yourself -- after all, lunch should be fun.
Here's how to do it:
Bake your potato ahead of time at home -- sweet potatoes and high-starch white potatoes, like Russets, work best. Just rub your (cleaned!) potato with olive oil and salt, prick it with a fork, then bake it at 425° F for 45 to 60 minutes, until you can easily stick a fork into it and the skin is crisp. Once it's cool, wrap it in aluminum foil.
At work, warm up your potato in the microwave (unwrapped, for 45 to 60 seconds) or toaster oven (wrapped, for 10 to 15 minutes). Once it's warmed through, split it open and fluff it with a fork, then go crazy with your toppings. Here are few ideas to get you started:
More: Here"s how to cook your beans from scratch.
More: Do you know the difference between a sweet potato and a yam?
What's your favorite way to dress up a baked potato? Tell us in the comments!
Photos by James Ransom and Linda Xiao
This article originally appeared on Food52.com: A DIY Baked Potato Bar, At Your Desk
Food52 is a community for people who love food and cooking. Follow them at Food52.com -- and check out their kitchen and home shop, Provisions.