We've all been waiting for this moment. A trail of blood, tears, and broken dreams lies behind us. No, silly, we're not talking about the thrilling finish of The Piglet Tournament of Cookbooks!
We're talking about the other thing happening this week, the biggest eating day of the year (besides Thanksgiving and Meatopia). The thing that, strangely, we're not supposed to refer to by name. So, to keep it all legal, we'll say it with soup.
>> RELATED: 10 Super Football Classics
At the parties you'll all be throwing this Sunday, give the chili a year off. Because 2012 is the year of the chowder: New England vs. Manhattan, clam vs. clam.
Which team is your money on? Pick your Soup-er Sunday menu below (or hedge your bets and serve them both).
>> RELATED: Browse more soup and chowder recipes on FOOD52.
Team New England
Representative chowder: New England Clam Chowder. The perennial favorite for a reason: rich and brawny, a patriotic charmer -- and more than ready for some hot vengeance. With chives on top.
Beer: Harpoon UFO Pale Ale
Cracker: Old Bay Oyster Crackers
Goes with: The New Englandah Burgah. Brown Butter Apple & Cheddar Pie. Boston Coolers.
Team New York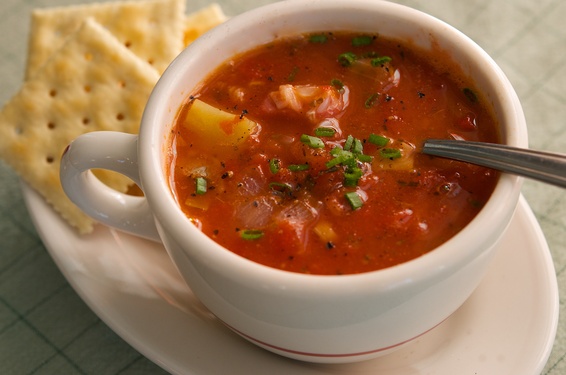 Representative chowder: Manhattan Clam Chowder. Nimble and brave, the perpetual underdog. Its stinging broth and feisty horseradish bite could unhinge New England's steely ranks. (Remember 2008? Manhattan does.)
Beer: Sixpoint Righteous Ale
Cracker: Saltines
Goes with: Yum Dogs. Lime n' the Coconut Mini Cheesecakes.
May the best chowder win.
Got a question in the kitchen? The Food52 Hotline is here to help!
Photos and recipes by the great Tom Hirschfeld of bonafidefarmfood.com
Get answers to your burning food questions on the go with our new (free!) FOOD52 Hotline iPhone app.