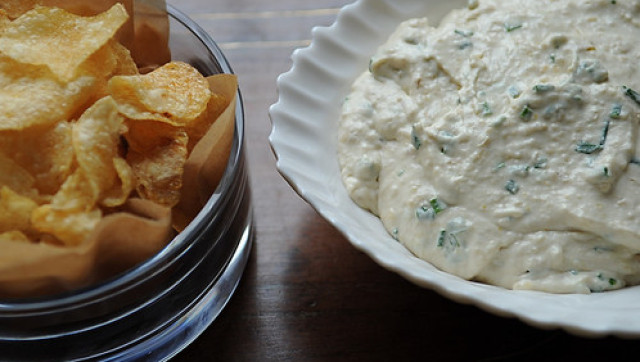 As Game Day draws near, our thoughts and appetites turn towards crowd-pleasing snacks that excited hands can grab with eyes still locked on the screen, foods that don't take much concentration to eat and don't require a circus-caliber balancing act to get the food from the plate to your mouth without a drip or a drop (we're looking at you, salsa).
This is, we assume, what catapulted the popularity of dips: a need for foods that you can enjoy without cutlery and that stay where you put them (on a chip). Bonus points for light-colored dips like this Caramelized Onion Dip that don't threaten to stain the carpet if (or really, when) a wayward bite gets punted during a momentary burst of red-zone excitement. (A reason to make your own potato chips: guests will guard each precious bite even more carefully, making fumbles unlikely.)
Note that patience pays dividends here. Take your time caramelizing the onions. First, the onions will give off a lakeful of liquid. Let it boil off slowly, and by the time the onions begin to caramelize -- it took ours an hour -- they'll be as soft as pudding and deeply concentrated in flavor. Their sweetness infuses the entire dip, and while the rest of the ingredients make up the classic onion dip foundation -- sour cream, cream cheese, and chives -- this one will be better than any you've had before, thanks to those tenderly cared for onions.
Get the recipe for Caramelized Onion Dip at Food52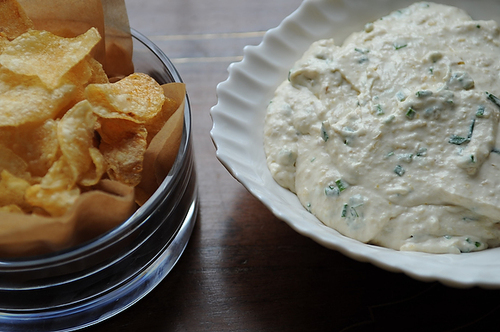 More Game Day Recipes from Food52
• 8 Recipes for Chips and Dips
• Bacon-Wrapped Water Chestnuts
• Our 9 Favorite Chili Recipes
Brought to you by the spirited home cooks' community at Food52.