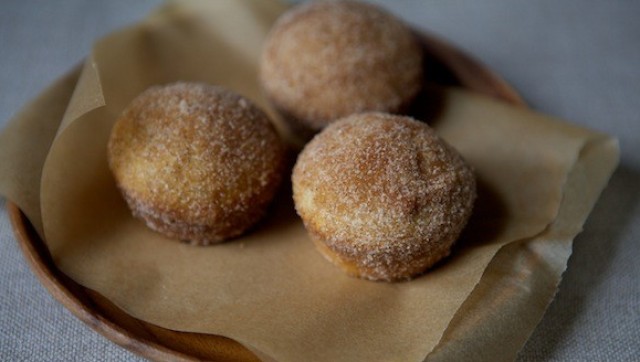 Everyone gets caught up in the perfect Valentine's Day dinner -- from the perfect steak to the best chocolate cake -- but today, it's time to consider the perfect Valentine's Day breakfast.
Cinnamon Sugar Breakfast Puffs are the only way to start off Valentine's Day right: they're easy to make, and are light, sweet, and buttery all at once. You don't want to overwhelm your loved one's day with too many activities. Save the ultimate gesture for that dinner at the end of the night. But a small act of kindness will get you just as far when that special someone wakes up to the scent of sugary, cinnamon-y, baked-not-fried doughnut holes.
The browned butter adds an unforgettable nuttiness lest you worry that these little babies are too sweet, and the tiny bit of orange zest lends a subtle brightness. All it takes to wow your Valentine is a quick whipping of wet and dry ingredients and a brief 20 minute stint in the oven. Serve these little ones warm -- it's the best and only way to enjoy them.
Get the recipe for Cinnamon Sugar Breakfast Puffs on Food52.
Looking for more ways to wow your Valentine? Check out our 7 Valentine's Menus, for every scenario, whether you're wooing a first date or boycotting romance altogether.