Honey garlic chicken with crunchy coconut and savory zucchini noodles is better than anything you'll get from the take-out place. Dig in!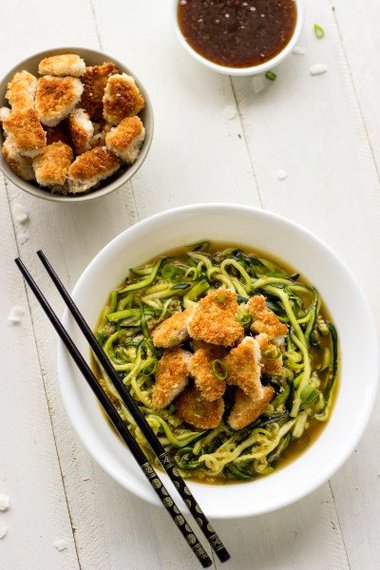 Cooking for a living can be totally fun and awesome. Especially because it gives you an excuse to not wear real pants every day.

Pajamas FTW!

How-ev-er, it also means that since I cook all day long and, by the time dinner comes where I am actually supposed to be cooking, I don't want to.

Enter: Asian takeout.

It's quick, I can stay on the not-putting-on-pants-train, and it's really delicious. I mean, have you ever met a Styrofoam box of honey garlic chicken that you didn't like?

That's what I thought.

Unfortunately, after one too many take-out dinners, I'm finding the days that I have to wear – GASP! – real clothes, with buttons and belts and other constrict-y things, well, a little uncomfortable.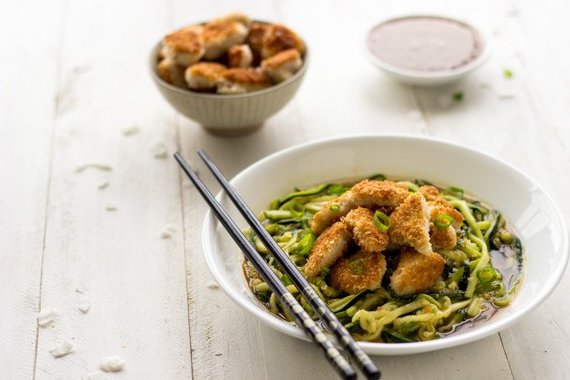 I've been trying to remedy that situation by trying to create my own healthier versions of my favorite take-out food. I've had Sesame Chicken, Ponzu Chicken and Lettuce Wraps on my weekly menu rotation for a while now, and frankly, I'm getting a little bit bored.

Not wanting to give in to my not-so-button-or-belt friendly ways, I decided to try my hand at giving a classic take-out dish a creative spin. This is how homemade honey garlic chicken recipe with coconut and zucchini noodles was born.

The sauce is a no brainer for me, and if you're not so sure about it, see the above comment about Styrofoam boxes of honey garlic chicken. It wins. Always. Plus, it's one of the easiest sauces to make, and is so versatile that you can keep 'er in the fridge and use it on ALL THE THINGS.

As good as the sauce is, the coconut coating is the real show-stopper here folks. Using coconut flakes and coconut flour keeps the breading light and gluten free, while making the chicken super crispy and golden brown – one of the most important parts of a good, take-out chicken in my books.

Not to mention this uses less oil than a traditional, restaurant version, and it's coconut oil – not some mystery oil that has who knows what added to it. Hello health!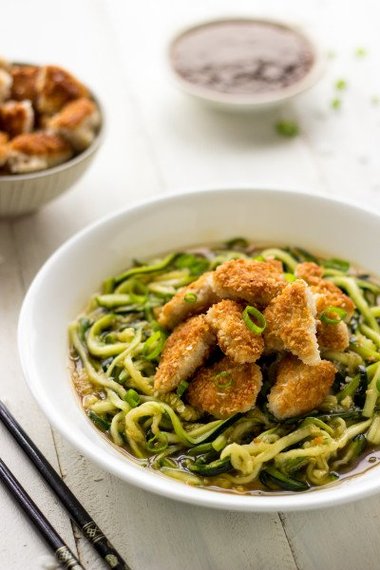 I was a little bit worried that using zucchini noodles would push this into "trying too hard to be healthy" territory, and I would miss eating out of Styrofoam but, you guys, I think I'll be sticking to real dishes for all the evers.

Especially since that means that my "real clothes" days will be a lot more comfortable.

Winner winner chicken dinner!

Sorry, couldn't help myself.
About Taylor Kiser
Taylor keeps
food, faith and fitness
close to the heart on her blog of the same name. We're excited to have her as a
Healthy Eating
fanatic.