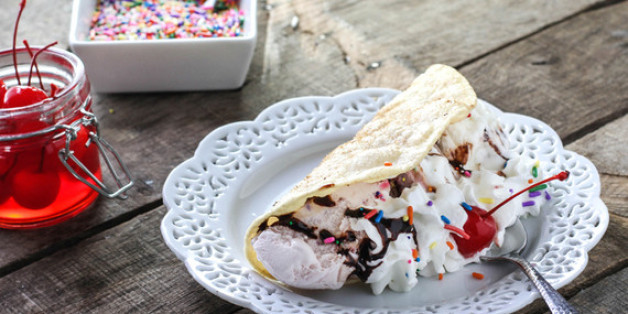 Did you know October 4th is National Taco Day? We've got the best ways to celebrate! It's Taco Week on Food Fanatic!
Banana split tacos may sound crazy, but they're also crazy good! Try this unique dessert at your next dinner party.
I firmly believe the old adage "life is short, eat dessert first." Ok, even if you don't eat dessert before dinner, you should at least indulge every now and then after your meal. I adore sweet treats in all forms, but my favorite dessert is most definitely ice cream. Cold, smooth, creamy and filled with any array of amazing mix-ins, ice cream is a treat everyone can enjoy.
I love making frosty homemade treats for family and friends. When I make my mint chocolate chip ice cream waffle sandwiches, they are always a huge hit. This creamy homemade mint ice cream with chips of dark chocolate churned throughout is sandwiched between two toasty waffles. What's not to love about that?
These are definitely my personal favorite. I love the flavors going on in those ice cream sandwiches, but one of my favorite things about this particular ice cream is that it's handheld. No bowl or spoon required.
But now I have a feeling my favorite frosty treat may be temporarily dethroned thanks to these banana split tacos. Tacos, people, in dessert form! That whole "eat dessert first" thing? Yup, you're not going to want to wait until after dinner for these. Flour tortillas are fried, then dusted with a mixture of cinnamon, sugar and a touch of cardamom. I could eat these sweet, fragrant, crispy taco shells all by themselves.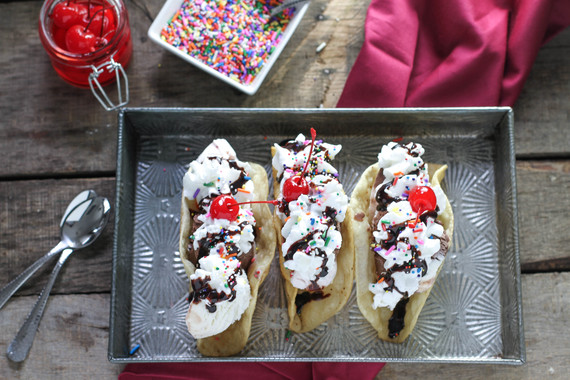 But do try to keep yourself from devouring the shells alone because adding banana slices, vanilla, strawberry and chocolate ice cream makes them even more tasty. Top these tasty tacos off with fluffy clouds of whipped cream, a drizzle of chocolate sauce, rainbow sprinkles and a cherry, of course! These cool, crispy dessert tacos are definitely my new favorite handheld frozen treat and I know they'll be yours too.
Dessert tacos may be the best idea Kate has ever had! Switch up your fillings; try Kate's raspberry cacao nib paleo ice cream, or Ashton's Ben & Jerry's copycat peanut butter cup ice cream instead.
Find the Banana Split Tacos Recipe on Food Fanatic.

About Kate
Kate babbles about all things food on her own blog, Food Babbles, and about feeding her girls the best way. Here on Food Fanatic, she wows us with her commitment to homemade, fresh baking, week after week.