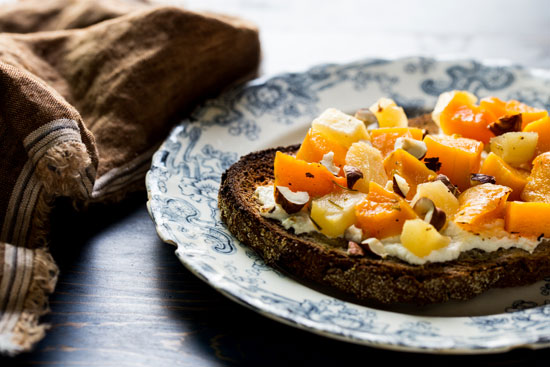 Emily is known for her absurdly beautiful food photography and coffee co-dependencies on her Jelly Toast Blog. On Food Fanatic, she shares a third addiction: fabulous appetizers.
Can I talk about how thrilled I am to be sharing a fall recipe with you? Especially when it's these sweet and savory Butternut Squash Tartines. The butternut squash is roasted with maple syrup, rosemary and pears to create the perfect fall combination.
Fall is by far my favorite season, with its crisp air, wooly sweaters and warm mugs of spiced apple cider, it's truly the highlight of my year. One of my favorite things about fall, however, is the abundance of squash that floods the markets - my favorite being butternut squash.
I love butternut squash for its sweet flavor and versatility in the kitchen. It can be roasted for a simple side dish, pureed into soups and even used in desserts, like my Chocolate Harvest Pie. 
This recipe for Butternut Squash Tartines is a combination of several of my favorite fall dishes. I grew up eating my mom's Squash Apple Bake that she would make with acorn squash and sweet, tart apples spiced with cinnamon. For this recipe, I decided to swap out the acorn squash for butternut and the apples for pears to put a different spin on my family's classic.
The combination of ricotta cheese and the roasted squash was inspired by a fantastic breakfast treat that my mother-in-law taught me. A few years back, she made me the most delicious English muffin that she topped with ricotta cheese and pumpkin butter and then broiled until it was warm and bubbly. I was smitten, and have been making that ever since.
I wanted to take these two family favorites, mix them up and create the perfect fall appetizer - and I'm pretty sure I did! The sweetness from the maple syrup and pears play off of the rosemary, bubbly ricotta and crunchy hazelnuts in a satisfying combination of flavors and textures. Pair this with a lovely autumn cocktail and you have yourself an instant party! Just don't forget your sweater!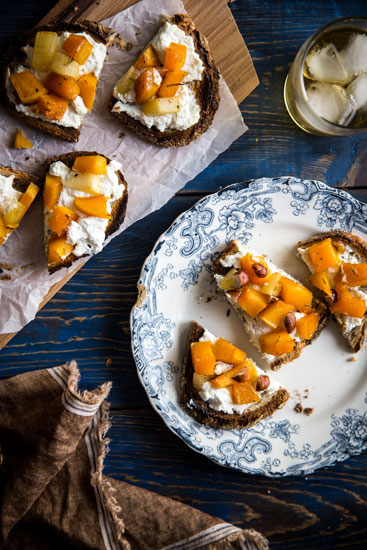 2 cups butternut squash, cut into 1/2" cubes (roughly 1/2 a large squash)
1 pear, ripe but firm, peeled, cored and cubed
nonstick baking spray
1/4 cup maple syrup
1 tablespoon extra virgin olive oil
salt, to taste black pepper, to taste
1 tablespoon fresh rosemary, chopped
10 slices rye bread, or any hearty bread, toasted
5/8 cup ricotta cheese, (1/2 cup plus 2 tablespoons)
1/3 cup hazelnuts, toasted and chopped
Preheat oven to 425ᅡᄚF and spray rimmed baking sheet with non stick spray; set aside.
In a small bowl, whisk together maple syrup, olive oil, rosemary and salt and pepper to taste. Place butternut squash in a large bowl and pour 2/3 of the maple syrup mixture over the squash and toss to coat.
Spread squash out onto prepared baking sheet and roast for 15 minutes.
While squash is roasting, drizzle the pears with the remaining maple syrup mixture and toss to coat.
After 15 minutes of roasting, remove baking sheet from oven, stir the squash and add the pears to the baking sheet.
Return to the oven and roast for 10 more minutes or until squash and pears are tender, but still hold their shape.
Remove and allow mixture to cool slightly.
Preheat broiler.
Top each piece of toasted bread with 1 tablespoon of ricotta cheese. Divide squash and pear mixture over the top of the ricotta and place tartines onto a clean baking sheet.
Place under the broiler until ricotta is warm and beginning to bubble in places, about 3-4 minutes.
Remove and sprinkle tartines with chopped hazelnuts.
Enjoy!