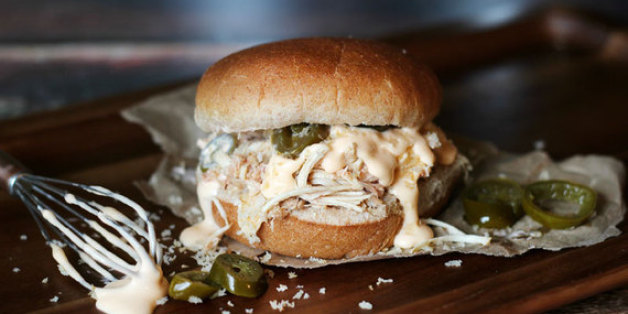 Summer is here and that means my Crock-Pot has been getting a regular workout. It's been all about keeping the oven off lately. I've even been known to make candy in my Crock-Pot.
I am certainly not one to judge you on your love of condensed soup, or cheesy rice casseroles. Because, frankly, I am right there with you! But that's not all a Crock-Pot can do! A slow cooker can be your best friend on the nights when you're stuck running from pillar to post, or in my case, soccer practice to soccer practice to trombone practice... well, you get the idea.
Today I decided to introduce two of my favorite foods to each other. Like Match.com, but for edibles. That should really be a thing, you know...
Anyway.
Today my Crock-Pot got a workout and Jalapeno Poppers and Pulled Chicken had their first date: Jalapeno Popper Pulled Chicken Sandwiches.
It went swimmingly.
Crock-Pot pulled chicken is basically a blank canvas for brilliance. And if I do say so myself, this recipe is pretty darn brilliant.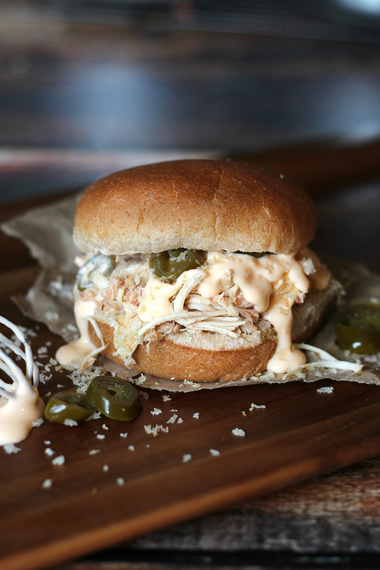 This is a Spicy Pulled Chicken Recipe, with a cream cheese cheddar sauce, topped with butter toasted panko and jalapenos. It's basically to-die for. Making the pulled chicken in the Crock-Pot is super easy... and if you prefer a plain sandwich, or even BBQ, you can stop after the chicken is done and top it with your favorite sauce.
But if you want to take it the extra mile, this recipe is crazy delicious with just a few extra easy steps. I think you'll especially like what the crispy panko topping does to add crunch and buttery over-the-topness to spicy cheesy sauce.
And if you're looking for sides? Don't miss Erin's Eggplant Fries Recipe and Jen's Baked French Fries Recipe. With my sandwiches, you're looking at one amazing meal. Finish the whole thing off with Shelly's Death by Chocolate Chip Cookies.
About Shelly
Shelly shares all things sweet on her blog Cookies and Cups, but we knew this ex-pat Texan as our Comfort Food Fanatic could never be a bad thing.