Chocolate crepes with a peanut butter marshmallow filling, and topped with caramelized bananas! These are the ultimate in breakfast decadence!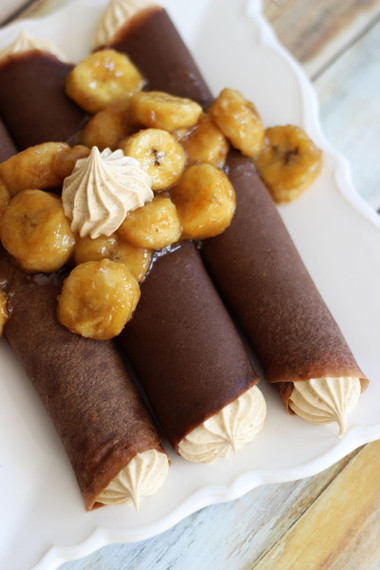 A lot of people went quite nuts for these Amaretto crepes with cranberry-raspberry sauce, myself included. Call me crazy, but if you like something, and I like something, I'm going to keep making them. Ask, and you shall receive. Well, you didn't ask in so many words, but I still got the message that crepes are a winner.
I couldn't agree more! I hadn't made them in years and I forgot that they are actually pretty easy. They're a little intimidating because of the whole "they're fragile and they'll tear" thing, but they were a lot easier than I remembered. Although, the last time I'd made them was when I was about 13. That was then, this is now, and crepes are not that hard!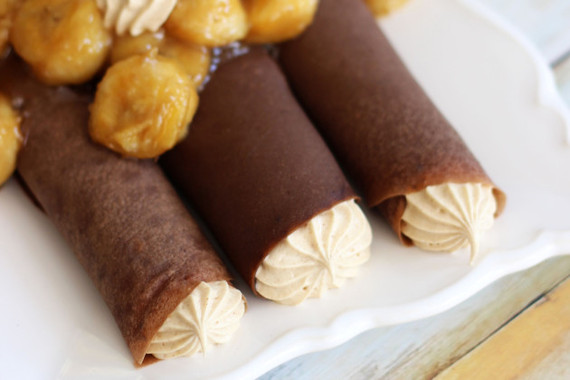 They're also incredibly delicious... kind of fancy and elegant. It feels a lot more special and novel to whip up crepes on a weekend instead of pancakes or waffles. I love pancakes and waffles too, but crepes are special and distinctive.
These chocolate crepes with peanut butter marshmallow filling and caramelized bananas are a lot of flavors in one. My reasoning was this: peanut butter pairs wonderfully with bananas, peanut butter is a fabulous match for marshmallow, and peanut butter is, of course, a power team with chocolate. Wouldn't you then assume that by their mutual association with peanut butter, all of those things would go together well also??? That's what I thought too.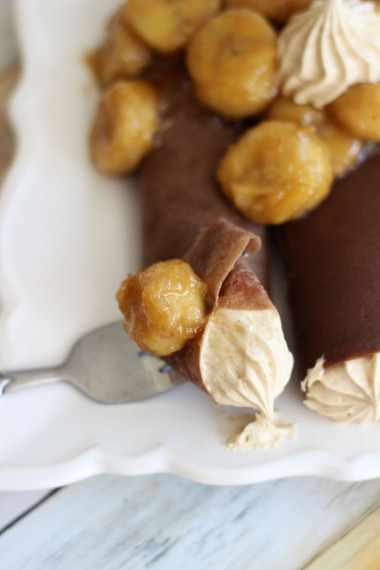 But I'm probably over-complicating things. That's a lot of analysis for a plate of crepes. Any person with taste buds could guess that chocolate, peanut butter, marshmallow, and bananas are going to be spectacular together! These crepes are awesome! Of the things I've made and shared here on the blog, this is a top favorite. The flavor combo is perfection. Plus, we get to enjoy dessert for breakfast again. I never tire of that. Never, ever.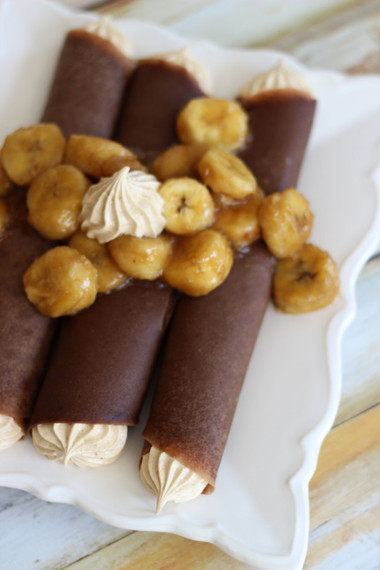 Sweet chocolate crepes are filled with a marshmallow frosting mixed with peanut butter. The marshmallow frosting makes the peanut butter filling light, fluffy, and sweet. Topped with bananas that were caramelized with brown sugar and tons of vanilla. There is seriously something truly special about caramelized bananas. I can't even put into words what a heated pan, vanilla, and brown sugar does to a few regular bananas. You'll never want to eat a plain peeled banana ever again.
These are more time-consuming than your typical breakfast, and better saved for a weekend morning, but totally worth the effort!
--
About Sarah
Sarah has an affinity for shiny golden objects, hence the name of her blog: The Gold Lining Girl. Peanut Butter's the one thing she'd take to a desert island, so it's only right that she's our Peanut Butter Fanatic!