This Panera Bread cinnamon crunch bagels recipe tastes just like what you get at the restaurant, only better for you. Plus, there's nothing like a fresh-baked bagel on a cool, crisp morning.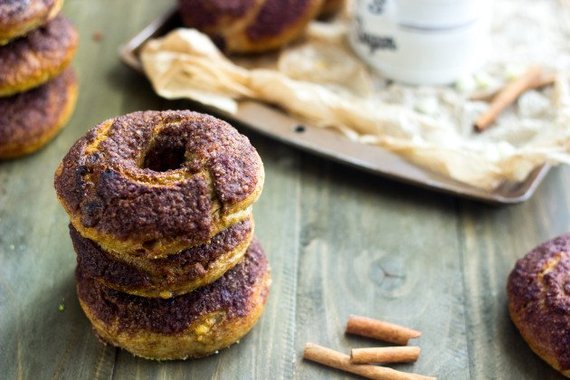 This bagel. It needs no introduction.
Anyone who is anyone has eaten the infamous cinnamon crunch bagel from Panera Bread knows what I'm talking about.
Anyone…except me. Until about a week ago, that is.
I grew up in the land of sled dogs and igloos – Canada -- and we don't have Panera Bread in the great white north.
Okay, kidding.
Well, about the igloos and sled dog shenanigans…but not about Panera Bread.
So, as you can imagine, I have pretty much been deprived of all things yum and delicious until moving down south, and my husband insisting that I must try this bakery that he called "Panera."
The first thing he introduced me to was the cinnamon crunch bagel. He talked it up A LOT, so I was a little nervous that it was going to let me down. It had BIG shoes to fill.
You know, if bagels had shoes.
Anyway.
This bagel? It did not let me down. In fact, it exceeded my expectations.
Obvi, I had to recreate it.
But, there was a very large problem.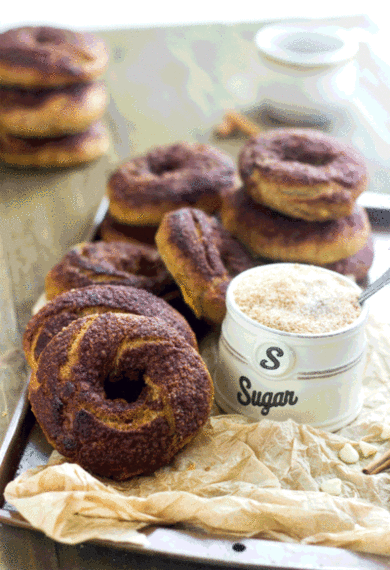 I had never made ANY kind of yeasted bread before (although, I have had my eyeballs on this pretzel bread for quite some time.) I had only forayed into the world of banana bread and zucchini bread.
To be honest, the thought of true bread making scared me. But, I needed to make these bagels. And, I needed to make them healthier.
So, you know what they (who are "they" anyway) say? Go big or go home.
I dived right in and made some bagels. Yes, it took me multiple tries to get it right. Yes, I spent a few days being completely covered in flour.
But, yes, it was SO worth it. And, once I figured out the recipe, I discovered bagel making was actually pretty easy! Woo to the hoo!
The best part? These bagels are half whole wheat, contain NO butter and very minimal sugar. I thought about trying to use honey for the cinnamon sugar topping but, there is a reason it's called "cinnamon sugar" and not "cinnamon honey."
You just don't mess with such things.
The husband (and his coworkers!) even declared that they tasted like the Panera bagel.
Bagel greatness, achieved.
About Taylor
Taylor keeps
food, faith and fitness
close to the heart on her blog of the same name. We're excited to have her as a
Healthy Eating
fanatic.