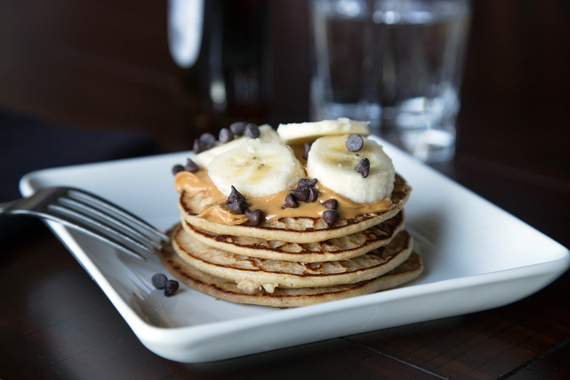 Happy New Year!! I hope you had a great time celebrating, but now it is time to get serious. I am sure many of you made resolutions, and are now trying to figure out how you are going to keep them. Well, I am here to help. At least with one meal of the day! As for me, I start my resolutions tomorrow. Today is my birthday, and I don't care -- I am having cake!
Pancakes. Sounds pretty indulgent and like you are cheating, right? Well, not with these! These protein pancakes are full of oats, Greek yogurt, and a generous scoop of protein powder. All things that will keep you feeling full until lunch time, but without all the guilt.
I topped them with a little bit of peanut butter for more protein, sliced bananas for some fruit, and a few chocolate chips. My husband says I can't do anything that doesn't involve chocolate. Unfortunately, I think he might have a point. So that part is up to you.
These protein pancakes are not the same light and fluffy buttermilk pancakes you might be used to. They are a little bit denser, but still give you the flavor you are used to. These pancakes are pretty basic, so you could change up them pretty easily.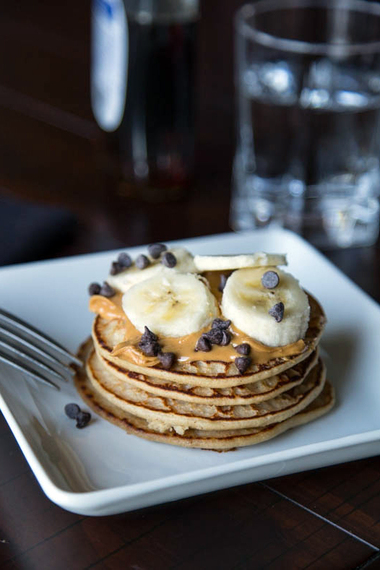 Add in mashed banana, blueberries, use chocolate protein powder and a little cocoa powder (see there is that chocolate problem again), use flavored yogurt -- seriously, go crazy! If you are going to try to eat better, you have to like what you are eating or it will not stick. So use this as a base, and make it your own.
Looking for more protein-packed recipes to start the new year right? Try our healthy brownies recipe and healthy popsicle recipe too.
6 servings
Ingredients
1 cup oats
1 teaspoon cinnamon
1 scoop vanilla protein powder
1 teaspoon vanilla extract
1 cup plain Greek yogurt
1/3 cup milk
2 tablespoons granulated sugar or honey
1 egg
1/4 teaspoon baking powder
Toppings
creamy peanut butter
fruit
maple syrup
Directions
Add all of the ingredients to a blender. Blend until smooth.
Heat a large skillet or griddle to medium heat.
Spray with non-stick spray. Pour about 1/4 cup of batter onto hot surface.
Cook for 2-3 minutes until bubbles start to form. Flip, and cook for an additional 2 minutes.
Serve with desired toppings.
About Erin
Erin is passionate about quick and easy dinners that lead to family togetherness on her own site, Dinners, Dishes & Desserts. How could we not ask her to share that passion as an Easy Dinner fanatic?