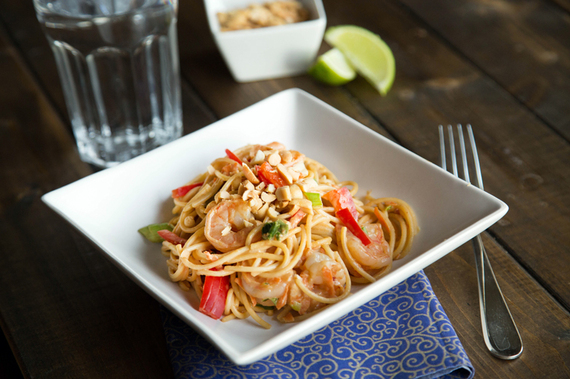 Spring is all about healthy eating, right? Everyone is trying to keep up their resolutions by going to the gym and eating a little better. I am all for it, but I am not willing to sacrifice flavor with my food. If it doesn't taste good, I just won't keep it up. If we are being honest here, there are only so many days I can have carrot sticks for a snack or salad for dinner.
That is why I am in love with these Asian noodles. They have veggies, low-calorie shrimp, and tons of flavor from the peanut sauce. Peanut butter and shrimp have lots of protein. If you use a whole grain pasta you have fiber from that, and the veggies. So you have all sorts of good for you, and it tastes like you are eating take-out. Plus, it is ready in the time it takes to cook the pasta. Seriously, you can't get a much quicker weeknight meal.
My husband absolutely loves these peanut noodles. He requests them pretty much every week. I sometimes switch up the protein and use chicken. I have been meaning to try pork tenderloin as well, I just haven't yet. The veggies can be switched up to your liking as well. If you want to add cucumber or broccoli, go right ahead! My husband doesn't like cilantro, so I leave it out, but I think that would make a great addition as well.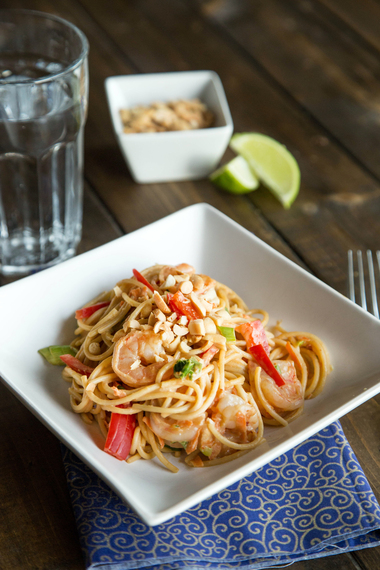 We all need dinners we can make in 20 minutes, and this is one of those. Keep the sauce recipe handy, and change up what you throw in. It couldn't get much easier. You may as well call this your Monday Night Peanut Noodles recipe, because even on a terrible Monday, it's truly easier than waiting for the delivery guy.
Erin is passionate about quick and easy dinners that lead to family togetherness on her blog, Dinners, Dishes & Desserts. How could we not ask her to share that passion as an Easy Dinner fanatic?