Chocolate rum balls are super easy to make and a deliciously welcome addition to any cookie tray or holiday dessert table this year. And bonus - they're no bake!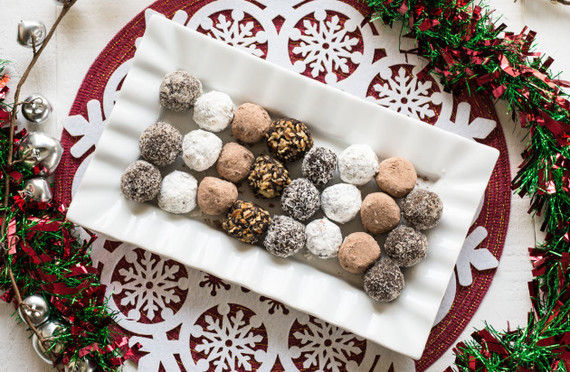 I have been so busy this month! I had all these plans for recipes all month long and the past couple weeks have been way too busy with other things going on in my life to be able to share all what I wanted to make and blog about. Looks like I might be saving some for next year. Unless I pretend Christmas isn't for another two months and keep on making and posting holiday recipes until March. Maybe April.
I have one of my grandma's recipe boxes and I was looking through it the other day to see if she had written down her chocolate rum ball recipe that she always made during the holidays. I found something on a very tattered piece of paper that had ingredients on it, and some incredibly vague instructions with the edge where the ingredients amount were supposed to be was torn off that resembled the chocolate rum ball recipe. So I decided to go with what I could decipher from the ingredients listed and come up with my own amounts.
Although I planned on using a LOT less rum. I am pretty sure the ones my grandma made were flammable. She was not light-handed when it came to booze in things.
From what I remember, my grandma's chocolate rum balls were only rolled in sugar, so I decided to go a little crazy and have a variety of things to dip them in. One trick I like to use when rolling something in cocoa powder is to mix in a little powdered sugar with it. It takes that bitter edge off the cocoa powder, unless you like the more bitter chocolate taste, then leave the cocoa powder as is.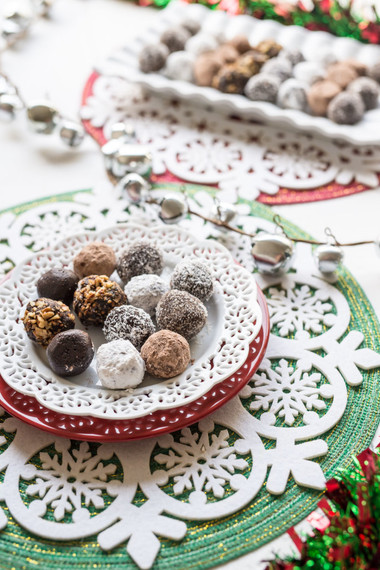 These are really easy to make, especially when it comes down to needing a dessert somewhat last minute you don't have to fuss with baking, rolling out cookie dough, or making anything that take several steps to make. Easy and fancy looking. Works for me!
Another note: you can vary the amount of rum in these without affecting the texture too much. 2-3 tablespoons is a nice subtle rum flavor, I like using spiced rum for that little extra kick, and going up to 6 tablespoons of rum will really lend for a nice punch of rum flavor.
The way my grandma's tasted, I am pretty sure she used an entire fifth of rum. Did she know how to party or what?
Speaking of parties, we're pretty ready for one! Round out your homemade candy holiday treats with Sharon's gluten-free truffles and Aimee's candy cane fudge.
--
About Shanna
Shanna is our latest
Boozy Food
and
Cocktails
fanatic, and we're pretty darned excited about it. Day to day she blogs on
Pineapple & Coconut
. We don't think it's a coincidence that both go excellently with rum.