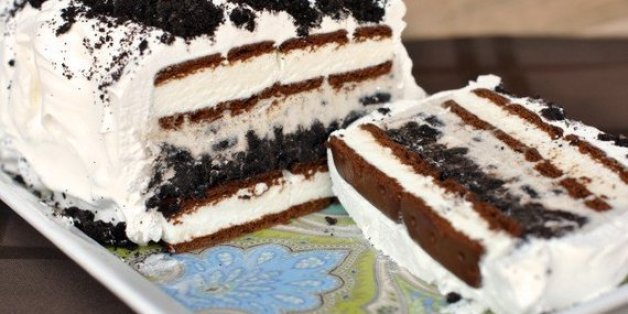 This Oreo ice cream cake is perfect for a birthday or just a weeknight dessert. It's no-bake, and super easy!
Long after school is back in session, the hot weather seems to continue. In fact, it's only just seemed to fade here. No matter the weather though, what better way to end our day than with a cool slice of Oreo ice cream cake?
Ice cream cakes are so simple to put together. And really, you can use SO MANY combinations. Basically you line an 8x4 inch loaf pan with foil. Then you layer ice cream sandwiches and your favorite ice cream in the center. I added a crunchy layer of crushed Oreos with hot fudge sauce to my filling.
Once you have your layers done, freeze your cake for several hours or overnight. Remove from pan and frost with Cool Whip! Easy Peasy.
Think of all the combinations you can make with this simple Oreo ice cream cake recipe. Not only with your ice cream filling, but now they have come out with different flavors of ice cream sandwiches, and there are all sorts of Oreo flavors these days too! Or use Skinny Cow sandwiches and frozen yogurt to cut some calories. The sky is the limit!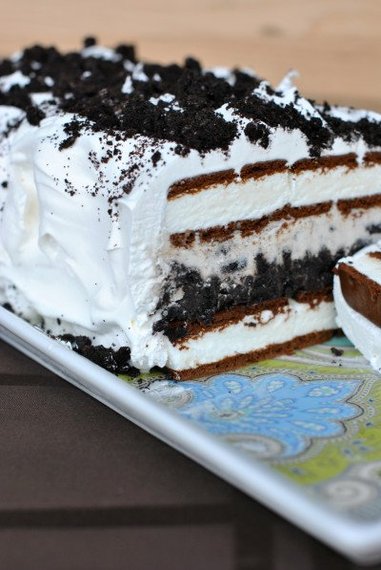 I'm thinking you could even have some fun with the new vanilla flavored sandwiches and creamy, fruity sorbet. Imagine a lemon sorbet and vanilla ice cream cake! It's so easy to customize this dessert, and since it's no-bake, it makes an excellent alternative to pies and cakes that take up room in your holiday oven.
What combination would you make first?
Love Cookies 'n Cream? Check out this fun Cookies 'n Cream Fudge recipe, and don't miss this Oreo Cupcake Recipe too!
About Aimee Shugarman
Aimee Shugarman of
Shugary Sweets
likes all things sweet, as you can probably guess. Writing about homemade candy came naturally, and we're oh so thankful she's our
Candy Fanatic
.