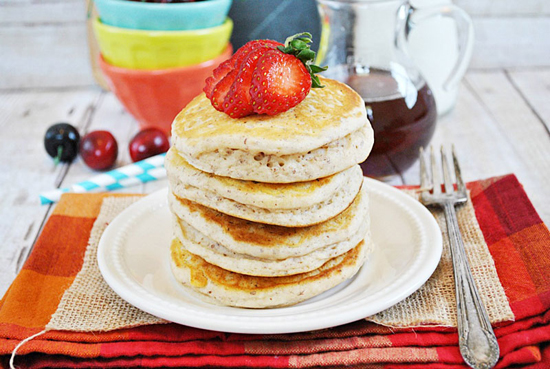 I'm not vegan. I'm not even a vegetarian. And I still say these Vegan Pancakes are some of the best pancakes I've ever eaten!
Two simple substitutions made my favorite pancake recipe vegan, and they made it so much healthier! I replaced the milk with Almond Milk, easy enough. And I replaced the eggs with ground flax seeds and water-- something I've been wanting to try for a while.
Flax is so good for you, and I try to incorporate it anywhere that I can (breads, smoothies, even cookies). It worked perfectly in this recipe. The texture was still light and fluffy, just like normal. And they tasted delicious!
You can whip these up in less than 10 minutes on a busy morning and feel great about what you are serving your family. Fluffy Pancakes mark a good start to any day. But fluffy pancakes that help fight heart disease, cancer, and diabetes (all shown health benefits of flax seed)?
That's a great start to the day!
1 tablespoon ground flax seed
3 tablespoons water
1 cup all-purpose flour, or whole wheat flour
3/4 cup almond milk
1 tablespoon granulated sugar
2 tablespoons vegetable oil
1 tablespoon baking powder
1/4 teaspoon salt
1 tablespoon vanilla extract
1 tablespoon lemon juice
Soak the ground flax seed in the water in a small bowl. Set aside. Whisk together the flour, sugar, baking powder, and salt.
Add the almond milk, vegetable oil, vanilla extract, lemon juice, and flax seed/water solution. Whisk together until smooth.
Heat a griddle to medium high heat. Spray lightly with non stick cooking spray.
Spoon 1/4 cup batter onto griddle for each pancake. Cook pancakes on first side until edges appear dry, flip and cook for 1-2 minutes on the other side. Serve immediately.