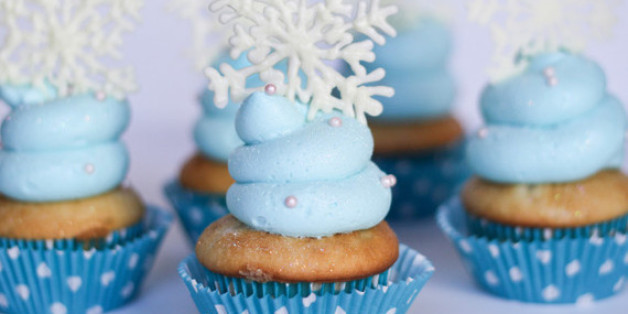 Frozen cupcakes are perfection for a little holiday party, Arendelle-style. Surprise your little Anna or Elsa with these festive treats!
My toddler Lucy is completely obsessed with Disney's Frozen. Not even being two years old, I would never have guessed that she'd love it as much as she does. If I had known, I might have waited another year before watching the movie together, because right now, we easily turn it on 3 times a day.
She doesn't always sit and watch it, but she loves having it in the background, singing "GOOOOOOO nana GOOOOOO" and giggling and saying "Man man" when Anna visits Elsa's room.
I know Elsa is where it's at, but I've been trying to lean my Lucy Goose in Anna's direction – she's my favorite. Not only is "Do You Want to Build a Snowman" FAR superior to "Let it Go," but she's also such a strong and loyal woman with a great sense of humor and adventure. Obviously I have way too many feelings invested in this movie. Send help.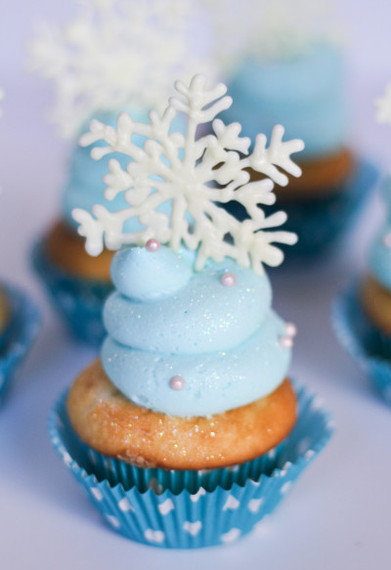 Frozen birthday parties are huge right now, and with Christmas right around the corner, I have no doubt that Frozen-themed treats will make appearances at holiday parties. The snowflakes and Olaf the snowman make it perfect for wnter!
The thing about these themed parties is, they can get pricey. Licensed merchandise adds up quickly and really isn't necessary. Chances are, your kiddo has a few stuffed animals of their favorite character. Use that as your centerpiece and build your treats around the character's colors and general "theme". You'll have the perfect party and no one will even notice that the actual character isn't slapped on to every element.
With that in mind, I created these Frozen inspired cupcakes. They are gorgeous, simple, and would be perfect for ANY winter party. By the same token, pop them on a table at a Frozen party and everyone will immediately associate them with the film. I'm including a printable for snowflakes. Just trace them with white chocolate or almond bark, and you've got your toppers. They're inexpensive, easy, and cute. Winning!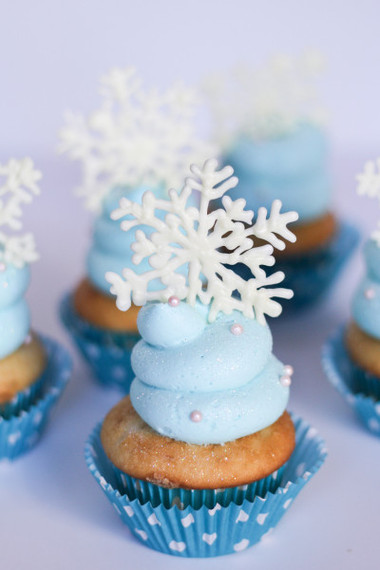 You can use any cupcake flavor base you like, but I'm partial to the base of my Junior Mint cupcakes if you're going in the chocolate-y direction, and you can never go wrong with homemade Funfetti cupcakes either.
About Kristan
Kristan is known for her candy creations and hilarity on Confessions of a Cookbook Queen. We know where her true genius is, though: fanciful fanatical cupcake creations!