Detox kale salad that won't make you miss a thing. From avocado to walnuts, this salad has it all.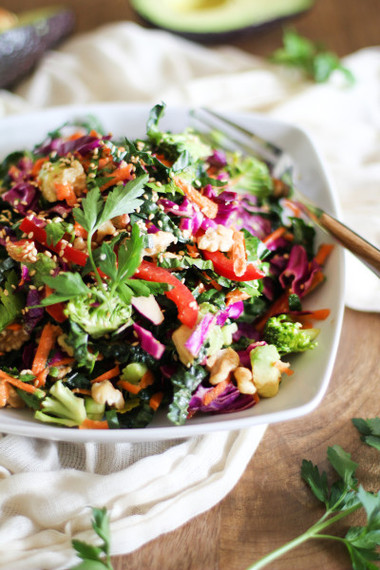 From time to time, we could all use a little detox. Whether we're detoxing from a 4-hour Grey's Anatomy re-run marathon, an epic Facebook stalking session, or our weekend cinnamon roll bender, changing a habit can be a positive way to wipe the slate clean.
Adding a nutrient-rich salad to your diet is a great way of giving your body a break from processed foods. While cinnamon rolls certainly have their role in life (get it? Role?), a detox salad helps your body replenish its vitamin levels. But let's take a step back. What about this salad make it a "detox" salad? So glad you asked!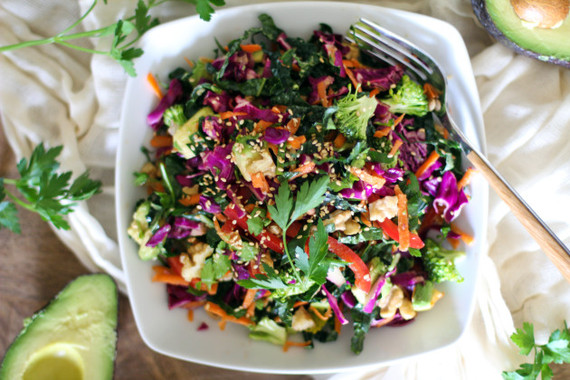 Kale, cabbage, bell pepper, parsley, broccoli, and carrots are chock full of phytonutrients and antioxidants, which help cleanse your system and prevent disease. They are also filled with vitamins and minerals, which help refuel, and heal your body.
The avocados and walnuts in this salad provide a balance of healthy fats and protein, making this a wonderful salad to eat as an entrée. Putting all of these vibrant ingredients together results in an immune-boosting power salad, which keeps you energized and satisfied.
Truth: I eat salads like this regularly, even when I'm not looking to detox. While I was writing my cookbook, Let Them Eat Kale!, I grew accustomed to eating kale salad almost every day, and even began craving it! Because salads only require a few minutes to prepare and can cover all of my nutritional needs, they are my go-to for lunch almost every day.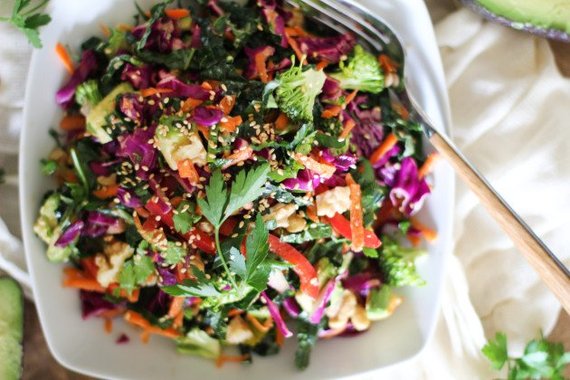 Not only is this detox kale salad recipe healthful, but it also tastes great! The key to a winning salad is variety of ingredients, flavor, and texture. The crisp vegetables with the creamy avocado, crunchy walnuts, and zesty dressing hits all the bases, which makes this a praise-worthy meal. Plus, this salad saves well in the refrigerator, making it a wonderful make-ahead meal to have as leftovers during the week.
In need of a detox? Or how about just a really great salad? Here you go!
Now that's a salad! It might even pair great with our detox soup recipe. Perhaps you'd like to try Julie's chia seed pudding for dessert?


About Julia
Julia is known for her healthy, balanced approach to all kinds of recipes, vegetarian and meat alike, on her blog,
The Roasted Root
. She shares her commitment to delectable vegetarian dishes as a
Vegetarian
fanatic, proving that you can make the whole family happy without the need for meat.