Gooey funfetti blondies with a rich malted milk flavor and fun, colorful sprinkles are perfect for summer gatherings. They'll disappear in no time!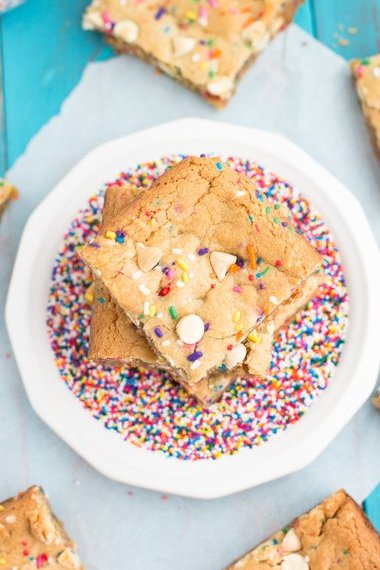 Fact: Life is better when sprinkles are involved.
I take every chance I get to add a splash of color to a recipe. It's hard to turn down a treat studded with vibrant flecks of colorful sugar. When I was a kid, my favorite cake was a boxed funfetti cake frosted with a tub of rainbow chip frosting. I would buy two containers of frosting, one for the cake and one for spoon dunking.
This malted milk funfetti blondies recipe is loaded with colorful sprinkles and white chocolate chips. Perfectly colorful and bright!
If you're running short on time, this recipe is for you. The batter comes together in one bowl and only takes 5 minutes to whip up before baking.
Blondies are brownies minus the chocolate. I know what you're thinking, "But I love chocolate". After you sink your teeth into one of these thick, dense, gooey, buttery blondies, you'll forget all about chocolate.
These aren't your average blondies. In place of the chocolate, I added a generous scoop of malted milk powder. At first bite, you'll struggle to find the malted milk, but after a few moments of munching, the unique flavor will appear from behind the scenes. It adds a delicate, slightly salty roasted milk flavor, creating the perfect balance of sweet and salty.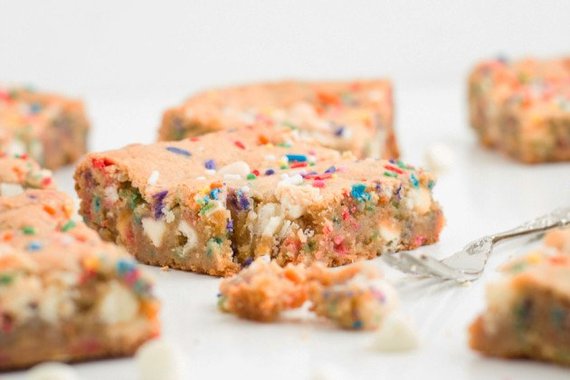 These fun bars are perfect for summer barbecues, picnics, and gatherings. Kids and adults alike will fall in love with these color-studded bars.
They'd also be perfect for any kids' birthday party. Imagine their smiles when you bring over candle-lit funfetti blondies instead of plain ol' birthday cake! Don't be surprised if they fly off the table in a matter of minutes.
About Jennie Phaneuf
Jennie is in love with all things
. That's why we're so glad this
decided to be fanatical about it on
too.