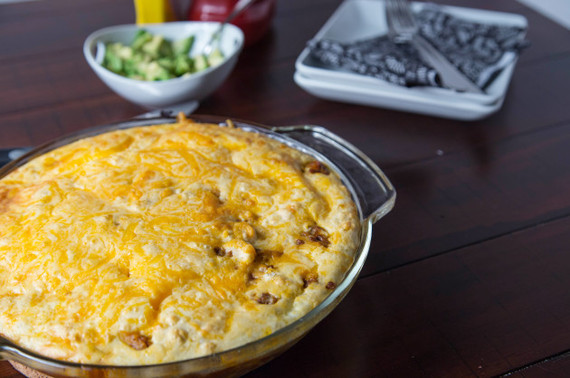 Most of the country is smack dab in the middle of a cold winter. That means we are craving comfort foods, soups, and hearty dishes. Grilling burgers probably isn't at the top of your list of dinners for the week. Especially when the grill is under three feet of snow and ice. So why not turn burgers into a quick and easy pie that you can make year round? Hamburger pie is definite comfort food. Topped with cheese it is irresistable!
You may remember a couple months ago when I shared Italian Hamburger Pie. Well, this is the original version. My husband grew up with this recipe, so he was thrilled when I decided to make it for him again. Hamburger pie, Cheeseburger pie -- whatever you want to call it -- is super easy to throw together.
Browning the ground beef is the most work involved, then you let the oven do the rest of the work. Perfect for busy weeknights when there is laundry to get moved along, homework to do, or any number of other things to do. Though with copious snow days this winter, we've spent more and more of the time this pie is in the oven doing things like shoveling walks or playing Monopoly. I don't know about you, but I think this situation needs more pie. A savory, super delicious Hamburger pie recipe.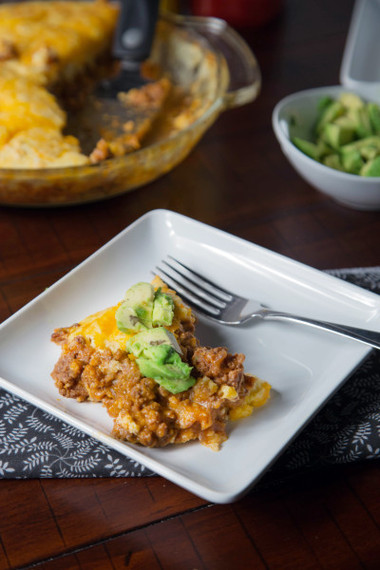 I like to top cheeseburger pie the same way I would a hamburger. Add diced avocado, chopped tomatoes, raw onion, ketchup, mustard, or maybe even some pickles! Any way you want to top it, the whole family will be excited for dinner. The leftovers make for a great lunch the next day too. Serve cheeseburger pie with a side of Roasted Asparagus or a salad with Garlic Balsamic Vinaigrette.
What would you top your slice with?
About Erin
Erin is passionate about quick and easy dinners that lead to family togetherness on her blog, Dinners, Dishes & Desserts. How could we not ask her to share that passion as an Easy Dinner fanatic?