Arrabbiata Sauce elevates Monday night to a new level. This spicy sauce, paired with spicy sausage and creamy ricotta, makes for a perfect dinner.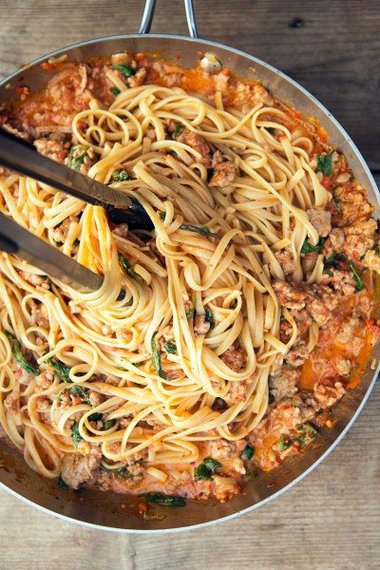 Sitting around on the weekend watching classic movies with my dad on the weekend, I had a difficult time reconciling the images of people sitting at long outdoor tables, the vineyard green and lush in the background, digging into heaping bowls of pasta and sauce with audible groans and the pasta that I was served for dinner. I remember thinking It's only spaghetti. What could be so amazing that you need to moan about it? Surely I was missing some key piece between Italy and Middle America. There was a secret ingredient left out.
My mom kept our dinner menu simple when I was growing up. The same seven meals, with a bit of seasonal variance, were rotated through each week. Friday was spaghetti night, and spaghetti night simply meant a large jar of sauce with a few things added in: a diced onion, some extra garlic, a pound of ground beef. Salt was generally not allowed either.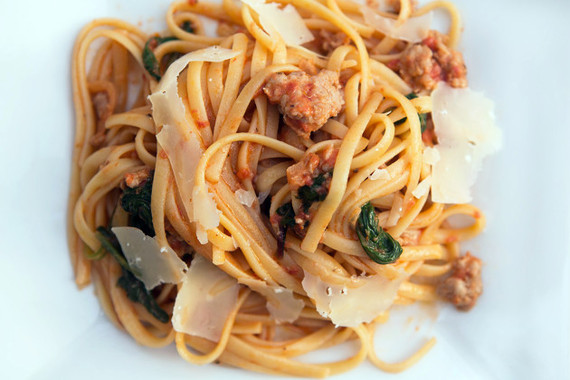 This meal was so bland and boring to me that when I realized what good pasta could taste like, I started requesting that I get to cook on "spaghetti night" instead. Spices and sausage were instantly added, and suddenly there was a pot of fresh basil growing on our deck. Pasta was pulled just a bit earlier from its boiling water bath to achieve that true al dente doneness, and I declared "spaghetti night" a thing of the past. In my own family home, it's rarer that we have spaghetti night than a pasta night. I mean, when you open your repertoire up to pesto or carbonara or marsala wine sauces you can make it through an entire year's worth of spaghetti nights with very little overlap.
These days I'm not opposed to a good bowl of classic spaghetti and meatballs as I had been when I tried to eliminate it from my diet, but when given the option, I'll always tend towards the more kicked up version of Italian classics, the kind that make you groan with the first bite and go right back in for one more. Like this arrabbiatta sauce recipe. Spicy, savory, and worth making again and again.

About Shaina
Shaina has four kids and a drive to see them eating well for the rest of their lives. Food for my Family chronicles her adventures in feeding them, and she shares Family Meals here too.