Blueberry cream coffee cake is the perfect answer to your breakfast dilemma. Grab a giant mug of steaming coffee and dig in!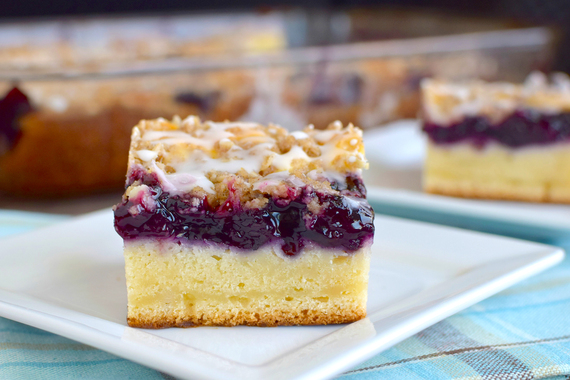 Our children might be becoming breakfast snobs over here. Apparently I have been making too many things with chocolate for breakfast because this cake got the evil eye from a few of them. They kept asking where the chocolate cinnamon rolls were?
I think that just means more cake for me. And when that cake is a coffee cake, it becomes fair game for breakfast time. There is something so comforting about a slice of coffee cake and a big steamy mug of coffee in the morning.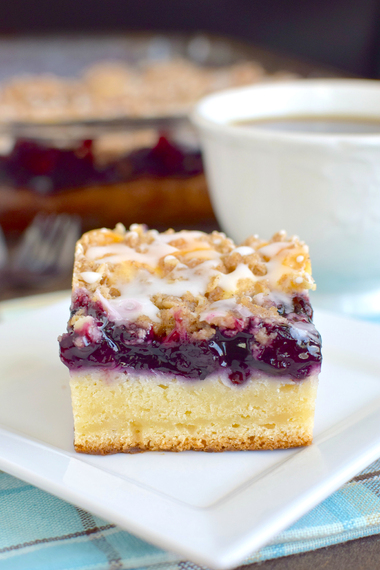 Since I enjoyed this coffee cake so much, I am going to request it again for Mother's Day. And by request it, I really mean make it again for myself to indulge on while my family does yard work for me.
Do you have any fun plans to celebrate with your mother? We usually spend the day going to church, eating lunch, and then buying new plants for the flowerbeds. After we get in as many new plants as we can, we end the day with a campfire. Maybe we will even make another pan of these toasted marshmallow cheesecake brownies to enjoy by the fire.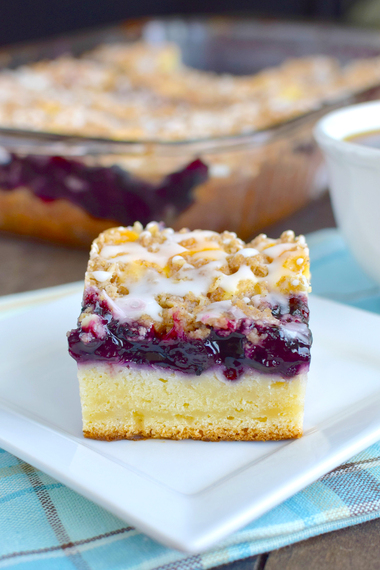 This coffee cake has all sorts of good stuff going on inside it. There is the bottom layer of cake, which has this buttery crumb texture that just melts in your mouth. Then on top of that I alternated lines of cheesecake and blueberry pie filling, but you can swirl it together if you like.
To take the cake one step farther, you are going to cover the top of everything with a crumble topping. And because this cake doesn't have enough sugar going on in it, a simple glaze drizzled on top finishes it off and makes it so pretty!
This is perfect for enjoying on any random weekend for sure, but I highly suggest making a pan of this for your mother. She definitely would enjoy a giant slice with her coffee while you do some chores for her.
--
About Jocelyn
Jocelyn bakes up many delicious things to share on
Inside BruCrew Life
. Around these parts, she's our latest
Breakfast
Fanatic, and we're so glad!