This strawberry limeade cake is fruity, refreshing, and gorgeous! Those lovely layers are impossible to resist.
Um, hi. I made you the most perfectly gorgeous summer cake.
You're welcome.
Isn't cake the most perfect dessert on the planet? It's pretty, it's versatile, it's covered in frosting. I personally feel that one's views on cake serves at a sort of litmus test for what kind of human being they are.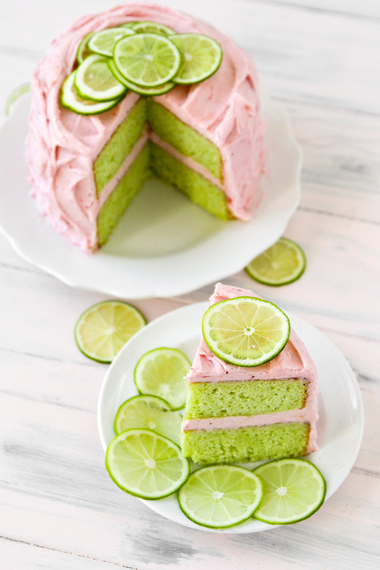 Don't like cake? I can't trust you.
Love cake? Can we be friends?
My son Jon David doesn't like cake. I gladly accept your condolences and assure you that we are working on it. It's a process. I'm always trying to sneak him spoonfuls of frosting and he's always turning his head away in disgust. It's our family's biggest shame, but what do you do? We all have our dirty secrets. I love the kid, but sometimes you have to realize that the problem is bigger than you.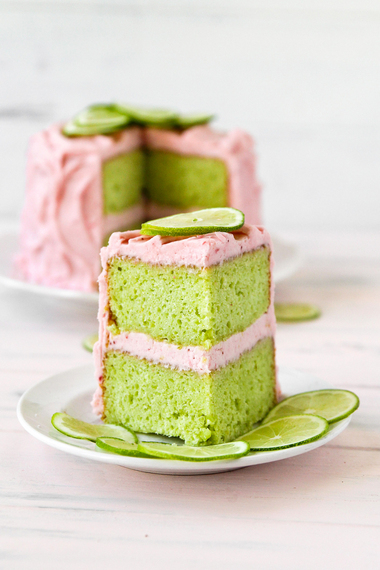 Obviously, this stunner of a cake is hard to resist. It wasn't difficult for Jon David, the cake hater, but Lucy and I dove in with great abandon. We would have shared with my husband, but he was late to the party and we had already made short work of it.
Never underestimate two girls with a fork and a free afternoon, just saying.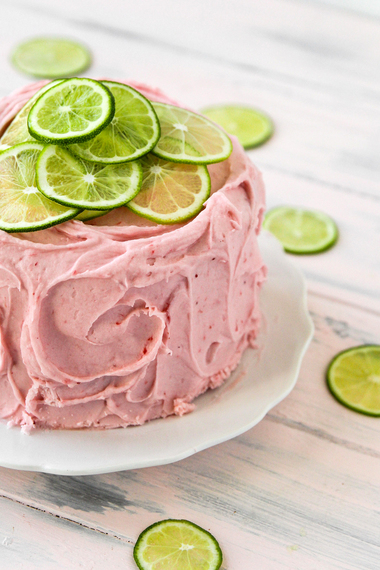 The cake itself is slightly dense and moist, full of zippy lime flavor and pretty green color. The strawberry frosting has a bit of cream cheese in it, just to give it a tangy creaminess. It's the perfect contrast to the lime and a great flavor combination.
Definitely keep an eye on this cake while it's baking – even just a bit of over baking will make it a little dry and crumbly. And we all know that dry cakes are against the law. For extra moistness and flavor, feel free to brush the cakes with a bit of lime juice after you level them with a serrated knife.
--
About Kristan
Kristan is known for her candy creations and hilarity on Confessions of a Cookbook Queen. We know where her true genius is, though: fanciful fanatical cupcake and cake creations!